Just a week away from the September 12th event where the much anticipated iPhone 5 will be unveiled and Apple (NASDAQ:AAPL) stock has continued to rise towards $675, briefly touching $680 before pulling back slightly. Last quarter's results were somewhat disappointing but most Apple watchers blamed it on the delayed purchases of additional iPhones until the launch of iPhone 5. Well, it's almost here. The average price target for the stock is $751.50 according to MarketWatch, and according to one other Seeking Alpha contributor, it may very well reach $950. See Apple Price Target: $950 Per Share
But how many iPhone 5s must Apple sell in the quarter subsequent to its launch and each of the next three quarters, in order for the stock price to hit $1,000? Quite a few as it turns out, but not beyond the realm of possibility.
We estimated our own iPhone sales forecasts for the next 4 quarters in addition to the quarter ending 9/2012, which we expect to be yet another disappointment. Obviously, we had to make certain assumptions and the entire basis of our calculation is based on those assumptions. Any changes to those assumptions would also change the estimated stock price, and while we could have performed a sensitivity analysis on all of our assumptions, we decided to simplify it and base our sensitivity analysis only on the upcoming sales of iPhones.
We first started with the quarterly financial results for Apple going back to March 2010.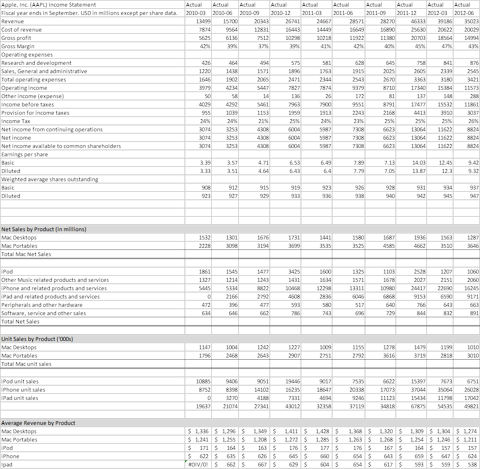 Click to enlarge
Then we had to make certain assumptions, as any equity analyst must to populate their models. You can agree or disagree with the assumptions and if you would like me to run the model under different assumptions, by all means, let me know, and I will do my best to accommodate requests on a first come first serve basis.
In addition, because of the difficulty in estimating future cash flows, particularly for Apple, and the heavy weight of terminal value in a discounted cash flow analysis, we decided to perform the valuation using price multiples.
Here are the assumptions:
4th quarter revenues of $31.6 billion resulting from 20 million unit sales of iPhones as well as unit sales of 8.2 million iPods, and 18 million iPads. In addition, to isolate the impact of iPhone sales over the next 4 quarters, unit sales for both iPods and iPads were held constant for three of the subsequent four quarters. We applied a 25% increase to sales for the quarter ending 12/2012 because of the propensity of unit sales to rise for these products during a quarter in which the iPhone was previously launched. We also kept unit sales for Mac Desktops and Mac Portables at 1.2 million and 2.8 million respectively. (See data below)
We assumed average prices for each product the same as the previous quarter and 5% decreases in unit prices over the subsequent 3 quarters.
Sales of iPhone 5 will reach 50 million in the quarter ending 12/2012 and will subsequently decline over the next two quarters comparable to the percentage decline experienced in 03-2012 and 6/2012 as unit sales dropped from 37 million to 26 million. Using the same percentage decline in sales results in iPhone sales of 47 million in quarter ending 3/2013 and 35 million in quarter ending 6/2013.
Gross margins would gradually increase from 43% last quarter to 47% through 6/2013, resulting from sales of higher margin iPhones and continued improvement in efficiencies.
For all other expenses, we made reasonable assumptions based on historical data.
Finally, we applied a PE multiple of 17 to earnings per share for the trailing twelve months ending in 6/2013. We used 17 because Apple's average PE multiple is 22 and is currently at 15.9. We argue that there is good reason for there to be slight multiple expansion to 17. With earnings per share of $48.81, a multiple of 17 indicates a stock value of $830.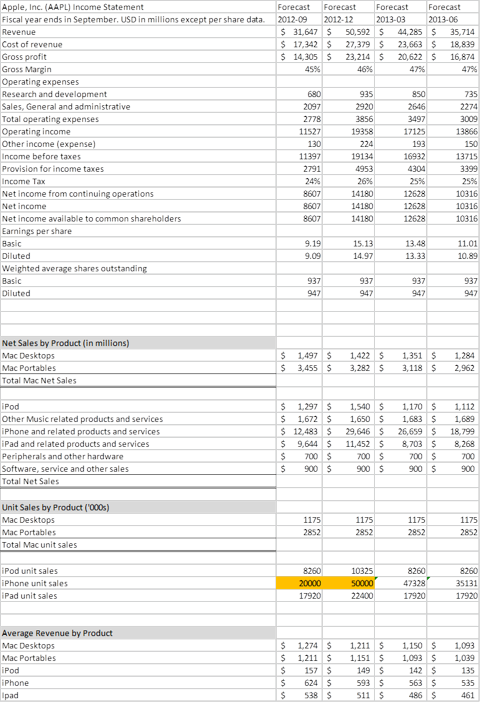 Click to enlarge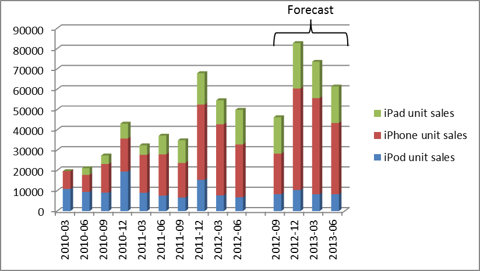 Click to enlarge
So how many units must Apple sell in the first quarter after the iPhone 5 launch for its stock to reach $1000? According to our sensitivity analysis below, sales must reach 75 million units. That's almost twice as many units as any previous quarter. Improbable, yes, impossible, definitely not. And the estimates may change depending on sales of iPods, iPads, and iPhones over subsequent quarters. Not to mention the oft talked about Apple TV or Cable Box, whichever it might end up being.

Click to enlarge
Our best guess is probably around 50 million unit sales and we feel very comfortable with a price target of $830.
Disclosure: I have no positions in any stocks mentioned, and no plans to initiate any positions within the next 72 hours. I wrote this article myself, and it expresses my own opinions. I am not receiving compensation for it (other than from Seeking Alpha). I have no business relationship with any company whose stock is mentioned in this article.