Back in May, two articles looked at the dividend growth potential of Intel (NASDAQ:INTC) and Altria Group (NYSE:MO). Since then, Altria has raised its dividend and Intel has recently had a significant pullback in its share price, going from $29 to the $24 range. Hence, this exercise revisits the dividend growth potential of both stocks, keeping in mind the most recent happenings. The article also notes some of the often repeated but loud concerns about these two companies and concludes with a simple but powerful message about dividend growth investing.
Intel Dividend Analysis: Let us begin with Intel. The article linked above on Intel assumed an 8% annual dividend increase over the next 10 years. Intel ended up increasing its dividend by about 7.2% recently. The payout ratio, as a result of the increase and earnings has now gone up to 38% but that is still well below its average payout ratio of 45%.
New Dividend Extrapolation: The table below compares favorably with the one shown in the original Intel article, with the expected yield on original cost going up a full percentage point. The table assumes the same 8% dividend increase over the next 10 years.
This is due to the recent pull back in Intel's price due to the never ending concerns over slowing PC sales and also the increased dividend. The slowing PC sales has been a concern for all traditional technology companies but Intel is certainly not sitting on its glory. The upcoming motorola smartphone might be Intel's first big parade into the mobile space, currently dominated by its competitors.
So, in other words, if you as a dividend investor were ready to buy Intel back in May, you should be even more eager to buy it now. The famous 4% yield point is not too far off at $22.5.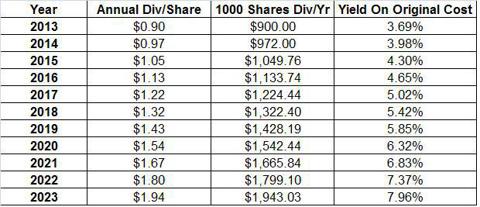 Click to enlarge
Altria Dividend Analysis: The original article on Altria assumed a dividend increase of 6% per year. Altria, as usual, surprised on the upside with a better than expected increase of about 7%. The payout ratio has come down since the last writing and now stands at a "comfortable" 81%, thanks to a better than expected earnings report recently. The link above also states the company maintained its expected EPS near the analysts expectations. The company's website says the target dividend payout ratio is 80%, exactly where it is right now making the dividends relatively safe, especially given its loyalty to investors.
New Dividend Extrapolation: With the new dividend increase, Altria's simple moving average (past 5 increases, not necessarily 5 years) dividend growth rate has fallen to 6.5% from the earlier 7%. But the table below uses the same 6% rate used in the original article since the difference is not too large. Unlike Intel, Altria's yield on original cost has not changed much as the increase in dividend has been compensated by the increase in share price, keeping the yield the same. But the expected yield is still impressive, almost giving us a double bagger.
While it's hard to ignore the potential troubles for US tobacco companies, Altria somehow manages to motor along and be a cash cow for its investors. We've also written bearish pieces on Altria but maybe it's time to eat the crow with this beauty of a thing. One can do much worse than buying a proven dividend payer at 15 times earnings at a 5.2% yield point.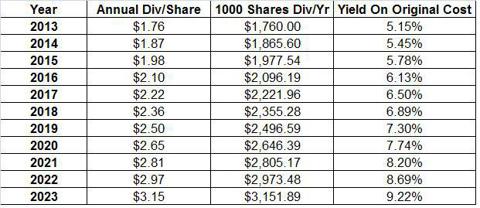 Click to enlarge
The Message: The predicted dividend increase and the actual increase on these two companies were not too far off. What does that tell you, if the average Joes are able to almost perfectly guess their dividend income? Well, it says nothing about the Joes but everything about the stocks in question. Just one word. Reliability. Or make it two words, Reliable Income. As noted by a few authors in past articles here on Seeking Alpha, this simplicity is the power of dividend growth investing. Value and dividend investors can meanwhile look forward to the imminent dividend increase from Philip Morris (NYSE:PM).
Disclosure: I am long PM. Long Intel through selling Jan 2014 puts. I wrote this article myself, and it expresses my own opinions. I am not receiving compensation for it (other than from Seeking Alpha). I have no business relationship with any company whose stock is mentioned in this article.