Ryan Lance, CEO of ConocoPhillips (NYSE:COP), gave a presentation at the Barclays Energy/Power Conference yesterday. The slides can be viewed here. You can listen to Lance's presentation by clicking on this webcast link.
ConocoPhillips is the largest North American-based independent oil and gas producer. After the spin-off of its Phillips 66 (NYSE:PSX) mid and downstream unit, COP is a now a pure upstream company. COP explores for, produces, transports, and markets crude oil, natural gas, natural gas liquids, liquefied natural gas and bitumen on a worldwide basis. The company''s portfolio includes assets in North America, Europe, Asia, and Australia; growing North American shale and oil sands businesses; various international development projects; and a global exploration program. COP's two-year chart and investment metrics are shown below. Note the drop in May corresponds to the spin-off of PSX (1 share of PSX for every 2 COP shares).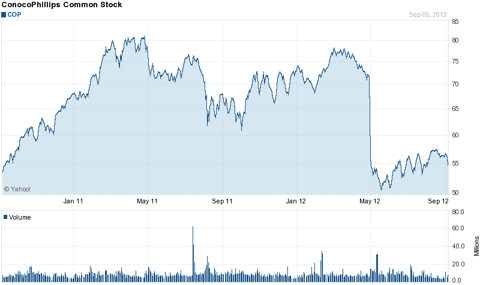 Click to enlarge
(Click to enlarge)
COP: $54.87
EPS (TTM): $5.18
P/E (TTM): 10.8
Market Cap: $66.64 billion
Div(Yield): $2.64 (4.60%)
Lance's presentation gave a summary of where the post-spin COP stands today and the company's future goals and plans. For 2012, the company estimates production in the range of 1.565-1.585 million boe/d. At year end 2011, proved reserves were 8.4 billion boe/d with 79% residing in OECD countries. Of the companies 43 billion boe/d of resources, 70% are liquids, 9% LNG, and 21% gas.
Juicing Shareholder Returns
COP currently pays a 4.6% dividend, which places it in the upper tier of its peer group. The company plans to allocate 20-25% of cash flow from operations to shareholder distributions. The company plans to increase the dividend every year. It has a strong balance sheet, an "A" credit rating, and will maintain a debt-to-capital rating of less than 30%.
Lance showed plans to increase production by ~300,000 boe/d by 2016. In his words, this is a high-margin low-risk plan because it does not rely on any new exploration discoveries, only on developing and exploiting current assets. COP plans to increase margins by $5/boe by 2016 as it continues to shift to higher value liquids production, divests non-core assets, and grows production in more tax-favorable jurisdictions. If the company executes on this plan, by 2016 it will have additional yearly revenue of:
(1.565million+300,000)boe/d * $5/boe * 365 days/yr = $3.4 billion.
North America Strong
COP is the largest independent producer in North America. It has 15.3 million net acres in the lower-48 and 5.9 million net acres in Western Canada. So the company has a total of over 21 million net acres in safe and tax-friendly North America.
Its plans for production growth include 210,000 boe/d of unconventional production by exploiting its lower-48 liquids rich plays where cash margins are upwards of $40/boe (based on $80 WTI, $85 Brent, and $3 HH). This is a diversified low risk plan both geographically and geologically.
The Best in The Eagle Ford
While the Bakken gets most of the media attention, the Eagle Ford play is without a doubt the best lower-48 shale play in the industry today. This assertion is based on drilling costs, production and net returns. COP was early in the Eagle Ford and has assembled 228,000 net acres of the best properties (77% liquids) and got them for less than $300/acre (!). The company has 1.8 billion barrels of resources in the Eagle Ford and a 2012 drilling program using 16 rigs to drill over 180 wells. The company is investing $2.5 billion dollars here with a 50%+ return based on internal forecasts. Slide 15 shows Eagle Ford production nearly doubling to over 130,000 boe/d by 2016.
The Permian Basin
COP holds 1.1 million net acres in the liquids rich (60%) Permian Basin and has 1.1 billion barrels of resources there. The 2012 program includes $0.6 billion of investment to drill over 300 gross wells which will yield 40%+ returns. Early results in the Avalon and Wolfcamp plays are very promising and the company has identified over 7,000 well locations. Slide 16 shows production growing from 55,000 boe/d to over ~85,000 boe/d by 2016.
The Bakken
COP was also early in the Bakken and has 207,000 net lease acres and 419,000 net mineral acres with 0.4 billion boe of resources. The 2012 drilling program is investing $600 million to drill 120 wells for 25%+ returns. COP is managing its Bakken resources for the long-term based on access to service providers and infrastructure. It has a drilling inventory of over 1,300 gross proved and probable locations. Slide 17 shows production growing from nearly 25,000 boe/d today to 38,000 boe/d by 2016.
The company obviously has leading edge shale technology, but it has the assets, technical know-how, and resources to participate anywhere in the world. It is active in Canada with its world-class SAGD assets, in Europe with assets in the U.K. and Norway, in Malaysian deepwater projects, and in Australia with its well known LNG project.
Speaking of Australia, chart 21 shows production there growing from around 18,000 boe/d in 2012 to ~95,000 boe/d in 2016. COP's current ownership in the project is 37.5%, but Lance did comment that the company is looking to further reduce its ownership there. While some have criticized the lower returns of this LNG project, Lance stressed the importance of such a long-life dependable income stream.
Conventional Deepwater Exploration
COP is the 6th largest leaseholder in the Gulf of Mexico. It has 1.5 million net acres and is currently participating in 2 wells, the Coronado wildcat and the Shenandoah appraisal well. They are expecting to participate in 5-8 wells in 2013-2014. The company also has large positions in Angola, Bangladesh, and the Barents Sea.
Summary
In conclusion, Lance outlined a compelling growth story based on high-return low-risk exploitation of existing assets. Margins should expand $5/boe as the company executes its liquid rich lower-48 plays.
My take is this: oil industry analysts are not yet fully valuing COP because they still don't fully grasp the value of its unconventional resources. The company has gathered arguably the best unconventional lower-48 acreage of any company in the industry. Its plans for production growth are based on exploiting high-margin low-risk (both geographically and geologically) plays in which the company has already proved its technical competence. With a P/E of 10.8 and a dividend yield of 4.6%, COP appears to have much upside potential while risks to the downside seem limited. It's a value play while simultaneously providing investors with an oil production growth story in an era when worldwide oil production will have a very tough time keeping up with worldwide oil demand. COP seems very attractive at these levels and provides a 4.6% income stream. While the PSX has appreciated considerably since the spin-off, COP has underperformed. I think that makes COP an opportunity as the stock should catch up to its value soon. But don't believe me - listen to the webcast and draw your own conclusions.
Disclosure: I am long COP, PSX. I wrote this article myself, and it expresses my own opinions. I am not receiving compensation for it (other than from Seeking Alpha). I have no business relationship with any company whose stock is mentioned in this article.