By Brian Hunt
Bullish news from biotech: One of the market's most speculative sectors is "acting well." Biotech stocks are a lot like mining stocks. Most of them have no earnings and no real assets… They're just wild dreams with stock tickers. But every five years or so, the public goes crazy for miracle cures and cancer drugs… to the tune of hundreds, even thousands of percent rallies. The busts that follow are just as spectacular (so trailing stops are vital).
The broad market's destruction began in mid-May. The S&P 500 is down 13% since then. Now, here's where the biotech story gets interesting…
One of the best ways to own biotech is the PowerShares Biotech ETF . This fund is loaded with the best companies whose names include "bio," "genics," or "ceuticals." During the gigantic selloff of the past two months, shares in PBE have held like a rock. When a speculative asset refuses to sink in a bear market, it's "acting well." That's an incredibly bullish sign.
We can't know when stocks in general will get on with a new bull market… But we can look at the action here and say, "When stocks get going again, you'll want to own some biotech."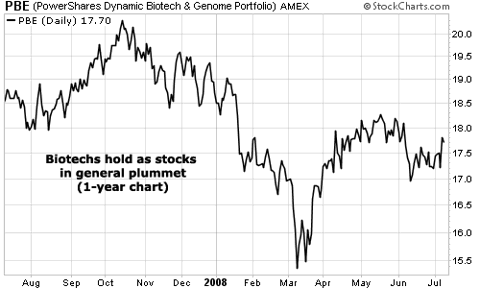 Source: You'll Want to Own these Stocks when the Market Recovers