Without a doubt the Solid State Drive (SSD) sector is heating up and sales are exploding. Ocz Technology Group (NASDAQ:OCZ) sales are up 92.4% year over year (yoy) and Fusion-io (NYSE:FIO) sales are up 82.2% yoy.
That being said, it is generally a bad idea to put a vast majority of your wealth in one stock. Ocz's surprise announcement today of a NAND Ram shortage and revenue warning sent the stock down -21% in after hours to 4.23 a share. We can diversify our wealth into several companies in the Solid State Drive Market to spread the risk while attempting to ride the SSD wave.
iSuppli.com reports on projected SSD market growth:
With a strong boost from Ultrabooks, global shipments this year of solid state drives are expected to surge by 165 percent compared to 2011. SSD shipments in 2012 are expected to reach 45.9 million units, up from 17.3 million units last year. SSD shipments are forecast to more than double again in 2013, and will continue growing in the next few years at steady double-digit expansion rates. By 2016, SSD shipments will exceed 201.4 million units, equivalent to a five-year compound annual growth rate of 63 percent.
Now, read that paragraph again concerning double growth in 2013 with an annual 5 year compound growth rate of 63%.
If we wanted to capitalize on this growth in the SSD sector -- what companies exist that are public and traded in the United States?
This article covers a brief history of why people want Solid State Drives, Sales growth of the SSD Industry, and points out some public SSD stocks that one can invest in to create a SSD basket of stocks. The tide is rising and all the ships are rising with it.
History Lesson - Solid State Drive 101
The 1980's - mid 1990's was the era of the CPU (Central Processing Unit). Mid 1990's to the late 2000's was the era of the GPU (Graphics Processing Unit). Now is the era of the SSD (Solid State Drive).
Solid State Drives
As CPU's rapidly increased in speed, so did the complexity and size of programs. Programs were no longer measured in mere megabytes but rather gigabytes. As the size of programs increased, it made the time it took to execute the data take longer. While all of the components of the computer had rapidly evolved, the hard drive did not change much speed wise. It was simply the slowest component in the system now.
Solid States entered the consumer fringe market around 2008-2009. While small (typically 30 Gigs) and rather expensive, it was blazing fast. Programs such as Photoshop saw massive speed gains as well as computer start up times. The answer to the speed problem was solved. Gamers and enthusiasts were embracing SSDs; the datacenters were starting to adopt them as well due to the power savings and speed gains. Current users of SSDs in datacenters include: Microsoft, Facebook, Ebay, Google, and Yahoo, among others.
Growth in the Solid State Ecosystem
Let's take a look at the various public SSD companies starting with pure plays and spreading out to diverse plays where the SSD tech is not a huge component of sales (yet). We have:
Pure Plays
Fusion-io - A pure play on the Enterprise side of the SSD market. A leader in what it does. Fusion-io is growing fast but with a forward PE of 112 you will be paying for its growth of 82.2% year over year and its gross margins of 55.4%.
Ocz Technology - A leader in the consumer side of the SSD market, growth was 54% compared to the same quarter a year ago. Year over year sales are up 92.4% with margins rising from 20% to 25.2% yoy. Forward PE is 4.56. The company has some problems though:
As of September 5, 2012, Ocz made a surprise conference call announcing a massive NAND ram shortage and stating are going to miss revenue projections for the quarter. Currently, ALL consumer NAND ram has been put into products and sold. The massive NAND inventory they had, (which was a liability) has been completely used and converted into sales. Enterprise ram has been used to meet consumer demand -- this will reduce gross margins. A contract with Microsoft was won that will start shipping in Q3. The enterprise side will be fine according to the company, but the consumer side is going to suffer. In short, it is going to be a painful Q3. The only positive note out of this is that the large inventory build up has been diminished and that liabiliy is not longer present. Also during the call, Ocz's CEO all but confirmed that talks had occurred or were occurring when one analyst had the courage to ask the question. Analysts usually avoid the hard questions until after the call concludes to ask in private. Moving on...
Ocz is also moving to produce its own controller chips via its Korean company Indilinx. This will reduce the cost per SSD sold and raise gross margins. Beginning with the Vertex 4, they partnered with Marvell where Ocz provided the firmware and Marvell (NASDAQ:MRVL) the controller chip. This gives the Vertex 4 higher margins than the Vertex 3 (which used an LSI Sandforce chip). A new controller chip called Barefoot 3 has already sampled and should be out on the market soon. This chip (which is 20 nanomater compatable) is a 100% internal creation and will lead to higher gross margins for the upcoming Vertex 5.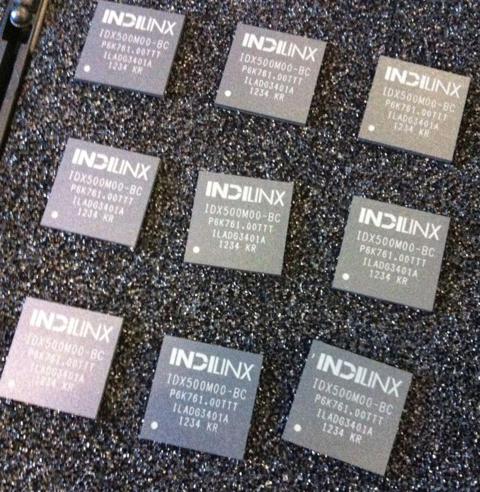 Click to enlarge
Ocz Insiders had been selling for quite some time in the 7-10 range but all that stopped last April. This is around the time frame in which buyout talks were rumored to have started between OCZ and Seagate, which is covered in my previous article.
Interestingly enough, yet another rumor surfaced on September 4th, 2012, stating that Western Digital (NYSE:WDC) is in talks to buy Ocz. Time will tell if Ocz Technology is acquired or continues to grow.
STEC - The ugly duckling of the SSD market. Sales come in at a disappointing negative -50.6%. The only thing keeping its market cap at 345 million is its rather impressive 207 million in cash to no debt. Net Income was negative -59 million with a profit margin of negative -26.62%. They still have time to turn the ship around though, but with an unconfirmed ongoing brain drain from employees jumping ship, it may be difficult. Insider buying stopped in May of 2011. This is one to keep an eye on but avoid for the moment.
Diversified Plays
Lsi Corporation (NYSE:LSI) -The purchase of Sandforce gave Lsi SSD controller chips which are sold to all the various SSD manufacturers.
While the threat of a company putting out a superior controller chip is always a possibility, currently Lsi is one of the leading controller chip companies. With a PEG ratio of .60, a forward PE of a mere 9.86, and 601 million in cash to no debt -- it does indeed look interesting. Growth is healthy at 31.7% year over year but earnings look nasty at negative 80%. This can be fixed with time. The company has plenty of free cash flow at 219 million. Sandforce contributed 77 million in revenue according to Lsi's recent SEC 10-K statement here. While not a lot of revenue, the gross margins are great on this and it is a growing part of the company. It is on our radar as a stock to research in greater detail.
Micron (NASDAQ:MU) - A leader in the ram market that currently makes NAND ram which is used in Solid State Drives. As sales increase in the SSD ecosystem, Micron could have an advantage over much of its competition because it can make the very ram that SSDs require.
Currently, SSD's generally range from 64 Gigabytes to 512 Gigabytes for the consumer side of sales. Fast forward a few years and we will be seeing drives for consumers at 2 TB (2048 GB) -- that is a LOT of ram. This will be a big cost saving over any competition that has to acquire its own ram (possibly from Micron). Quarterly revenue growth comes in at a mere 1.5%, but we think this will accelerate as SSD sales increase.
If they can acquire Elipda (a Japanese ram manufacturer) and iron out its problems, possibly it can turn Elipdas current losses into profits. According to the company, the acquisition will result in a 50% increase to its ram manufacturing capacity and propel it to the #2 ram manufacturer. Going forward, no matter where you look in the computer industry, it is impossible to get away from the need for ram of some type. PCs, Servers, SSDs, Virtualization, Tablets, Consoles, Cameras all need ram.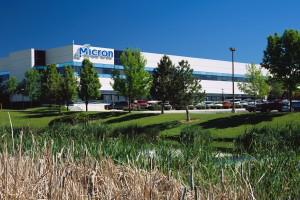 (Micron in Boise, ID)
Toshiba (OTCPK:TOSBF) also has a small SSD and NAND ram manufacturing capacity. They fall into the diversified arena.
International Business Machines (NYSE:IBM), through its Texas Memory buyout, beefed up its SSD know-how. It would not be our first choice since it is so big, but for an investor wanting to just dip their toe in the SSD market it could be an okay play.
Emc Corporation (EMC) (which happens to own VMware) is yet another large tech company that is expanding into the SSD sector through its recent acquisition of XtremIO. EMC entering the SSD market is logical and fits very well with EMC's other components such as VMware because SSD's accelerate virtualization.
Sandisk (SNDK) - Manufactures NAND ram and they produce and sell SSD's. Profit margins and Quarterly growth are taking a beating, but this could improve given time. With a PEG ratio of 1.61, it may be just a tad rich for our tastes -- but it is one to keep an eye on for a pull back.
Intel (NASDAQ:INTC) - Has an active consumer presence in the SSD market, but it is a very large company. Still, it is just another possibility to add to a basket of SSD stocks. Storagesearch.com was less than pleased with Intels controller chips back in 2011, but this is not to say things have not improved. If anything, Intel has plenty of cash to ride out any SSD learning curve or simply acquire whomever they desire.
Seagate (NASDAQ:STX), and Western Digital, are both storage plays and both are actively working on growing and obtaining SSD tech. Neither Seagate nor Western Digital can afford to slip behind the competition.
Conclusion
The Solid State market is growing and very large companies such as IBM, EMC, Seagate, Western Digital, Intel and even Apple have a hand in the SSD pie.
The tide is rising fast and almost all of the ships are rising. Problems with the supply of 25 nanometer ram are affecting some SSD companies according to Ocz. We have yet to get a response from industry sources on this in order to confirm it.
Investing in a basket of SSD stocks will all you to take advantage of the rising tide in the exploding growth of the SSD sector.
Disclosure: I am long OCZ. I wrote this article myself, and it expresses my own opinions. I am not receiving compensation for it (other than from Seeking Alpha). I have no business relationship with any company whose stock is mentioned in this article.