Edited by Marianna Avilkina
Coca-Cola Co (NYSE:KO) is a leading, worldwide manufacturer and marketer in the beverages industry. The company owns more than 500 nonalcoholic beverage brands around the world. Formally established in 1919, Coca-Cola produces a wide variety of beverages, such as soft drinks, fruit juices, and sports and energy drinks, as well as ready-to-drink teas and coffees, and delivers them to its customers in more than 200 countries.
As carbonated beverage consumption is stabilizing in North America, the company faces some strong headwinds going forward. But this beverage giant has also established strong partnerships with local manufactures around the world; this is the reason why international markets promise Coca-Cola solid benefits from growth opportunities over the long term. This year, Coca-Cola was able to boost its earnings by 8.4%, and the company's stock has returned 9% since January, 2012.
As of the time of writing, Coca-Cola stock was trading at $37.40, with a 52-week range of $31.67-$40.66. It has a market cap of $167.3 billion. The trailing twelve-month P/E ratio is 19.7, and forward P/E ratio is 16. P/B, P/S, and P/CF ratios stand at 5.2, 3.6, and 17.1, respectively. Operating margin is 22.1%, whereas net profit margin is 18.3%. The company has only minor debt issues as a debt/equity ratio of 0.5 is below the market average.
Coca-Cola pays substantial dividends - trailing yield is 2.63% against a forward yield of 2.74%. The forward yield is likely to increase in Q4 2012, as the Coca-Cola keeps increasing it dividend every year. Five-year dividend history suggests that Coca-Cola is a solid, yet safe, dividend payer.
Coca-Cola has a 3-star rating from Morningstar. Out of five analysts covering the company, two have a "buy" rating, one "outperform," one "hold," and one "underperform." This is good reason to suppose that Wall Street holds diverse opinions about the company's future. Average five-year annualized growth forecast estimate is 8.4%. This is a reasonable estimate given Coca-Cola's recent growth rate of 3.8%.
What is the fair value of Coca-Cola given the forecast estimates? We can determine Coca-Cola's fair value using the discounted earnings plus equity model, as follows.
Discounted Earnings Plus Equity Model
This model is primary used for estimating the returns from long-term projects. It is also frequently used to price fair-valued IPOs. The methodology is based on discounting the present value of the future earnings to the current period:
V = E0 + E1 /(1+r) + E2 /(1+r)2 + E3/(1+r)3 + E4/(1+r)4 + E5/(1+r)5 + Disposal Value
V = E0 + E0 (1+g)/(1+r) + E0(1+g)2/(1+r)2 + … + E0(1+g)5/(1+r)5 + E0(1+g)5/[r(1+r)5]
The earnings after the last period act as a perpetuity that creates regular earnings:
Disposal Value = D = E0(1+g)5/[r(1+r)5] = E5 / r
While this formula might look scary for many of us, it easily calculates the fair value of a stock. All we need is the current-period earnings, earnings growth estimate, and the discount rate. To be as objective as possible, I use Morningstar data for my growth estimates. You can set these parameters as you wish, according to your own diligence.
Valuation
Historically, the average return of the DJI has been around 11% (including dividends). Therefore, I will use 11% as my discount rate. In order to smooth the results, I will also take the average of ttm EPS along with the mean EPS estimate for the next year.
E0 = EPS = ($1.89 + $2.18) / 2 = $2.04
Wall Street holds diversified opinions on the company's future. While analysts tend to impose subjective opinions on their estimates, the average analyst estimate is a good starting point. Average five-year growth forecast is 8.4%. Book value per share is $17.16. The rest is as follows:
Fair Value Estimator

V (t=0)

E0

$2.04

V (t=1)

E0 (1+g)/(1+r)

$1.99

V (t=2)

E0((1+g)/(1+r))2

$1.94

V (t=3)

E0((1+g)/(1+r))3

$1.90

V (t=4)

E0((1+g)/(1+r))4

$1.85

V (t=5)

E0((1+g)/(1+r))5

$1.81

Disposal Value

E0(1+g)5/[r(1+r)5]

$16.43

Book Value

BV

$7.17

Fair Value Range

Lower Boundary

$27.95

Upper Boundary

$35.12

Minimum Potential

-25.28%

Maximum Potential

-6.11%
(You can download FED+ Fair Value Estimator, here.)
I decided to add the book value per share so that we can distinguish between a low-debt and debt-loaded company. The lower boundary does not include the book value. According to my 5-year discounted-earnings-plus-book-value model, the fair-value range for Coca-Cola is between $28 and $35 per share. At a price of $37.3, Coca-Cola stock is obviously overvalued; the stock is at least 6% up on its fair valuation range.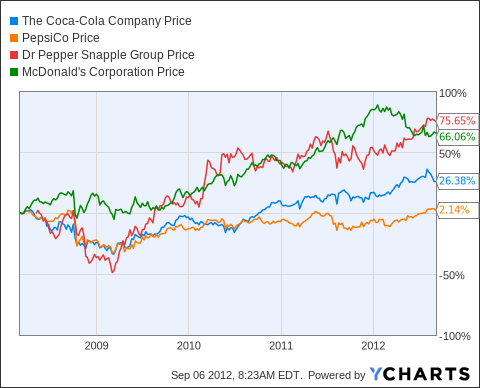 Peer Analysis
While there are many companies in the beverage business, PepsiCo (NYSE:PEP) is probably the closest competitor of Coca-Cola. KO has provided a total return of 8.4% versus PepsiCo's rate of 10.75% this year. However, when we look at the monthly performance, Coca-Cola's stock has disappointed its shareholders with a negative total return of 7.43%. In contrast to KO, PepsiCo performed with a total return of -0.41%, which, although also negative, is markedly better. KO has the relatively lower debt/equity ratio as its strong competitive advantage. However, Coca-Cola's yield is 9% lower than PepsiCo's (current KO yield is 2.63%). With a trailing yield of 2.87%, PepsiCo also offers pretty good dividend income. Based on an EPS growth estimate of 8.4%, Coca-Cola has a fair value range of $28 - $35.
Coca-Cola is not the only dividend-growth company that is trading with a premium over fair value. Most dividend-growth stocks are sharing the same faith these days. Pepsi is also slightly overvalued. Based on EPS growth estimate of 7.6%, Pepsi is trading at least 5% premium over the fair value.
However, there are also cheap stocks in the industry. Another competitor, Dr Pepper Snapple (NYSE:DPS), offers a yield of 2.94%, and is also priced with a low P/E ratio of 16, as well as being 20% cheaper than its fair maximal potential.
McDonald's (NYSE:MCD), which has even been a 5-star rated company in the consumer-oriented service industries for a long time, is trading with a P/E ratio of 16.74. McDonald's is fairly priced according to my FED+ valuation.
Dividend History
Coca-Cola remains a solid dividend payer. The dividends are consistent; the company has managed to improve its dividends by 38% over the last 5 years. I think the company will continue increasing its dividends as the global economic recovery keeps its pace.
Summary
Based on historical valuation metrics, Coca-Cola is trading stock at a slightly overvalued price. The trailing P/E ratio of 19.72 and P/B ratio of 5.3 are significantly higher than the 5-year average P/E ratio of 11.31 and P/B ratio of 5.2. Based on my FED+ valuation, Coca-Cola's stock is at least 6% overpriced. Nevertheless, recent stock corrections are about to leave their mark. Coca-Cola is a premier name in the retail beverage business, but the above-mentioned facts signal its stock is currently overvalued. At a price of more than $37, Coca-Cola's stock is obviously overpriced compared to my fair value estimates. Coca-Cola is a great company with still big upside potential. However, I would recommend investors to wait for a fair entry point below $35.
Disclosure: I have no positions in any stocks mentioned, and no plans to initiate any positions within the next 72 hours. I wrote this article myself, and it expresses my own opinions. I am not receiving compensation for it (other than from Seeking Alpha). I have no business relationship with any company whose stock is mentioned in this article.