Have you ever looked down at your Apple (NASDAQ:AAPL) iPhone when you're outside and noticed that it's almost impossible to see what's on the screen? According to Nokia (NYSE:NOK), its new Windows Phone 8 device, the Lumia 920, has "daylight viewing" capabilities. The color tone and brightness will "automatically respond" to sunlight, making this the brightest smartphone screen available. It also has the fastest LCD display "ever shipped" on a smartphone. And the super-sensitive touchscreen will work even with gloves on. The Finnish company showed off the PureMotion HD+ display 4.5-inch LCD screen yesterday in New York:
But what Nokia didn't mention is that the display's pixel-per-inch count comes in ahead of the iPhone 4S' Retina, Apple's own high pixel-per-inch display technology. Nokia lists the Lumia 920's PPI at 332 while Apple, on the other hand, says the iPhone 4S' PPI is 326.

Perhaps Nokia didn't want to mention the word "Retina" to avoid any litigation from Apple the way Samsung recently did, but this means Nokia's new flagship phone has a better display than Apple's top phone.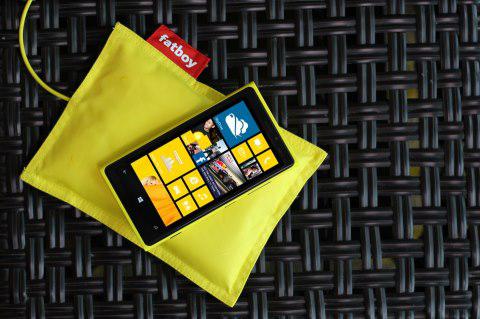 The new Lumia 920 charges wirelessly with built in Qi (pronounced "chee") technology, which is part of the Wireless Power Standard. Many tech experts believe that this is the future for all smartphones and devices. The plan is to have these charging plates built in to tables and counters at home, as well as in restaurants, airports, and all new cars globally:
It's also positive news for phone users in that they will be able to charge the device on base stations previously released for other projects -- with the Consortium conveniently announcing that there are now 110 certified examples from 124 members. As Virgin Atlantic and U.S. coffee franchise Coffee Bean and Tea Leaf will be supplying charging stations for public use, these are all positive signs of momentum behind the standard.
But this technology is not new:
Qi-enabled smartphones are already in production and circulation in Japan and South Korea, where the technology has had success as an office and home alternative to plugging in. It's now penetrating the automotive side in those markets, as was evidenced recently at the Shanghai Auto Show in April.

Aftermarket manufacturers are likely to take the lead in bringing Qi to market in North America because their product cycle is shorter than that of the auto makers. Eventually, the technology could be scaled to a point where a garage floor could charge an electric car, although Treffers admits this is purely conceptual at this stage, and would require much higher power levels.
The company has also added its own location services which include maps and turn by turn directions. And an innovative new addition is Nokia "City Lens," which allows you to look through the camera's viewfinder to highlight businesses in the buildings around you. So if you are driving down the street and want to find a coffee shop, you can just check your new phone in seconds. These new location services promise to be exceptional, and there are rumors that other companies will be using this technology in the future.
We now know the meaning behind Nokia's teaser ad with the girl on the bike. As some analysts already guessed, the clip was used to show the benefits of using the phone's PureView camera with Optical Image Stabilization (OIS), which adjusts to movement. Pictures will come out clear even if your hands are shaking, or if you are riding a bike on a bumpy road filming another bike that is moving. Although this is ground-breaking technology, the launch was marred by the fact that it was not actually filmed using the Lumia 920 phone. The company has provided a side by side video comparison using the new phone vs. another phone that does not have the new OIS technology. And the comparison shows that the 920 surpasses the competition hands down. So why did they not do it for the launch?
This is only one of the complaints from investors. Many were very disappointed that the event did not provide a time frame for the release of the phone. Basically, it will come out some time in the fourth quarter. There was no mention of price, or who the carriers would be. This was not good enough for investors who dumped millions of shares yesterday. The price, which had been hovering around $3 based on speculation that the 920 would be released, crashed to $2.38. The 50-day moving average is $2.34. Right now, the stock is sitting around $2.30. This is the perfect example of "buy the rumor and sell the news."
But there is a bit more going on here. Not only were most of the things about the phone leaked before the launch, but there had already been a major launch of Windows Phone 8 put on by Microsoft (NASDAQ:MSFT) a few months ago. So, many investors were somewhat disappointed not to see anything new. And many have forgotten some of the perks that will come with having Windows on a phone:
Nokia Lumia Windows 8 smartphones come with full-versions of Microsoft Office, Outlook and Internet Explorer 10. So you can create and edit Microsoft PowerPoint, Excel and Word documents when you're out and about, and browse easier than ever.

You can also sync all your work files on your PC and phone using SkyDrive. And if you need to share documents with colleagues, you can use SharePoint or Office 365 servers to make sure everything stays safe.
All of this is available on the Lumia 920 and the smaller 820, which was also announced at the conference. So what does all of this mean for Nokia? Until the company can get some solid earnings under its belt, it will remain a high-risk, speculative investment. However, this is where the contrarian can make some serious cash. Once these phones hit the market, the stock will probably soar. And it is fair to assume that Microsoft would probably bail Nokia out if it fails to produce the expected results. However, be prepared for some turbulence before it takes off again. Right now it is a trader's dream. So don't bet your rent money on it!
Disclosure: I am long NOK. I wrote this article myself, and it expresses my own opinions. I am not receiving compensation for it (other than from Seeking Alpha). I have no business relationship with any company whose stock is mentioned in this article.