Despite the market being up 100 points at 9:49 yesterday, I was already worried saying to members: "Very unimpressive move so far. Oil still at $145, moving up is still bad there let's not forget." I didn't mention oil yesterday morning as I'm sick of talking about it, but I have not changed my opinion that $145 oil is destroying the world. So how are we going to have a recovery with oil at this price? You would think that is not the case listening to the MSM, who blame everything else in the world but the runaway price of oil, which is interesting as the same Conservative pundits who take every opportunity to say that taxes are destroying the American way of life seem not to be bothered that rising energy prices represent a $5,365 tax on every single U.S. household ($70 extra per barrel x 21Mbd x 355 / 100M households, rich or poor) and rising food prices nearly double that total to create a flat Bush Commodity Tax of nearly $10,000 per American household.
There are your credit card defaults, there are your mortgage defaults, there is your consumer slowdown. The economic policy of this administration is choking the life out of the American consumer, as well as the global consumer, and we cannot survive continued inaction!!!
I don't want to make this a political rant. Bush is out the door and we can pretend he's blameless and we can let Bernanke and Paulson BS CongressTuesday and pretend that these factors were unforeseeable when they let the dollar's value fall 40% (yet another phantom tax on the American people) or when they started a government subsidized program of using food for fuel or when they lowered rates (which were never passed down to the consumer) or when they threw $168Bn of free money onto the fire rather than trying to put the inflationary flames out… We can pretend all those things are fine BUT THAT IS THE PROBLEM - by consistently holding the administration blameless for this mess, conservatives in the media have allowed things to spiral completely out of control.
Confidence is shot--in the administration, in the dollar, in banks, in the US in general. The dollar is hitting new all-time lows this week and oil, despite very obvious signs of a global slowdown, oil is hitting new all-time highs. It is oil, oil and oil that needs to be addressed first and drilling 10 years from now is not the solution. George Bush is sitting on 700M barrels of oil and every single day 300M barrels of oil are traded on the futures market. Since every oil bull on TV claims that oil is heading up on "supply concerns" I would very simply put it to the administration that they release 1Mb a day from the SPR and buy 30Mb a month on the NYMEX to replace it.
If the NYMEX is truly not a speculative joke, then the actual purchase of 30M barrels out of the 6Bn barrels traded back and forth each month should have no effect whatsoever on the price but the steady release of 30Mb a week from the SPR will quickly fill commercial inventories to the brim (we currently have 60M less barrels, out of 1,040,000,000, less petroleum than usual in commercial inventory).
Every single day on the NYMEX, 300 Million barrels of oil are ordered and canceled and all I am proposing is that each day the US government stand on that trading floor and buy 1/300th of those contracts and NOT cancel them. Those barrels can be used to fill the SPR next month while oil is released this month. We can even let the President go wild and stuff those last 6M barrels into the reserve.
It's a revenue neutral strategy that doesn't cost the taxpayers anything and has a good chance of making a dramatic impact on oil prices - TODAY - not in 2020. This is why I get upset with Bush: He IS the President, he is supposed to do SOMETHING to help. If I can think of 10 things to do to bring down the price of oil, I'm sure he can think of one. I'm tired of waiting and I'm going over his head to Congress and I'm laying out this very simple plan to refill the commercial stocks of this country without jeopardizing our national security or spending any money.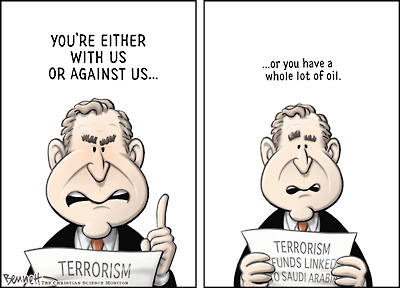 Once we have that going, it would be nice to investigate why a country that is supposedly so short on refining capacity and petroleum inventory IS EXPORTING 10M BARRELS A WEEK OF PRODUCT OUT OF THE COUNTRY??? Does that seem strange to you? Does it seem odd that the US refining cartel is ordering 10M barrels a week of crude oil, which increases the apparent demand of our nation by 5% per day and then, rather than putting those refined barrels into inventory, they sell them outside of the US, drawing 1,444,000 barrels a day out of our product stocks?
It's even worse than that because the US "only" imports 11Mb a day and that means that means that 13% of our crude imports are NOT for American use, they are barrels that are imported to the US, refined by the US refining cartel and then shipped away from the US while CNBC pretends there is a shortage of oil. Come on, Congress--it's right there in front of you, do your job and start asking some real questions! It's time to take the gloves off and start interrogating the people who are really terrorizing America, causing economic damage on a scale the 9/11 crew could only dream of.
Speaking of the refiners, idle refining capacity has ticked up from 232,000 barrels a day last November to 501,000 barrels a day in April, that's 8M barrels a month less product being refined with a refinery utilization rate of just 86% (was 83% in March). That's 2% lower than last April and 1.8% lower than April '06 and 6.6% lower than April '05 and 6.3% lower than April '04 and 7.9% lower than April '03, when oil was $30 a barrel. Refiner profits meanwhile (taking VLO for example) are up from $622M in 2003 to $5.2Bn last year. This is not an aberation, TSO went from $76M to $566M, SUN from $312M to $891M, XOM from $20Bn to $40Bn. THERE IS YOUR $10,000 PER PERSON PER YEAR COMMODITY TAX, AMERICA, don't just nod your head and agree when the morons on Fox (now owners of the WSJ) tell you those are not excessive profits taken at your expense.
This is not incompetence, it's criminal. There is a shell game being played with oil and refining capacity on a national and global scale, and nothing is being done to address the real issues. Instead we get distractions, this is what criminals do--they create a distraction so they can get away with their crimes while no one is looking. Step one of being a good citizen is to let them know we ARE looking, and we will be watching from now on. When you vote, ask your representatives if they have your interests or oil interests in mind. Despite the current spin in the media, those interests are not the same at all!