Edited by Marianna Avilkina
Charlotte, North Carolina-headquartered Bank of America Corporation (NYSE:BAC) is one of the largest retail banks in the world. Along with its competitors, Citigroup, JPMorgan Chase and Wells Fargo, BAC is one of the "big four" banks operating in the United States. Since its founding in 1922, BAC has provided financing for major architectural projects like the Golden Gate Bridge and the Hoover Dam. Its retail banking operations serve an estimated 80% of the U.S. population, with 57 million customers, 5,600 banking centers and 16,200 ATMs.
The recent financial crises proved to be a hard challenge for financial companies. Some giants fall into the hands of bankruptcy. Some of them were left at the mercy of the government bailout. Some were forced to engage in takeovers. Bank of America falls into the last category. The takeover of Merrill Lynch created a gigantic financial institution. The post-crises Bank of America is now much bigger and complicated at the same time.
Over the past ten years, Bank of America has acquired FleetBoston Financial, Maryland Bank National Association, the United States Trust Company, LaSalle Bank Corporation, Countrywide Financial and most recently Merrill Lynch & Co. These acquisitions have allowed BAC to become the 13th largest corporation, by revenue, in the United States.
At the same time, some of the acquisitions have been ill-advised purchases. Countrywide Financial, the largest mortgage lender at the time, is one such example. When one buys a company, it also inherits the liabilities attached to that company. The seemingly cheap acquisition of Country Financial Mortgage cost Bank of America more than $2.5 billion in additional costs. Some banking segments are still problematic with numerous non-performing toxic assets. The mortgage related issues exposed Bank of America to potential customer disputes that could imply billion dollar damage payments.
Financials
For 2012, Bank of America's Q2 results were as follows: net revenue of $22 billion was collected, the same amount as in 2012's Q1. Net cash used for financing activities was negative $75 billion, compared to a positive $35 billion in the first quarter. This dramatic change in cash flow was caused by the company's decision to use cash to service long-term debt repayment. In addition, deposits also showed a decline in this quarter, which added to the company's relative poor cash flow record. Earnings per share increased to $0.19 from $0.03 in the prior quarter. For the last trailing 12 months, earnings per share ((NYSEARCA:EPS)) equaled $0.95. The company reported total assets of $2,161 billion, compared to $2,181billion for the first quarter of 2012.
Bank of America's long-term debt decreased by 14.9% from the prior year, and now stands at $302 billion. However, the effect of this is also reflected in the cash flow statement. Large amounts of capital have been transferred out of the company's cash accounts to service long-term debt. The company is considering applying a $5 monthly fee to debit card holders in order to generate additional revenue. The bank's CEO Brian Moynihan justified the fee by saying that the bank "has a right to make profit." The actual implementation of this measure seems unlikely, as there has been an intense backlash against the proposed fee by customers and political commentators.
Company Stock and Dividend Profile
Bank of America's main competitors are the other three banks which make up the "big four" of the American banking industry: Citigroup (NYSE:C), JPMorgan Chase (NYSE:JPM) and Wells Fargo (NYSE:WFC). Currently, its market capitalization is at $86.1 billion.
The figure below shows how BAC's stock performance fails to match either the S&P 500 or the Dow Jones Industrial Average. The bank's performance has been trending downward since 2008. This is understandable considering the global financial meltdown that began during that same period. Since banks were at the center of the problem, the results are not surprising. BAC's performance has consistently remained far below the two primary benchmarks for the last three years. Moreover, trend does not show any signs of improvement in the upcoming quarters.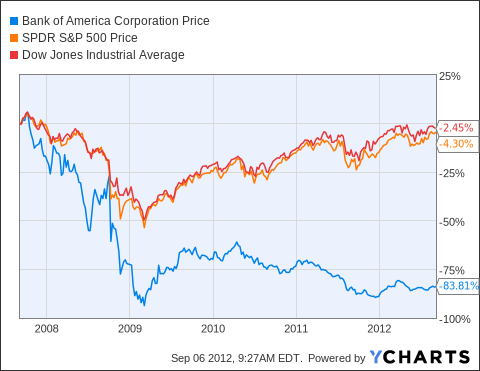 Difficult market conditions aside, Bank of America's decision to acquire Countrywide in 2008 is still stifling the company's progress. Two years after the company's acquisition, BAC took write-offs of $5.5 billion to ease the company's troubles, but the difficulties continue even today in 2012. More money is being earmarked to deal with fledgling lawsuits.
The figure below emphasizes BAC's poor market standing. Its peers are performing above and beyond what Bank of America can manage. The excuse of difficult market conditions cannot be used as a shield here, as the competitors are managing to make the most of the exact same market conditions. Furthermore, BAC's competitors continue to offer superior earnings per share. Compared to Bank of America's EPS of $0.03 for 2012's Q2, Citigroup has an EPS of $0.95, JPM has an EPS of $1.21 and WFC has an EPS of $0.82. All of BAC's competitors are offering a better share value.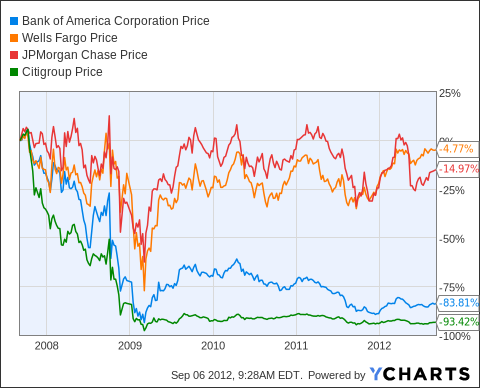 As of September 6, 2012, Bank of America's price-to-earnings ratio is 8.9, while the industry average stands at 12.3. The 52-week range is from $4.92 - $10.10. BAC's beta is 2.31, which will make it extremely susceptible to market conditions, as was seen in 2008-2009.
Bank of America has been paying shareholders a quarterly dividend since 1993. For the past three years, the annual dividend amount has been $0.04. The amount paid in total as dividends last year was around $2 billion. The stock has a yield of 0.5%.
Present Economic Outlook
Ever since the housing crash and financial meltdown of 2008, many banks have cut down on their spending and Bank of America is no different. It has been reported that the bank aims to slash its costs by $3 billion annually. The process, intended to be gradual, has been given the name: Project New BAC. What remains to be seen is whether they are cutting down on extra spending or curtailing their ability to grow. This should be the primary concern for investors who want to see this American giant find its way out from the prevailing economic lows.
The initial phase of cost cutting includes elimination of 30,000 jobs by the end of 2014. Perhaps the problem does not lie with the employees but with Bank of America's spendthrift policy of acquiring numerous large companies over the past decade. It would be naive to believe that Countrywide's losses are not largely responsible for BAC's cost cutting. The company's stock took a nosedive in 2011 and lost 50% of its value, and it continues to face lawsuits - mostly related to Countrywide's bad loans. Furthermore, BAC attempted to cut back on its losses by introducing the $5 per month charge to debit card users, but that was a public relations disaster. The intention of this plan was to offset the effect of new banking regulations which will reduce profits.
Summary
Bank of America is spiraling downwards, and its cost-cutting measures may just be the way back up. However, laying off and firing employees is never a sustainable solution for an expanding business. As things stand, BAC makes a profit on all of its businesses except mortgages. Perhaps a wiser strategy would be to focus on mortgages - get rid of the department's inefficiencies, and improve performance. This suggestion seems particularly advisable considering that Bank of America has been seeing its market share shrink during the last three years. Keeping in mind the stock's trend over the past four years, investors are strongly advised to hold the stock while its performance remains below its peers. Its selling value will be equivalent to pennies as the stock lost 50% of its value in 2011 alone.
Disclosure: I have no positions in any stocks mentioned, and no plans to initiate any positions within the next 72 hours. I wrote this article myself, and it expresses my own opinions. I am not receiving compensation for it (other than from Seeking Alpha). I have no business relationship with any company whose stock is mentioned in this article.