We believe that Oracle (NASDAQ:ORCL) will continue to drive growth through its high-demand products of fusion applications and Oracle Cloud. There are 45 analysts covering this stock, and no one has given a sell recommendation. We propose our bullish stance on the stock based upon the following key points:
A recent research revealed that Oracle is the number one company for future database needs.
The company's initiatives for infrastructure development will enable it to sustain its competitive position in the technology space.
Its operating cash flows have shown an impressive increase of 23% to $13.7 billion over the last one year. The high cash flow translates into the company's efficient operational performance, and justifies operating margins of 46% in the fiscal year.
Oracle's EPS of 82 cents in 4Q is at an all-time high.
We have estimated the 2013-target price of $40 by using an EV/EBITDA multiple with an upside of 30%. The stock is trading at forward P/E of 12x, at a discount as compared to the industry average of 13.1x. It is trading at cheap valuations, as reflected in its 3-year expected PEG ratio of 0.81, as compared to the direct competitors' average PEG of 1.05.
Oracle is a developer of databases and software meant to aid organizations optimize their operational performance. Its enterprise software are beneficial for organizations looking to develop integration among their operations. The database management enables them to make better decisions and anticipate future requirements of their businesses. The company is operating in three segments; software, services and hardware systems. Its software business is comprised of product support, software licenses and their updates. The company generates revenues through its consultation on enterprise architecture design, product integration and further improvements and upgrades. Oracle also provides training to customers, associates and employees in its education business. It is offering a wide array of hardware to network equipment manufacturers and original equipment manufacturers.
Oracle is catering to the servers segment without any dependence on Hewlett-Packard (NYSE:HPQ). Moreover, the company has filed an appeal in a court against the SAP AR (NYSE:SAP) copyright case. In August, SAP already agreed to pay $306 million against damages of copyright, but a Northern California jury determined that SAP had to pay $1.3 billion for downloading millions of Oracle files.
The company has overcome various bugs in its Java software to save it from hackers. The quick response to make the software flawless was crucial for the company to sustain customer trust. Rapid7 Security, a company that checks the security standings of software's, also confirmed the flawlessness of the updated version. Moreover, according to the recent survey by Piper Jaffary, Oracle is at the top, along with Microsoft (NASDAQ:MSFT) and salesforce.com (NYSE:CRM), in database management and cloud computing. Microsoft is going to launch the Windows 8 to set a new trend in cloud computing. Through this window, people can easily access and manage their data through the internet, which will be spread out into many servers. Oracle's spending on research and development is significant.
Financial Analysis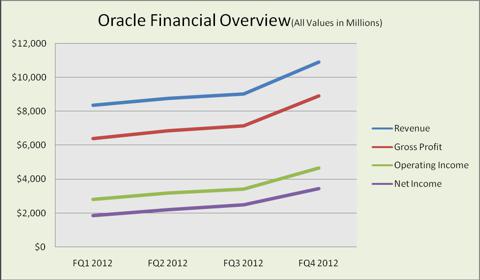 The company has posted an increase in total revenues of 1% from Q3 2012 to Q4 2012. The major revenue increase of 7% was witnessed from software license, which increased up to $4 billion. The company's operating and net income have shown an increase of 5% and 8% over the last one quarter. The graph above shows that there was a steady growth in revenues and profits from Q1 2012 to Q3 2012, but a sharp incline was registered between Q3 and Q4 due to a substantial increase in software license sales. The company's EPS has increased by 10% to 82 cents. However, its hardware business revenue decreased by 16% in the last quarter, but the rising revenue from the license business has offset the declining effect.
| | | | | | |
| --- | --- | --- | --- | --- | --- |
| Direct Competitor Comparison | | | | | |
| | ORCL | SAP | EMC | (NYSE:IBM) | MSFT |
| Market Cap: | 154.14B | 78.78B | 55.30B | 222.32B | 254.73B |
| Quarterly Rev Growth (YoY): | 1% | 18% | 11% | -3% | 4% |
| Gross Margin (NYSE:TTM): | 79% | 72% | 62% | 47% | 76% |
| Operating Margin : | 46% | 31% | 18% | 21% | 38% |
The company is enjoying considerably higher gross and operating margins. Its gross and operating margins are 79% and 46%, which are substantially higher than its peers SAP AR , EMC Corporation (EMC), International Business Machines Corporation , Intel Corporation (NASDAQ:INTC) and Microsoft Corporation , as shown in the table given above. EMC Corporation has registered a high quarterly revenue growth of 11% due to its concentric diversification into security software's. Despite the rising competition, the company's strong brand equity and strong bond with customers will help it sustain its profitability.

The stock is currently trading at $31.5, near its 52-week high of $33.8, and it showed an upside of 17% over the last one year. The stock's 50-days and 200-days moving averages are $31 and $29 respectively. 22.4% and 61% of the company's shares are held by insiders and institutions. As compared to its peers SAP, EMC, IBM and MSFT, ORCL is the only stock that trades above its 6-month prices.
| | | | | | |
| --- | --- | --- | --- | --- | --- |
| Comp Sheet | | | | | |
| | ORCL | SAP | EMC | IBM | MSFT |
| P/E : | 16.11x | 17.61x | 22.83x | 14.13x | 15.19x |
| PEG (3 yr expected): | 0.81 | 1.15 | 0.88 | 1.2 | 0.91 |
| Forward P/E (Dec 2013): | 12.03x | 18.29x | 13.35x | 11.68x | 9.18x |
Source: Yahoo Finance
We have calculated our 12-month target price as $40 by using an EV/EBITDA multiple, which reveals an upside of 30%. The stock is currently trading at a forward price/earnings of 12x, at a discount when compared to SAP's and EMC's forward P/E of 18.2x and 13.35x; and at a premium when compared to IBM's and MSFT's forward P/E of 11.5x and 9x.
The details on ORCL's valuation and target price of $40 are given below.
| | |
| --- | --- |
| Average. EV/EBITDA(Last five years) | 8.9x |
| Estimated EBITDA of 2013 ($ millions) | $19,775 |
| EV | $175,998 |
| | |
| EV | $ 175,998 |
| Less: (Debt) ($ millions) | $13,524 |
| Add: Cash ($ millions) | $14,955 |
| Add: Marketable securities ($ millions) | $15,721 |
| | |
| Equity($ millions) | $193,150 |
| No. of shares (millions) | 4882 |
| | |
| Target Price of 2013 | $40 |
Conclusion
In our view, the strong revenue growth will continue with further enhancement in fusion application and Oracle cloud computing of 'platform-as-a-service'. The company's wide array of offerings with unique capabilities will bring revenue growth. Oracle hopes to collect $1 billion from SAP in copyright infringements. Furthermore, its high responsiveness towards technological changes like overcoming bugs in its Java software enables it to sustain its competitive advantage. We recommend a long position on the stock based upon its substantial earnings growth over the last five years, and good future prospects.
Disclosure: I have no positions in any stocks mentioned, and no plans to initiate any positions within the next 72 hours.
Business relationship disclosure: The article has been written by Qineqt's Technology Analyst. Qineqt is not receiving compensation for it (other than from Seeking Alpha). Qineqt has no business relationship with any company whose stock is mentioned in this article.