Why should Starbucks (NASDAQ:SBUX) interest you? Late July through early August was prime time for new comers into Starbucks stock.
First, the data: The oversold stock has now recovered from hitting a 3-month low of $43.16 on August 2, 2012. Today the stock is trading at $50.33 versus its 52-week range of $35.12-$62. The stock trades at a PE multiple of 27.96x versus McDonald's (NYSE:MCD) at 16.78x and YUM Brands (NYSE:YUM) at 19.82x.
There are several positives that are not included in the stock, namely an upgrade of its food program via La Boulange to its juice/tea initiatives and its Verismo single serve launch. Also in August, Square signed a major partnership with Starbucks to enable mobile payments at its 7,000 U.S. stores. This will be the first time digital or mobile payments will be used in physical retail locations. This will be an added convenience to the already big advantage that Starbucks has, namely, location location location!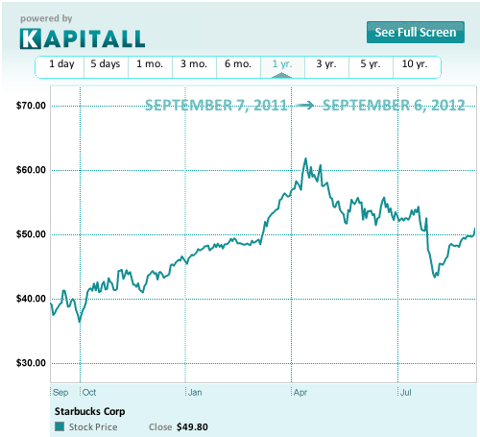 It doesn't hurt to know that the company also pays a stock dividend, the current yield being 1.4%
Starbucks is expected to report Q4-2012 and Full Year 2012 earnings on November 1st. You still have time to play the story.
Nielsen data for 4-weeks ending August 4th, 2012: K-Cup penetration hits new highs but the share of K-Cups drops back for the first time. For the 4-weeks ending 8/4/2012, total K-Cups' $ share hit a new high of 21.7%, up from 21.3% last period. The share of K-cups dropped for the first time to 16.3% versus 17% last period. One of the reasons for this was the widening price gap between SBUX and its competitors, Green Mountain Coffee (NASDAQ:GMCR), Caribou (NASDAQ:CBOU) and Folgers. The competitive landscape added to the damage as Starbucks' share of ground coffee declined 110 bps versus the last period to 9.7%. Here, Caribou and Peet's (NASDAQ:PEET) grabbed share from SBUX.
Earnings re-cap: In July, Starbucks reported Q3-2012 EPS of $0.43, below consensus of $0.45. They lowered Q4-2012 guidance by $0.02-$0.03 to reflect on the June weakness that spilled into July. Revenue growth remains in the 10-15% range, and EPS continues to grow in the 20% range as the company moves towards a higher margin business. This growth will continue into 2013 unless there is a prolonged recession. Management initiated a FY 2013 EPS range of $2.04-$2.14 versus consensus of $2.29. Starbucks' credit profile is not a concern given the $1.5 billion cash on the balance sheet and no short-term debt.
Conclusion: The stock has placed itself in a strong position with the worst behind and several positive catalysts, results of which will be seen in the rest of 2012 and 2013. With a solid growth profile, this name is worth your radar screen.
Risks: The main concern going forward is a drastic change in consumer behavior in a prolonged recession.
By Sabina Bhatia
Disclosure: I have no positions in any stocks mentioned, and no plans to initiate any positions within the next 72 hours. I wrote this article myself, and it expresses my own opinions. I am not receiving compensation for it. I have no business relationship with any company whose stock is mentioned in this article.