Spectrum Pharmaceuticals (NASDAQ:SPPI) has been notorious lately for its high levels of short interest. Lately, it seems that these short sellers have done something right, with the stock recently plunging over 25% in the span of just over two weeks. While many viewed this as an overreaction to a questionable but not necessarily bad earnings report, the stock has struggled to build momentum after the crash despite a major expansion to the company's buyback program, the long-delayed approval of the company's offer to purchase Allos Therapeutics (NASDAQ:ALTH), and several positive statements by the company's CEO. Furthermore, short interest in the stock has remained high.
To determine exactly what is driving Spectrum's current valuation, I am first going to examine the reasons for the stock's crash and stunted recovery, followed by an assessment of the company's potential growth factors. As a reminder, any opinions that I express are my own and are provided without warranty.
Why the fall?
Though certainly a number of factors have influenced the downtrend of Spectrum (for an excellent review of some of the hurdles that the company faces, read Joe Springer's detailing of the case to sell Spectrum), none are more important than recent rumors and sales data surrounding Fusilev, the company's top-selling drug. Nothing else quite explains how the stock plunged after the company issued what appeared on the surface to be a better-than-expected earnings report.
First, let's take a look at the raw data. Spectrum's revenue and EPS both came in over consensus analyst estimates, with revenue growing more than $8 million quarter over quarter. Income before taxes was down slightly quarter over quarter, but still came in at a respectable $21.05 million.
Even a seasoned investor would have a hard time finding fault with these numbers alone. Yet, Spectrum's shareholders quickly drove the stock downwards after this report was released. The only logical explanation for this behavior is that investors became concerned about where the growth came from. That is when the picture starts to get more problematic.
Of Spectrum's $68.7 million in revenue, $56.6 million (or 82%) came from the sales of Fusilev. It is generally not a great sign for a company to rely too much on a single product (although it is a fairly common situation in small-cap healthcare stocks). In Spectrum, however, it is particularly troubling because, out of all the products the company currently markets and develops, Fusilev probably has the worst future prospects.
Spectrum has exclusive rights to the specific compound contained in Fusilev, but it still has considerable competition from the generic drug Leucovorin. Though Fusilev has managed to do slightly better than Leucovorin in comparative clinical studies (as shown in this investor presentation), Leucovorin costs just a fraction of Spectrum's product. Under normal circumstances, it would be very difficult for Spectrum to compete. However, for the past several months there has been a massive shortage of Leucovorin due to manufacturing issues, forcing many customers to opt for Spectrum's more expensive alternative.
Spectrum will likely continue to reap massive profits from Fusilev as the Leucovorin shortage continues. According to the most recent data released by the FDA, the shortage is still in full swing. And, to be fair, it is unlikely that demand for Fusilev will go to zero if Leucovorin does become available again. Many consumers would likely be wary of using a "generic" cancer drug (though it is worth noting that Leucovorin has been on the market much longer than Fusilev), and Spectrum's marketing team may be able to retain some of the new customers added during the Leucovorin shortage. Even still, should Leucovorin become abundant again, a 50% decline in Fusilev revenues would almost certainly be a best-case scenario.
Some sources have asserted that Spectrum is already offering rebates on Fusilev due to potential competition from Leucovorin. Spectrum recently disputed this claim in an SEC filing by stating that they have not lowered prices (and declaring that prices in Q3 will be higher than Q2). Though the dispute as to Fusilev pricing may continue, personally I view this as a secondary concern as Spectrum's net sales have maintained consistent growth and cost of sales has increased at a slower rate. This means that it is not affecting the company's ability to increase its profits in the short term.
To compound this problem, Spectrum is seeing relatively slow growth in Zevalin, the only other drug it has on the market. In Q2 2012, Zevalin saw a mere 7% increase in year-over-year net sales to $9 million, even though Spectrum acquired the rights to market the drug in more than 40 additional countries during the time period. Furthermore, Spectrum's own CEO did not seem hugely enthusiastic about the drug's prospects during a recent presentation, stating that the company would continue to work to clear regulatory hurdles to its being prescribed and predicting a relatively modest increase in sales should they succeed. Therefore, while this drug may be a growth opportunity for the company, it is unlikely to provide revenues on the scale of Fusilev.
Spectrum will add the drug Folotyn to its portfolio once it closes its acquisition of Allos Therapeutics in the very near future. Folotyn is not yet a blockbuster success either, with net sales just shy of $11 million. Folotyn sales have been stagnant year over year, though it would be unfair to read too much into this fact because Spectrum did not have control of the sales and marketing of Folotyn during that time.
Spectrum probably does not have a fix to its potential Fusilev problem at the present moment. Therefore, if there is hope for Spectrum to maintain its current levels of profitability, it lies in the company's pipeline. Fortunately, Spectrum's pipeline is where the company truly shines.
Spectrum the Development Company
While Fusilev may not have provided Spectrum with the drug it needs for long-term growth, it has helped the company accumulate large amounts of cash for future developments. Currently, the company has $200 million in cash and approximately $300 million in current assets. As a result, Spectrum's pipeline is very large, currently containing ten compounds at various levels of development (as shown in the excerpt from Spectrum's 2011 annual report, below). If Spectrum can succeed in bringing these products to the market in a timely and efficient fashion, then they will surely be enough to boost the company's profitability regardless of the issues with Fusilev.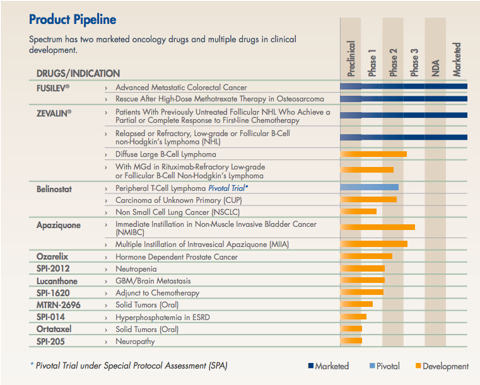 Two of Spectrum's compounds, apaziquone and belinostat, are in late-stage development. Currently, belinostat appears to be the closest to the market, with Spectrum expecting pivotal trial results for the drug's treatment of T-Cell lymphoma in Q4 2012 and a New Drug Application filing shortly thereafter. Spectrum recently acquired marketing rights for this drug for more than $30 million in up-front cash and millions more in milestone payments, suggesting that it believes this drug has a significant future in front of it.
Perhaps the most interesting thing about belinostat, however, is that it is designed as a treatment for the same type of lymphoma that Folotyn has been approved to treat. In the short term, this may not necessarily be a good thing because it seems unlikely that a customer would decide to order both drugs from Spectrum. However, down the road, this could create very lucrative options with drug combinations, as Spectrum CEO Dr. Rajesh Shrotriya has mentioned.
Apaziquone has a slightly more hazy future, however. In April, the company reported that apaziquone had failed the primary endpoint in a phase III clinical trial. The drug did outperform the placebo, but not to the point required by the study. Spectrum reports that they are "considering [whether] to request a meeting with the FDA to discuss further steps," and it is possible that this (or a similar) compound will eventually reach the market; however, at this point, it is difficult to count on this particular compound to shape Spectrum's future.
In addition to these developments, Zevalin and Folotyn also have the potential to be used in new treatment scenarios. As the annual report shows, Zevalin is currently undergoing trials for use in treating different types of B-cell lymphoma. Spectrum's plans for Folotyn are even more ambitious. Dr. Shrotriya recently declared that the company will attempt to combine Folotyn and Fusilev to help reduce side effects of Folotyn. Should this succeed, Shrotriya claims that this process alone could double sales of the drug. Furthermore, Spectrum also says they are looking into the possibilities of using this drug to combat different types of cancer.
Marketing synergies between Zevalin, Folotyn, and belinostat should be able to help keep the cost of selling these drugs down, which means Spectrum will likely see higher margins on these products in the near future.
Of course, the process from drug candidate to an actual marketable product is long and expensive. Fortunately, Spectrum appears to be in an excellent position to manage this process. As mentioned earlier, Spectrum has significant amounts of cash on hand that should make it possible to fund the various clinical trials, patent disputes, and regulatory processes that will inevitably accompany these drugs in their path to the market. Furthermore, Dr. Shrotriya seems to be a capable leader of the company. He has considerable experience in the area of pharmaceuticals, and has led the company from its conception to its recent $1 billion valuation. As one of my colleagues elegantly put it, "Dr. Shrotriya will not be the one to drive Spectrum into the ground."
Conclusion
Spectrum is currently in a very strange position in that the drug that is driving the company's present will almost certainly not shape its future. First and foremost, this means that the stock will likely remain volatile in the short term. If Fusilev sales begin to decline before Spectrum's other marketed drugs and new-product pipeline can rise to the challenge and help diversify its source of revenue, then the stock likely has ways further to fall. If, on the other hand, Fusilev sales remain at or above current ranges, then the company should not just return to the level of its 52-week high but soar well above it.
Investors looking to the long haul should probably view Spectrum more as a development-stage than a commercial-stage company. Spectrum's current profits are certainly very nice; however, with the possibility of Fusilev sales falling at any moment, it is hard to look at this income as anything other than a way of financing the company's research and development operations into other potential products. When taking this "development-only" view, Spectrum looks to have everything it needs to succeed, including cash, expertise, and drug candidates. While it is difficult to pin an exact valuation on a "development-stage company," this outlook would probably suggest that the company is selling at a discount right now and thus is a long-term buy.
In the short term, however, Spectrum is much more of a wild card. Short-term stock and options trades in Spectrum should probably be made largely on a technical basis. Fundamental data is simply too unpredictable. And, as the last few months have proven, Spectrum often reacts big when news is worse (or better) than expected.
All in all, any play in Spectrum right now is certainly a major risk. However, with great risk comes the potential for great reward. If you have the expertise to spot the next trend in Spectrum (or the time to wait for the stock to correct), then it can be a highly lucrative play in either direction. I think that the long-term prospects of the company do look strong. Good news and more diverse profits should eventually begin to take over the SPPI spotlight. Until then, however, investors may be in for a wild ride.
Disclosure: I have no positions in any stocks mentioned, and no plans to initiate any positions within the next 72 hours. I wrote this article myself, and it expresses my own opinions. I am not receiving compensation for it (other than from Seeking Alpha). I have no business relationship with any company whose stock is mentioned in this article.