Gulfport Energy (NASDAQ:GPOR) is an independent oil and gas producer which has enjoyed a remarkable run: bottoming out at a mere $1.50 on March 2, 2009 during the midst of the oil crash before roaring back to a price above $37 in 2011. In 2012 the stock corrected to a low of $15.92 in June before closing at $27.44 on September 5. I've been invested long in Gulfport since 2009, and continually have found my expectations rising due to management's shrewd reactions to the market.
I first ran across Gulfport in early 2008. I was interested generally in oil producers and I was interested by the company's production areas on the Louisiana Coast and the Permian Basin of West Texas. The company had also bought into some intriguing energy plays in the Canadian Sands as well as some Thailand gas fields.
The problem was that the price of oil was rocketing into the stratosphere, topping out above $145/bbl at the New York Mercantile Exchange in July 2008. Convinced the price could not hold to such an insanely high level I bided my time and hoped a buying opportunity would come. My patience paid off as prices crashed and did not bottom until oil had reached a mere $36.51/bbl in January 2008 and Gulfport's stock cratered along with it.
Once I was satisfied the company was financially solid enough to survive the fallout, and confident that the price of oil would rebound from its hyper-low price, I started accumulating shares between $2.50 and $6.00. I thought I had a good $22 stock on my hands with possible upside.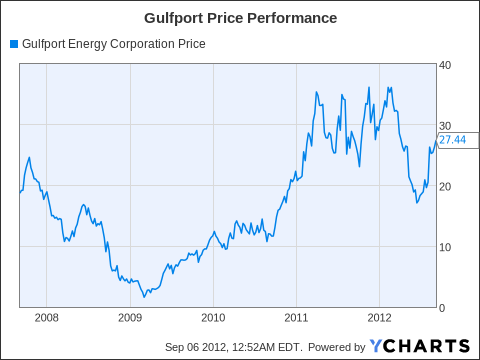 Oil prices recovered moderately. Many oil companies were still reeling from the dual whammy of tight credit and the oil price gyrations. Gulfport management tightened finances to be more defensive. They were throwing off free cash flow from operations which they aggressively invested in more oil leases while ramping up their drilling operations.
Before long the company was increasing its lease acreages in the Permian Basin, increasing its investments in the Canadian Oil Sands while establishing new plays in the Niobrara Shale (Colorado). The company was keeping costs low - break even prices for Gulfport were ranging about $50-$55/bbl. With 2010 oil prices re-establishing between $75-$80 the company was swimming in free cash flow. Again, ramping up its reinvestment activity Gulfport kept investing back into more oil leases and more production. I revised my opinion of the stock into a long term $37 price and accumulated more shares.
In 2011 Gulfport Energy swept into the incredibly promising Utica Shale play in Ohio, with its first two wells hitting strong gas sources. The company's 4 September 2012 announcement read:
"Gulfport's Boy Scout 1-33H tested at a peak rate of 1,560 barrels of condensate per day, 7.1 million cubic feet ("MMCF") per day of natural gas, and 1,008 barrels of NGL per day assuming full ethane recovery and a natural gas shrink of 25%, or 3,456 BOEPD."
Meaning great results and indications of future great production. The market reacted with glee and immediately Gulfport's stock popped up 6.71% to $27.44.
And that is the story of Gulfport Energy. Management keeps growing the company, using organic cash flow to fund new oil and gas leases and consistently ramping up drilling. The company's estimate is that 2012 production will be increased between 27-35% year over year with future production to increase at around 20% or better for the next 2-3 years. The company's costs still make for a break-even point of around $55-$60/bbl - so as long as oil stays north of $70/bbl Gulfport's earning potential remains strong. The 5 September 2012 West Texas Intermediate spot price was $96.080 at closing giving Gulfport a 35% price "moat."
The current numbers on Gulfport also remain strong. Gross Margin is 79.68% and Net Profit Margin is 43.26%. About a third of the company's production are protected with hedging contracts placed above $100/bbl which helps protect the company from radical price drops. The stock price is 2.1 times book value and 7.4 times cash flow. Management's Return on Equity is a satisfying 21.53% with a normalized PE Ratio of 11.7.
There are two worries all potential investors should be aware of:
1) The company is dependent on oil maintaining a reasonable price. With a price above $85 the company will be throwing out ridiculous earnings but an oil price below that will seriously crimp the company's outlook.
If oil crashes again like the $40 or $36 level of 2008/2009 then things could get ugly. However I believe such an event happening in the current environment is unlikely. Plus, the company's hedged positions will dampen the worst effects of such a disaster.
2) Most of Gulfport Energy's expanding production is in the center of the continent - Canada, Colorado, West Texas and Ohio - where there is inadequate infrastructure to transport oil and gas to refineries. Prices in these mid-continent regions are selling at a $10-$15/bbl discount to oil sources like the Gulf coast due to the additional transportation costs. With all of these areas increasing production there is some danger of a production glut overwhelming local resources. In this bad case scenario production, and revenues, will sharply decline. I plan on writing another article this week about the situation.
That said I have again found myself raising my price expectations for Gulfport to $48/share and accumulating more shares. So long as gas prices remain at a comfortable level, I expect Gulfport will keep ratcheting up production.
And I'll continue to keep raising my expectations.
Disclosure: I am long GPOR. I wrote this article myself, and it expresses my own opinions. I am not receiving compensation for it (other than from Seeking Alpha). I have no business relationship with any company whose stock is mentioned in this article.