Below we highlight our trading range charts for oil, natural gas, gold and silver.  The green shading in each chart represents two standard deviations above and below the commodity's 50-day moving average.  When prices move above the green shading, they are considered overbought (and vice versa for oversold).
As shown in the first chart below, oil is currently trading right at the top of its trading range.  Its up-trend remains strong and seemingly unbreakable.  But natural gas has bucked the energy up-trend in recent weeks and moved lower.  As shown in its chart, it is trading right in the middle of its trading range and anything lower than current levels will risk breaking its up-trend.
click to enlarge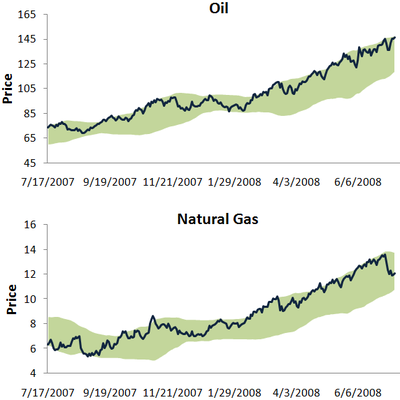 When we look at the ratio of oil to natural gas over the long term, the recent divergence between the two is nothing out of the ordinary.  When the line is rising, oil is outperforming natural gas.  Over the last few months, natural gas outperformed oil, but oil has simply been making a comeback in recent weeks.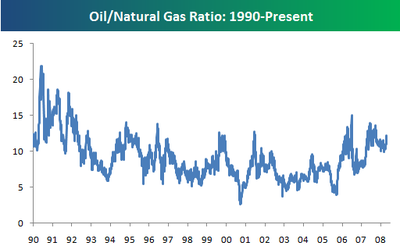 As the dollar has fallen to new lows again, it's not surprising to see gold and silver at overbought levels and testing its highs from earlier this year.  While the two commodities could see a pullback in the very short-term, it's increasingly likely that those highs will once again be broken.