The only product that Dendreon Corporation (NASDAQ:DNDN) managed to bring into the market, Provenge, hasn't been well received, and the company's woes regarding sales have not subsided. The company is already feeling the heat from rising competition in the industry, which could dampen its future. The stock is down 35% YTD. 88% of analysts monitoring the stock are bearish or neutral. We recommend a hold position for the stock.
We will change our recommendation to a buy, provided the company:
1) is able to achieve its revenue growth targets in coming quarters, 2) successfully implements its restructuring plan, which would improve its bottom line.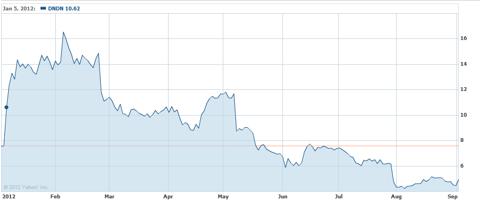 Source: yahoofinance.com
Dendreon Corporation is a biotechnology company involved in novel therapeutics discovery, development and commercialization, which could be used for improving treatment for cancer patients. For treatment of multiple types of cancers, active cellular immunotherapy, and small molecule candidates are included in the company's product portfolio.
The company's only commercialized FDA-approved product is Provenge (sipuleucel-T). Provenge was approved by the FDA on April 29, 2010, and it is the first autologous cellular drug to receive FDA approval for the treatment of asymptomatic/prostate cancer.
The prostate cancer drug market is a large one, as this form of cancer is the second leading cause of cancer deaths in men in the U.S. Currently, there are over one million men diagnosed with prostate cancer. The product is believed to be more effective if it is used at an initial stage of the cancer.
Previously, sales used to be made directly to physicians, but now the company has established a distribution agreement with wholesalers. Under this agreement, the risk of bad debts will be assumed by wholesalers. The company owns the rights for the product around the world.
So far the sales growth for Provenge has been disappointing. In the future, the company might miss its sales target, as the market becomes more competitive. Last week, the FDA approved Xtandi, developed by Medivation Inc. (NASDAQ:MDVN); Xtandi is a life-prolonging drug for prostate cancer patients at a later stage of diagnosis. Johnson & Johnson's (NYSE:JNJ) drug, Zytiga, is expected to get FDA approval by December this year for treatment of patients who have not received chemotherapy.
The company reported weaker than expected results for Q2 2012. Net product revenue for the quarter was $80 million versus the market consensus of $85 million. Net revenue for the quarter was up 66% YoY, and down 2.4% QoQ. Reported loss per share for the quarter was $0.65, against the market consensus of $0.61. To improve upon its bottom line, the company has announced a strategic restructuring plan. This will help the company save $150 million in annual costs; it has decided to cut more than 600 jobs in the next 12 months. Research and Development expense for recent quarters has been $18-$20 million. The company is burning cash worth ~$90 million in each quarter, and currently has ~$500 million in cash. If the company keeps on burning cash at the current pace, it will deplete its cash in the next five quarters. The company's debt is high, as is indicated by its debt-to-equity of 285%; this reflects that further debt financing will not be easy for the company.
The company has announced its intention to close one of its manufacturing facilities, and it is expected that its cost of goods sold will be less than 50%, following the closure. Rising cost of goods sold has adversely affected the bottom line in Q2 2012. Due to the restructuring plans, an initial charge of $4 million and a noncash charge of ~65million are expected to be recorded in the third quarter.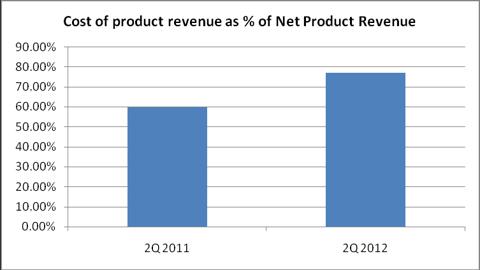 Source: yahoo.brand.edgar-online.com
The risks faced by investors who are holding the stock include the growing competition in the prostate cancer drug market, approval of Zytiga, and the failure of the company's drugs in clinical trials; all of which would mean lower sales growth for the company. Unsuccessful execution of cost control plans will lead to a weaker-than-expected bottom line.
The company's end market is expected to be more competitive in future, as it has to compete with easier to administer drugs offered by its competitors; one example being JNJ's Zytiga. To compete and grow successfully, the company has to reach out to physicians so that they prescribe the company's drugs, rather than those of competitors.
Going forward, there are some factors that could result in a bullish scenario for the stock. The company submitted a marketing application to the EMA in early 2012 in a bid to market its products in Europe. A successful introduction of Provenge in the European market in 2013 could give a much-needed lift to revenues and stock price. Positive news from drugs undergoing clinical trials, which aim at treating patients in earlier stages of prostate cancer, and the successful execution of its announced plan to reduce COGS and save up to $150 million, could build on investor confidence.
Disclosure: I have no positions in any stocks mentioned, and no plans to initiate any positions within the next 72 hours.
Business relationship disclosure: The article has been written by Qineqt's Healthcare Analyst. Qineqt is not receiving compensation for it (other than from Seeking Alpha). Qineqt has no business relationship with any company whose stock is mentioned in this article.