When Daniel Ustian was ousted from the CEO's office ten days back, investors suspected that Navistar (NYSE:NAV) did not have good news to share regarding the next earnings release. These doubts were cleared today, when NAV missed Wall Street's earnings estimates by 9% (after adjusting for tax benefit and engineering costs and penalties), as NAV made lower military sales in the Truck and Engine divisions in the U.S. and Canada, and reported a lower engine volume in South America. NAV did have some good news for investors, as the company beat revenue estimates by 12%. However, that beat too was dented by a 6% YoY decline in revenues.
NAV failed to provide a guidance for the fourth quarter, as it announced that the company was actively working to improve its market share in core areas, and streamline non-core functions to improve profitability and return on investment. The company added that investors will have to wait till NAV evaluates the outcome of these efforts. New Chairman and interim CEO Campbell gave a timeframe of 12-18 months in this regard.
Other important announcements in the press release were planned job cuts and the resultant estimated savings, plans to cut material costs and discretionary spending, and most importantly, the arrival of Navistar trucks fitted with Cummins (NYSE:CMI)' engines in December, and the arrival of EGR engines treated with a urea solution from CMI in April 2013.
There are many questions that investors still want answers to, such as the possible result of an SEC inquiry, chances of an increase in non-conformance penalties of $3,775 due to increased pressure from NAV's peers on the EPA, the impact of expensive CMI engines on the company's pricing and the resultant consumer reaction, chances of a hostile takeover, and how to address rising liquidity concerns despite the recently acquired loan of $1 billion from a pool of banks. The answers to these questions will serve as important catalysts for the stock.
Press Release

The results are shown after adjusting for the abnormal tax gains of $196 million and costs of $10 million and $16 million related to engineering cost and NCP, respectively. Without the adjustments, NAV made $84 million in quarterly profits. The Interim CEO said that the results were not satisfactory, and a plan was being set to improve the company's profitability. Therefore, no guidance was provided before the success of the plan became visible.
Why Revenue was -6% YoY
NAV generates its revenue from the following regions: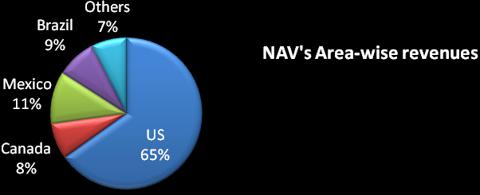 The main reason for NAV's declining sales level was its lower net sales of trucks and engines in South America, from where it gets 20% of its revenues. Also, the company witnessed less-than-expected truck sales in the U.S. and Canadian markets. Following shows the sales growth and profitability in the truck, engine and parts divisions: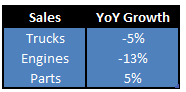 *profits are in millions
As already stated, lower military sales was considered to be the main reason for the YoY decline for trucks. The parts division managed to excel due to an improvement in the U.S. and Canadian commercial markets, along with lower S&G expenses.
Traditional volumes for trucks declined, as Navistar's Class 6 and 7 trucks saw a 22% decrease in sales. However, this was offset by a 32% rise in school buses volumes.
The engine segment had a lower sales volume in South America, which resulted because of a pre-buys of pre-Euro V engines.
Restructuring
Lewis said that Troy Clarke, who was recently promoted as the President and COO of NAV, was working with his team on plans to improve the company's market share in all three divisions.
Also, NAV expects to save $70-$80 million after the workforce reduction. However, it has not commented on the time period in which it expects to reach this target. This is a part of NAV's overall strategy to cut costs by $150-$175 million on an annual basis, starting from 2013. For this, NAV is concentrating on trimming its non-core operations and reducing its material costs and discretionary spending.
Engine Update
NAV expects that the trucks fitted with the CMI 15L engines will roll in the market in December this year, as was expected by the market. Also, EGR engines with urea after-treatment, known as ICT+ 13L engines, will come in April 2013.
Currently, NAV has been allowed to sell its non-compliant engines as long as it pays a fine of $3,775 per engine sold. This was less than what the market expected, therefore NAV went up after the announcement. With a current estimate of about 140,000 trucks to be sold this year, and NAV's market share of 20%, NCP will amount to $106 million.
However, a big risk lies in the fact that the EPA's policy to allow sales has been challenged by other manufacturers like CMI, Paccar Ltd (NASDAQ:PCAR), Daimlar AG (OTCPK:DDAIF) and Mack Trucks, who demand that the penalties be between $6,700-$19,000 per engine sold for non-conformers.
SEC Inquiry
No announcement has been made by the SEC as yet regarding the ongoing inquiry. Even though investors still remember the previous inquiry that led to huge fines and NAV being delisted for 16 months, there is a probability that given the involvement of large cap banks, like JPMorgan (NYSE:JPM) and Goldman Sachs (NYSE:GS), in the $1 billion debt issued to NAV, the issue is not as serious in nature as the previous SEC episode.
Conclusion
Gross profits were down from 15% to 12%. Margins remain negative for the truck and engine segments, and are only positive for the parts segment. The rate at which the firm is burning cash has slowed down; it is -$54 million, lower than the figure of -$156 million in the second quarter. However, the cash burn is expected to rise to $325-$475 million, as cash will be used in buyouts and higher R&D costs for engine manufacturing. This raises concerns over whether NAV will survive, with the $1 billion securitized loan that it recently got from a pool of banks.
NAV's stock is up 14% today, after the press release. Even though the forward multiple of 13x and a growth rate of 17% per annum for the next five years seem attractive, the balance sheet is not solid. The stock is recommended as a short, till the emergence of an important stock price catalyst. Important catalysts include:
Result of SEC inquiry.
Court decision regarding NCP for engine.
Implementation of staff reduction and realization of targeted savings.
Hiring of permanent CEO.
Disclosure: I have no positions in any stocks mentioned, and no plans to initiate any positions within the next 72 hours.
Business relationship disclosure: The article has been written by Qineqt's Industrials Analyst. Qineqt is not receiving compensation for it (other than from Seeking Alpha). Qineqt has no business relationship with any company whose stock is mentioned in this article.