From a dividend perspective, PepsiCo (NYSE:PEP) has provided regular dividends (with a yield of 2.97%), and we foresee no hurdles in Pepsi's path in continuing to do so. However, as we will discuss in the valuations section, Pepsi currently seems to be trading at historical highs (on P/E basis). Thus, we recommend that investors wait for an ideal entry point into the dividend-paying stock. 22 analysts cover the stock, and none of them have given it a sell rating. Also, its shares are trading near their 20-year highs.
With a market cap of $112.8b and a reach in 200 countries, PepsiCo is the largest food and beverages business in North America, and the second largest in the world. It houses world-renowned brands such as Pepsi, Lays, Tropicana and Gatorade. Unlike its rival Coca Cola (NYSE:KO), PepsiCo does not only rely on sugary bubbly drinks for revenues, but increasingly relies on its other non-carbonated drinks and snacks portfolio. This portfolio offers a mix of "Fun for You" and "Good for You" products. In 2011, global beverages fetched Pepsi 52% or $34b of total revenues, while the remaining share belonged to the global snacks (with $32b) category. Geographically speaking, the U.S. was responsible for half of the company's total revenues. Its global nutrition business, within snacks and beverages, caters to the health-conscious market segment.
Chairman and CEO Indra Nooyi, since taking over the company, has had a particular notion at her heart. She wants to promote healthy, nutritious and wholesome alternatives, and not just calorie-rich drinks. In fact, she is so committed to the transformation that she plans to increase the nutrition business. Also, one of the major product launches in years has been a drink named Pepsi NEXT, which although seems similar to the regular Pepsi, contains 60% less sugar. This might be all good for consumers, but do investors really want such a change?
Coke, its largest rival, has grabbed a large market share in the consumption of carbonated soft drinks (CDS) in the U.S., and enjoys superiority in several other markets outside the U.S. In fact, to the dismay of investors, the company's flagship brand, Pepsi, does not even hold the second-place slot - the drink has fallen behind Diet Coke. However, Pepsi has a larger share in the consumption of liquid refreshment beverages. Investors want the company to focus on its two largest revenue generating businesses: 1) Frito-Lay North America (Graph 1), which manufactures the branded Lays, Doritos Tortilla, and Cheetos, and 2) PepsiCo America Beverages, which heads Pepsi, Mountain Dew, Gatorade, and other brands. Nooyi is accused of pursuing her passion for a healthier society at the expense of the company's core business. The stock price has not appreciated since she took up her post (Graph 2).
Graph 1: Revenue contribution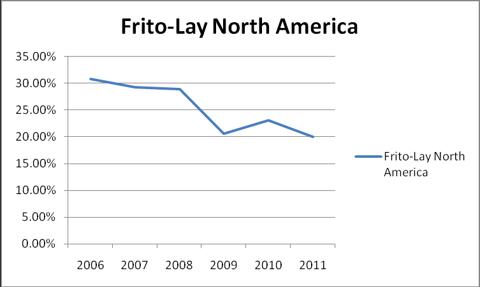 Graph 2: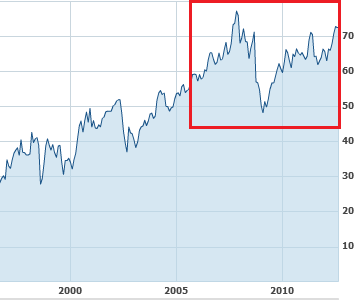 When Nooyi joined Pepsi as its chief strategist, she instantly foresaw the dwindling demand for CDS, made some early moves for diversification, and played a leading role in a spin-off and an acquisition of Quaker Oats. She also made inroads into making PepsiCo a more socially responsible organization. But all this came with a drawback, its leading brand suffered. For example, in a shocking move, PepsiCo held itself back from advertising at the Super Bowl in 2010, and instead invested $20mm in a project that gave hefty grants to community programs and schools. Said to be a marketing campaign, the year actually saw sales of Pepsi decline by 6%. Leaving the brand on its own was clearly a bad bet and a fallacy on the part of management. Brands need constant push and uplifting, which require spending on proven techniques for marketing. Has PepsiCo been investing in profitable opportunities overall? Graph 3 given below paints somewhat of a disappointing picture.
Graph 3: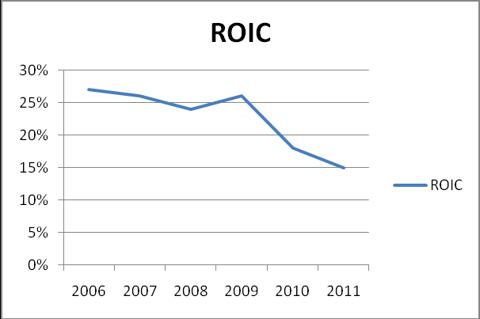 Nooyi has not been oblivious to the situation, and she decided to shuffle the management in a move to appease investors. John Campton, formerly heading the Frito-Lay business, was appointed the company's President, while another Pepsi veteran, Brian Cornell, took over John's former position. Moreover, PepsiCo hoped to lighten up its Pepsi brand with the new "Live for Now" slogan campaign. However, Nooyi should not give in to such demands and sacrifice her long-term strategic objective. The underlying problem is not Nooyi's vision, as rather the vision's execution. She might just be pushing things too hard and too soon. There may be a need to focus more on the company's more profitable business, win Wall Street's confidence, and not lose sight of longer-term objectives. Tastes are changing, but they don't change overnight. Despite all the talk of rising obesity, people still enjoy cheese burgers and carbonated drinks. PepsiCo will have to maneuver its strategy so that it moves with its consumers.
Recent Financial Performance
Net revenues for 2Q2012 stood at$16.458b, down by 2% YoY. The chief contributor to the decline was falling revenues for the FLNA segment (accounts for a third of annual revenues), which accounted for 75% of the total decline in sales. EPS came in at $1.53. However, the company's troubles do not end here. Pepsi reaffirmed its guidance for fiscal 2012 and forecasted a decline of 5% in core constant currency EPS, from fiscal 2011 EPS of $4.4. Additionally, refranchising is expected to dampen revenue growth.
Graphs: 3 & 4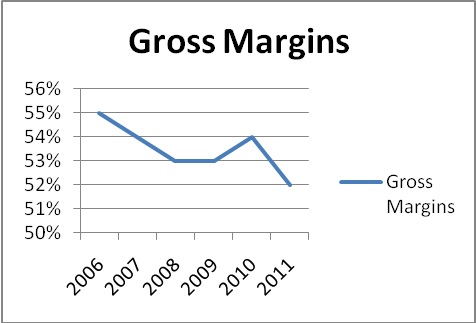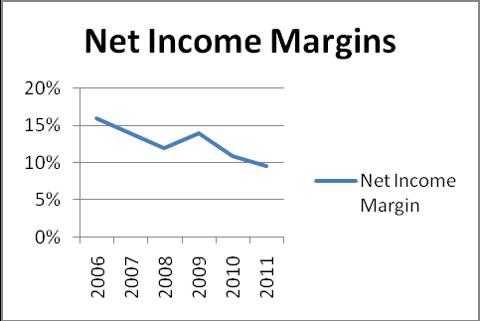 Gross margins and net income margins have declined over the years. We, however, do not forecast any problems with PepsiCo's ability to keep paying dividends in the future (Chart 5).
Chart 5: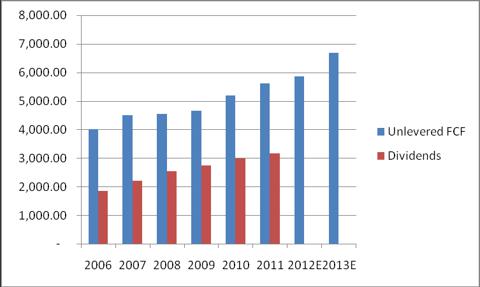 Valuations:
| | | | |
| --- | --- | --- | --- |
| | PEP | KO | Dr Pepper Snapple Group Inc (DPS) |
| Dividend Yield | 2.97 % | 2.74 % | 3.03% |
| Forward P/E | 17x | 17x | 14x |
| PEG | 3.91 | 2.54 | 1.95 |
| Growth | 6.38 % | 7.50 % | 7.80 % |
| D/E | 138 % | 100 % | 118 % |
Pepsi currently offers an attractive yield of 2.97%, but is only marginally higher than its better positioned competitor, Coca Cola. Debt levels seem to be on the higher side given the comparison with its competitors, but an interest coverage ratio of 11x is adequate. Currently, trading at $71.69, it is roughly only 10% away from its all-time high of $77. Bloomberg estimates provide a forward P/E of 17x. We believe the multiples are on the higher side, and a PEG ratio of 3.91 also indicates an unattractive position. Median historical P/E stands at 15.5x, and based on its 2013E earnings, a price target of $68 is estimated. We recommend investors to wait till the stock provides an ideal entry point.
Note: Data was collected from various sources, including Reuters, Bloomberg and Yahoo! Finance.
Disclosure: I have no positions in any stocks mentioned, and no plans to initiate any positions within the next 72 hours.
Business relationship disclosure: The article has been written by Qineqt's Consumer Analyst. Qineqt is not receiving compensation for it (other than from Seeking Alpha). Qineqt has no business relationship with any company whose stock is mentioned in this article.