With this announcement, Merge Healthcare (NASDAQ:MRGE) formally put itself up for sale:
CHICAGO, Sept. 6, 2012 (GLOBE NEWSWIRE) -- Merge Healthcare Incorporated (MRGE:$3.59,00$0.37,0011.49%) ("Merge" or the "Company"), a leading provider of clinical systems and innovations that seek to transform healthcare, today announced that its Board of Directors has retained Allen & Company LLC, a New York-based investment bank, to assist in exploring and evaluating a broad range of strategic alternatives, including, but not limited to, a sale of the Company or a business combination.

The Company does not have a defined timeline for the strategic review, and there can be no assurance that the review will result in any specific action or transaction. The Company does not intend to comment further regarding the evaluation of strategic alternatives, unless a definitive agreement for a specific transaction is entered into, the process is concluded, or it otherwise deems further disclosure is appropriate or required.
Now the big question for shareholders, potential investors and arbitrageurs is will a transaction take place and at what price?
Instead of providing an outsider's analysis of what this company is worth, I believe that a reasonable method to evaluate a potential buyout valuation is to look at the situation from the insider's point of view. How? Well in the case of MRGE, as I pointed out in an earlier SA article, it may be simply to follow the money.
Looking at insider buys chart below shows that Michael Ferro, Chairman and controlling shareholder of MRGE though his investing arm Merrick Ris, LLC, has been actively increasing his ownership control in the last 12 months (click to enlarge):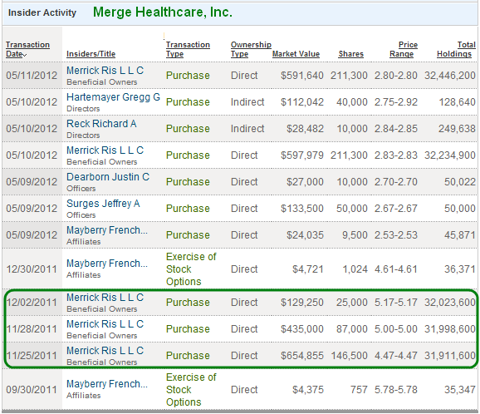 Mr. Ferro has a track record of selling companies he builds as evidenced by the sale of Click Commerce in 2006 and that's why I bought into MRGE when it was on the verge of bankruptcy and Mr. Ferro came in to turn it around.
I can't claim the ability read Mr. Ferro's mind and my opinion on interpreting how his recent aggressive buying relates to an ultimate buyout price is pure speculation and no better than anyone else's. However, in my thinking, my starting point is the highest price that Ferro bought shares at, in the last 12 months. That brings me to the highlighted November - December 2011 period, where he picked up over a quarter of a million shares at prices between $4.47 to $5.17. He already owned over 31,000,000 shares and control of the company at the time.
Starting at the high purchase price of $5.17 as my base valuation, I'd venture a 50% premium based on his cold hard cash purchases is a good bet. That brings me to a buyout value in the range of $7.75 per share, or only $.52 above MRGE's 12 month high and about 118% premium to the current level of $3.55.
MRGE is in a great growing space of medical imaging, capture, storage archiving, and benefits from generous government incentives that subsidize its sales. Its shares have rebounded after it took a traumatic hit related to an earnings miss on May 7, 2012 as customer preference forced it hand to move from a traditional perpetual software license arrangement to subscription model earlier than planned. A healthy payday now seems imminent.
Disclosure: I am long MRGE. I wrote this article myself, and it expresses my own opinions. I am not receiving compensation for it (other than from Seeking Alpha). I have no business relationship with any company whose stock is mentioned in this article.
Additional disclosure: These are the personal views of Wall Street Titan and should not be used for your investment decisions. All investors are encouraged to do their own due diligence.