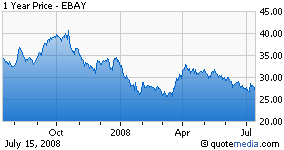 eBay (NASDAQ:EBAY) is expected to report Q2 earnings after market close on Wednesday, July 16, with a conference call scheduled for 5:00 pm ET.
Guidance
Analysts are looking for a profit of 41c on revenue of $2.17B. The consensus range is 40c to 43c for EPS, and revenue of $2.11B to $2.24B, according to First Call.
In April, eBay forecast Q2 EPS 39c to 41c and revenue $2.1B to $2.15B and projected FY08 EPS $1.70 to $1.75 vs. First Call consensus of $1.74 and FY08 revenue $8.7B to $9B vs. First Call consensus of $9.01B.
Analyst Views
Gabelli believes that the company's near-term results could be volatile, due to changes affecting sellers. However, the firm thinks the company's large network of buyers and sellers is a tremendous asset, and they think the valuation is attractive, in light of the company's 10% to 15% sustainable growth rate.
On the other hand, Jefferies believes eBay's Q2 results will be in-line to slightly better than expected and continues to view the company as an attractive trading stock; Banc of America's data indicates that eBay could slightly exceed expectations in the quarter and they continue to believe the company is relatively well-positioned for consumer downturns.
On June 30, eBay was ordered by a French court to pay LVMH $61M for allowing the sale of fake merchandise. In a statement, the online auction website said that the company will appeal the decision and accused LVMH of having a "hidden agenda". If it is unable to find a way to support its core e-commerce business, eBay CEO John Donahoe said the company will consider selling its Skype subsidiary at the end of the year. :the