Much has already been said about large cap mREITs, including American Capital Agency (NASDAQ:AGNC) and Annaly Capital Management (NYSE:NLY). Today we will focus on PennyMac Mortgage Investment (NYSE:PMT), a small cap U.S. mortgage REIT, which we recommend to our investors as a buy. We believe the company, which pays a hefty dividend yield of over 10%, will continue to benefit in the future from the U.S. housing market, which we believe has bottomed. This year, the Street is expecting EPS and sales growth of 20% and 192%, respectively. The sell side supports our thesis, as none of the analysts covering the stock have a sell recommendation.
This robust growth, combined with attractive valuations, make us bullish on the stock. However, since the company also invests in distressed securities, investors need to be clear about the additional risk before making an investment decision. Besides the usual risks faced by agency mREITs, PennyMac Mortgage Investment Trust faces a unique credit risk stemming from defaults on the company's non-performing mortgage loans.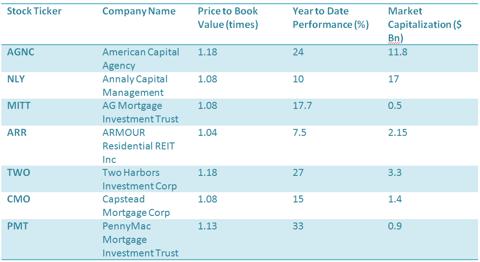 Company Overview
PennyMac Mortgage Investment is a small cap U.S. mortgage REIT with a market capitalization of approximately $900 million. The company commenced its operations in August 2009 with an objective to provide its shareholders with elevated risk adjusted returns, both in the form of dividends and price appreciation. It does that through earnings from the two segments mentioned below.
For the purpose of reporting, the company is organized into two segments; Correspondent Lending and Investment Activities. Correspondent Lending aims to purchase originated mortgage loans to resale or securities, while the Investment Activities segment is related to the mortgage assets portfolio consisting of distressed mortgage loans, mortgage-backed securities (MBS), real estate acquired in settlement of loans (REO), and mortgage servicing rights (Pending:MSR).
The Investing Activities segment makes money by constructing a portfolio of the aforementioned long-term mortgage related assets, including residential mortgage loans. PMT primarily uses repurchase agreements to finance most of its assets portfolio, and earns an interest rate spread between the interest it earns on its interest yielding assets, and the interest it pays on its interest bearing liabilities. The company has also recently issued common share to partially fund the assets portfolio.
Assets Portfolio Composition
Previously, the company had a strategy to invest largely in distressed mortgage assets, which is why it purchased most of the assets at discounts to their unpaid principal balances. The U.S. mortgage loans that the company seeks to invest in now may also be performing or non-performing, and of different credit qualities, including subprime. Among the targeted assets classes are the newly-originated residential mortgage loans, agency and non-agency residential mortgage backed securities, commercial mortgage-backed securities and U.S. treasuries. The company has recently tilted its assets portfolio more towards REIT eligible agency mortgage backed securities. 30-year agency mortgage backed securities constitute 70% of the entire MBS portfolio at present, while the non-agency subprime securities are 26%. Performing mortgage loans form 41% of the entire mortgage loans portfolio, while the remaining is classified as non-performing. Fixed and hybrid adjustable rate securities form a majority of the performing and non-performing loans.
Asset Yields, Interest Expense and Interest Margins from Investment Activities Segment
The company earned a 4.92% yield on its interest yielding assets portfolio during the second quarter of the current year, and paid a 3.25% annualized interest on its interest bearing liabilities. This means that the net interest spread was 1.67%. Compared to this, the company earned 4.26% in annualized interest and paid 3.67% in interest on its liabilities during the first quarter of the current year. The first quarter's net interest spread was 0.59%. The company seems to have clearly benefited from the low interest rate environment, as the cost of borrowing came down by 42bps, while the interest earned on its assets increased by 66bps, enhancing the second quarter's net interest margin by a significant 1.08%.
Recent Quarter's Financial Highlights
The company has a history of giving positive surprises when it comes to both reported revenues and earnings of the past four quarters. Continuing the trend, PennyMac Mortgage Investment reported a stronger-than-expected second quarter performance. On a turnover of $64.4 million, the company posted a bottom line of $0.79 per share. The company surpassed consensus estimates for both revenues and EPS by 1.4% and 16%, respectively.
The net investment income of $64.4 million that the company generated during the second quarter of the current year was 113% above the net investment income of $30.2 million, which it generated during the same quarter of the previous year. The growth in net investment income was primarily associated to a 100% YoY increase in the interest income earned on mortgage loans, and came as a result of an increase in real estate acquired in settlement of loans.
Total expenses surged by 116% as compared to the previous year. The surge was largely blamed on surges in loan fulfillment fees, interest expenses and loan servicing expenses. A substantial growth in correspondent lending activities drove up the cost of loans fulfillment. Interest expense surged despite a decline in the cost of funds, as mentioned above. An increase in short-term borrowings was cited as the reason for such a rise.
Dividends
Like other mortgage REITs, PennyMac Mortgage Investment Trust's stock offers an elevated dividend yield of 10%, against the prevailing 10-year treasury yield of 1.59%. This high dividend yield is sustainable, as the company paid $0.55 per share and had EPS of $0.79. The most recent quarter's dividend coverage ratio of 1.44 times reflects the company's sufficient financial muscle to continue dividend distributions in future.
Valuations
PMT's stock is trading at a premium of 13% to its book value, while AG Mortgage Investment Trust (NYSE:MITT)'s stock trades at a 4% premium to its book value. AG Mortgage Investment Trust's is another small cap mortgage REIT. However, MITT does not invest in distressed mortgage securities. One mid-cap REIT, Two Harbors (NYSE:TWO), trades at a premium of 18% to its book value. Similarly, the stock of American Capital Agency trades at a premium of 18% to its book value. American Capital Agency is a large cap mortgage REIT that invests exclusively in agency securities.
With a 2012 year-end book value estimate of $20, and a book value multiple of 1.15 times, our target price for PennyMac Mortgage Investment Trust's stock is $23/share. This implies an upside potential of 4.7%.
Disclosure: I have no positions in any stocks mentioned, and no plans to initiate any positions within the next 72 hours.
Business relationship disclosure: The article has been written by Qineqt's Financials Analyst. Qineqt is not receiving compensation for it (other than from Seeking Alpha). Qineqt has no business relationship with any company whose stock is mentioned in this article