Ohio is the mother of all election battleground states. As I have been watching the presidential nominating conventions, I have wondered if there are any other politicians or success stories outside of Ohio. Poll after poll has shown that Cleveland, Cincinnati, Dayton, Youngstown, etc. will go a long way in determining who will occupy the White House in January.
Ohio's unemployment rate is about one point below the national average. Ohio is looking to create some 200,000 new jobs over the next three to four years. Ohio is currently tapping into an industry that's creating a multibillion-dollar boom in the state.
If you are thinking that these jobs are green jobs, I have news for you. The jobs are being created from the Utica shale that is hidden more than a mile deep underground. I don't think that the wind blows or the sun shines way down there.
In an irony of ironies, it is the oil industry that is creating most of the jobs in Ohio. In a presidential administration that promised 5 million green energy jobs and a state that both candidates are fighting hard to win, it is oil and natural gas that are carrying the day.
Let's take a look at just one of the numerous companies that are creating jobs in Ohio. Chart Industries (NASDAQ:GTLS) has been very good to investors over the years: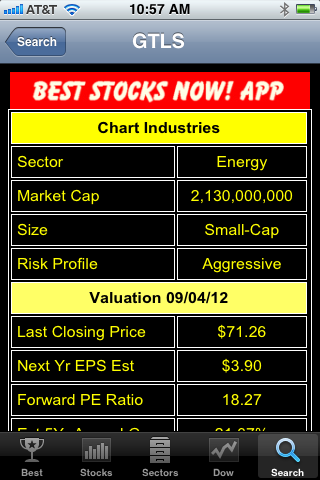 Source: Best Stocks Now app.
This company, headquartered just outside of Cleveland, is a mid-cap at just over $2.1 billion in market capitalization. The company manufactures highly engineered equipment used in the production, storage, and end-use of hydrocarbon and industrial gases.
Let's check and see how the stock has treated investors over the years: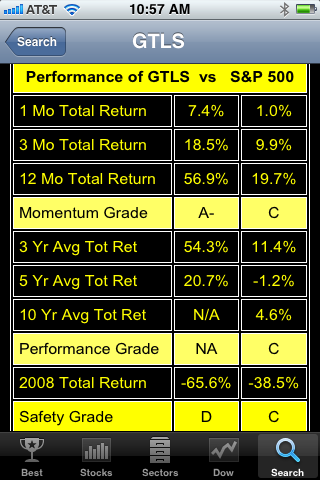 Source: Best Stocks Now app.
As you can see, the stock has outperformed the S&P 500 by a wide margin over the short term, intermediate term, and long term. That is some serious alpha on display above.
This is a very aggressive and volatile stock, however. Note that it was down 65.6% in 2008. It is not for the faint of heart and should only be considered by investors who want to make it a part of a well-diversified aggressive growth profile.
Performance of a stock is one thing, valuation is another. I like to combine performance with value. Value alone points to too many value traps and performance alone ignores value.
Let's look at some valuation metrics and a five-year target price for the stock: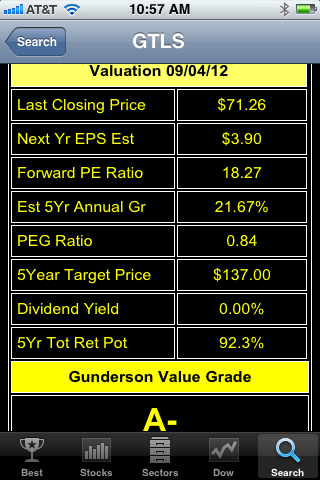 Source: Best Stocks Now app.
The stock is currently trading at 18.3 times forward earnings. It is expected to grow its earnings by 21.7% per year over the next five years. The stock is currently trading at a discount to its growth rate. It currently has a favorable PEG ratio of 0.84.
If I extrapolate out next year's earnings estimate of $3.90 per year at a rate of 21.7% over the next five years, the company has the potential to earn $8-$9 per share. When I apply a reasonable multiple of 16 times to those earnings, I come up with a five-year target price $137 per share. This target price gives the stock more than 90% upside potential.
When I combine performance with value of the stock, I get a stock that earns a grade of A- and is ranked at number 59 out of 2,982 stocks. That is why I own it in many of the aggressive accounts that I manage.
I have been looking hard to find a solar or wind stock that is booming and creating jobs, but I can't find any.
Disclosure: I am long GTLS. I wrote this article myself, and it expresses my own opinions. I am not receiving compensation for it. I have no business relationship with any company whose stock is mentioned in this article.