By Dee Gill
For investors who want in on the growth game but prefer less melodrama in their portfolios, YCharts suggests creating another genre: sane growth. In our estimation, a sane growth portfolio would be packed with companies that manage decent sales gains but maintain a few safety valves typically missing in popular growth stocks: like reasonable share price valuations and earnings commensurate with revenues. In fact, right now looks like an especially good time to invest in sanity over popularity.
Go to YCharts for Part One of growth stocks, which explains the list in more detail.
With the mission of reducing risk, YCharts looked around for growing companies with sane data. We set the YCharts Stock Screener to find companies that reported sales growth of at least 10% over the past 12 months and at least that rate of retained earnings growth. We insisted on an historic price to sales ratio of less than 1.5. To weed out companies with weak balance sheets, we looked only at companies that received at 7 or higher from YCharts Pro for fundamentals. As an added safety, we considered only companies with market caps of at least $2.5 billion.
DAVITA INC. (NYSE:DVA)
For people with serious kidney problems, DaVita is the company that sends them nurses for in-home dialysis, or that runs the outpatient clinics where they get the treatment. To a lot of investors, DaVita looks like an old-fashioned roll-up; the kind of company that can grow by eating up lots of competitors in an in industry filled with little companies.
With a market cap of about $9 billion, DaVita has done a good job of growing, even beyond the gains acquisitions offered. Revenue growth in the past 12 months neared 20%, much of which came from continuing operations, and analysts expect some 12% in revenue gains this year. The company just began foreign expansion. Its ability to efficiently turn revenues into profits has helped the share price, as seen in this stock chart.
(click images to enlarge)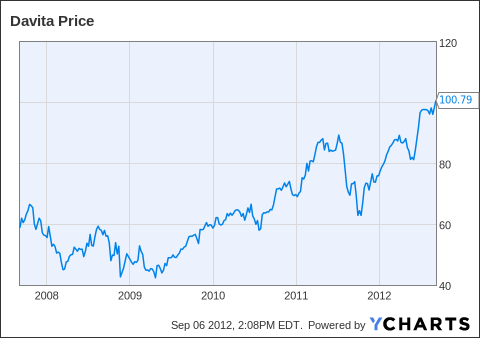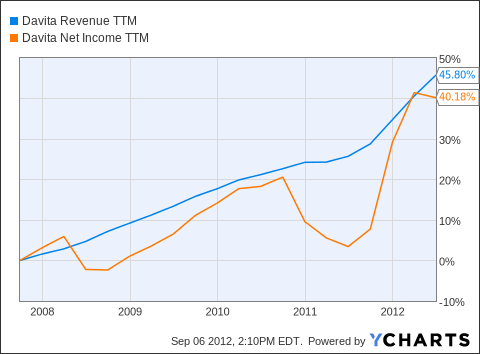 DVA Revenue TTM data by YCharts
That hit to the share price last year, followed news that federal and state regulators were investigating DaVita for possibly oversupplying a drug as a way to fraudulently ramp up profits. DaVita has settled some parts of the case. However, Ted Weschler, Warren Buffett's new fund manager at Berkshire Hathaway, is a big DaVita fan, and the stock is now part of Berkshire's holdings.
At 1.2 times sales, and a PE ratio of 18, DaVita shares are not cheap. But its valuations are still below the typical trading levels over the past five years of competitor Lincare (NASDAQ:LNCR), a home health company recently bought out for a 22% share price premium by Linde AG.
To read about another stock to help you sleep easier at night, click here.
Dee Gill is an editor for the YCharts Pro Investor Service, which includes professional stock charts, stock ratings and portfolio strategies.
Disclosure: I have no positions in any stocks mentioned, and no plans to initiate any positions within the next 72 hours. I wrote this article myself, and it expresses my own opinions. I am not receiving compensation for it. I have no business relationship with any company whose stock is mentioned in this article.