Though the Fukushima Nuclear Disaster led to a decline in global demand for uranium and subsequently depressed commodity and equity prices, we are now witnessing resurgence in demand for the mineral and a rise in uranium related stocks. To the astute investor, this makes sense, chiefly because we are yet to find a viable alternative to nuclear energy.
March 2011: The Fukushima Nuclear Disaster was described as the largest nuclear disaster since Chernobyl in 1986. Following the disaster Germany, Italy and Switzerland announced plans to scale down their nuclear ambitions. Many other countries halted their nuclear programs to re-access safety measures.
1.5 years later,
"Fukushima has delayed nuclear development by three or four years, but construction continues" - Luis Echávarri, Director General-Nuclear Energy Agency
"Japan, weighing a nuclear-free power grid, finds cost daunting"
"Uranium Demand on the Rise as China Plans to Build as Much as 100 Reactors over the Next Twenty Years"
"India looks at forming JV to buy Uranium mines abroad", "India looks for FDI to boost Nuclear Energy sector"
These are some of the headlines we've been reading in the newspapers lately. The increasing energy demand, greenhouse-effect concerns and uncertainty in the supply of fossil fuels have contributed towards a renewed interest in nuclear energy. Global nuclear energy production is expected to increase by about 100% over the next twenty years. This is largely due to significant growth in the emerging markets, especially Asia. The chart below depicts the worldwide requirements of energy in the following years.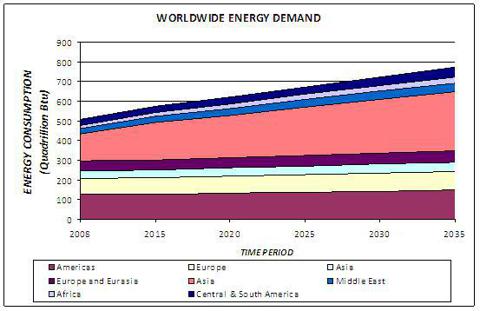 According to IAEA, nuclear power is expected to contribute 14-15% share in electricity production by 2020, and 13-16% by 2030. As shown in the chart below, emerging markets account for a greater bulk of reactors being constructed with China taking the lead, followed by Russia, South Korea and India.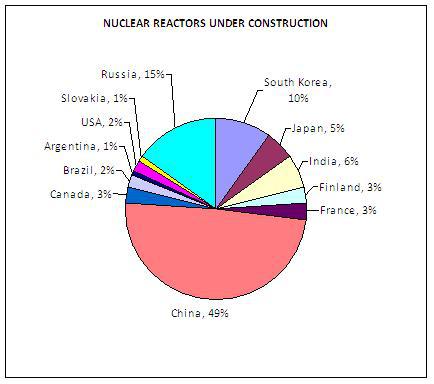 Share prices of uranium producers nose-dived following the Fukushima tragedy. There was a decline of 7% in the global demand of uranium. However, recent announcements by emerging economies affirm a bright future for nuclear energy. The prime factor preventing uranium prices from appreciating is the uncertainty in demand, the current stock pile of uranium, and the uncertainty regarding issuance of new reactor licenses in India and China. Both countries however reconfirmed their commitment to their nuclear programs. Long term prospects of nuclear energy seem strong.
We are witnessing the bottom of uranium prices at approximately $48-$49/lb. Prices should appreciate later this year and beginning next year as nuclear reactors that were shut down are reopened. While demand in the West is expected to remain stable, demand from emerging markets is expected to increase.
Cameco (NYSE:CCJ) is globally the second-largest mining company for uranium. It also plays a significant role in enrichment of fuel and production of electricity. Being vertically integrated, the company lowers its exposure to uranium prices and maintains steady cash flows while gaining exposure to new opportunities making it suitable for investors who have a moderate risk appetite. Cameco is committed under long-term sales contracts through 2016, under which it will supply 290 MM lbs of uranium to its customers. This provides a solid revenue stream in the years to come even in the unlikely event of a decline in uranium prices. Following is the revenue breakdown for different segments.
FY2011
Revenue
(in Million)
% Total Revenue
Uranium
1,616
69%
Fuel Services
305
13%
Electricity
428
18%
Uranium demand is expected to surpass supply in the next decade. Cameco is well positioned to exploit this shortfall by its extensive reserves (435 MM lbs proven and probable, 254 MM lbs measured, 318 MM lbs inferred), high-grade reserves, low cost mining operations, and by being in control of a number of new mines under development. Cameco has ownership interests in 12.5 MM acres of land in Canada, Australia, US, Kazakhstan, Mongolia and Peru. The company is focusing on growth by acquisitions or by joint ventures in order to increase production. One of the key projects underway is the Cigar Lake underground mine. It's the world's second largest high grade uranium deposit with grades that are 100x the world's average.
Cameco trades at a PE of 19.2x, higher than the industry average. With an ROA of 5.9%, ROE of 9.1% it is at the very high-end of the industry average spectrum. The consensus recommendation of the 17 analysts covering the stock is 'Outperform' as of Aug 2012. This is an upward trend from the previous rating of 'Hold' as of Nov 2010. Analyst recommendation breakdown:
| | |
| --- | --- |
| Rating | No. of Analysts |
| Outperform | 4 |
| Buy | 10 |
| Hold | 3 |
As seen in the chart below, the stock has been trading within a small range for the last three months. The stock has support at $19. The 20-Day SMA recently moved above the 100-Day and the 200-Day SMA signaling a potential upward momentum. The stock price crossed the 20/50/100-Day SMAs recently strengthening the possibility of an uptrend. The RSI indicator, though between acceptable limits, is trending toward "oversell" indicating a good time to enter into a long position.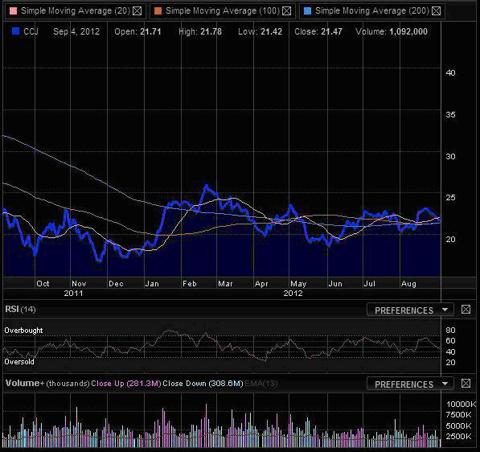 Investors with a higher risk-appetite can invest in small-cap producers such as Uranium Energy Corp (NYSEMKT:UEC). The company is a relatively newer player in the uranium mining business with a focus primarily in the Americas. It employs the low cost In-Situ Recovery mining technique that enables it to remain profitable even with uranium spot prices hovering at $40-$50/ lb. The company maintains a historic exploration database to target property for acquisition that has previously been subjected to exploration and development by senior energy players. As production levels ramp-up and new projects are undertaken, UEC is well positioned to meet increasing uranium demand. The management is well experienced and holds 20% of the shares, and another 30% are held by Institutions. The consensus recommendation of the 7 analysts covering the stock is "Outperform" as of Aug, 2012. This is an upward trend from the previous rating of "Hold" as of April 2010. Analyst recommendation breakdown,
| | |
| --- | --- |
| Rating | No. of Analysts |
| Outperform | 3 |
| Buy | 2 |
| Hold | 1 |
| Underperform | 1 |
Investor seeking direct exposure to the mineral can invest in the Global X Uranium ETF (NYSEARCA:URA).
Disclosure: I have no positions in any stocks mentioned, and no plans to initiate any positions within the next 72 hours. I wrote this article myself, and it expresses my own opinions. I am not receiving compensation for it (other than from Seeking Alpha). I have no business relationship with any company whose stock is mentioned in this article.