Despite reporting strong earnings and beating earnings estimates for the past four quarters, Caterpillar (NYSE:CAT) has been the second-worst performer in the Dow 30 for the past six months, falling nearly 23%.
CAT has also underperformed the market year to date, and was down over 7% as of this writing. At its current level, CAT is oversold on its stochastic chart and represents an interesting entry point for selling high-yield short-term or long-term options, which we'll cover later in this article.
Click to enlarge images.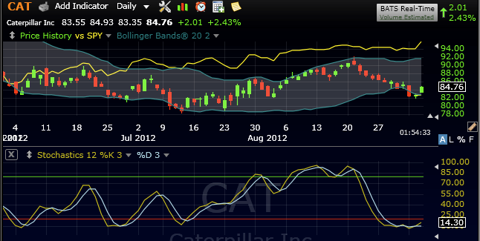 Click to enlarge
Undervalued Growth

CAT looks undervalued on a price/earnings to growth (PEG) basis, and is also at the low end of its five-year P/E range. However, the market doesn't seem to have faith in CAT being able to keep growing as strongly, due to the slowdown in China and Europe.
In addition, CAT CEO Oberhelman's cautious comments about future economic uncertainty didn't sit well with the market:
I don't think the situation is as grave as it was in 2008, but the uncertainty, the storm clouds are around things that none of us know about -- like what will happen with the political situation in Europe. (Source: Reuters.)
Even still, CAT maintained its $9.60 mid-range profit/share guidance for 2012 at today's BAC's Industrials and Materials conference, a figure that is just slightly below the average analyst estimate of $9.62:

Click to enlarge
Dividends
CAT's 9.62% dividend growth rate is over twice its industry's average of 4.18%. CAT actually increased its quarterly dividends during the 2008-09 crisis from $0.36 to $0.42, and then increased them again in 2010 to $0.44, in 2011 to $0.46, and in 2012 to $0.52. CAT's 2.52% dividend yield is in line with its industry's 2.51% average yield. However, you can improve upon this yield, via selling options.

If you're bullish about CAT's long-term prospects, selling long-term 2014 cash secured put options can offer you several attractive advantages:
A 16% yield (11.82% annualized). The January 2014 put options pay over 5 times CAT's dividends during this period.
Immediate cash flow from the sale, vs. waiting for quarterly dividends and price appreciation.
Less risk via a much lower break-even cost, which is close to CAT's 52-week low.
Tax deferred cash flow. If your puts are held until expiration in 2014, you needn't pay taxes on your profit until 2015, over two-and-a-half years from now.
This trade is listed with over 30 other call trades in our Cash Secured Puts Table.

Click to enlarge
Short-Term Covered Calls

CAT's oversold status may be positioning it for a short-term trade for the near future. November $85.00 covered calls are currently paying $4.00 and offer a 24.28% annualized yield.
Your shares may get assigned if CAT is above the $85.00 strike price near its mid-October ex-dividend date. But, in that case, you'd still have a $0.32 assigned price gain, plus the $4.00 call option premium.
(You can find more details on this and over 30 other trades in our Covered Calls Table.)

Click to enlarge
Financials

CAT's debt level is higher than its industry, but it has an interest coverage figure of 5.2. As with many industry leaders, even though it looks cheap on a PEG and price/sales basis, CAT commands a premium price/book:

Click to enlarge
Disclosure: I am long CAT via being short CAT put options at the time of this writing. I wrote this article myself, and it expresses my own opinions. I am not receiving compensation for it (other than from Seeking Alpha). I have no business relationship with any company whose stock is mentioned in this article.
Disclaimer: This article is written for informational purposes only and isn't intended as investment advice.