The most common question we received at GoldETFs.biz in the last week is: "will gold's August momentum continue or did gold get ahead of itself?" Let's examine the timing, technicals and recent tops in gold prices to come to a conclusion.
History points to the second half of the year as being good timing for gold investors. September, for example is the second best month for gold price appreciation going back to 2000. In fact only the month of November has produced more significant gains going back to 2000. Here's the monthly gold price performance chart composed from Bloomberg data.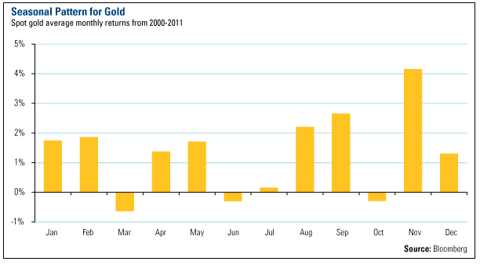 Click to enlarge
Although the chart above shows patterns, there certainly are exceptions to these stats and last September was a great example. Gold fund products focused on physical gold and gold stocks experienced double digit declines in September 2011. Here's the NASDAQ performance chart showing SPDR Gold Trust (NYSEARCA:GLD) and Market Vectors Gold Miners ETF (NYSEARCA:GDX) performance for September 0f 2011.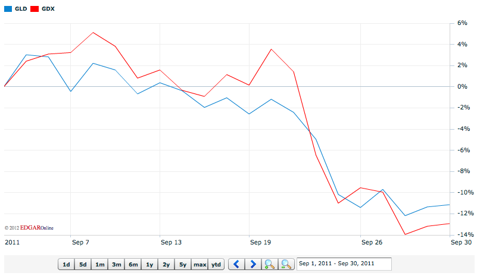 Click to enlarge
So will September of 2012 see significant gains in line with historical patterns or has the August run up destined gold fund investors for disappointment?
Technically, gold seems to be a bit toppy. Bespoke Investment Group recently published the following gold price chart in a Seeking Alpha article on commodities entitled "Bespoke's Commodity Snapshot." The chart shows the spot price of gold (black line) with a green cloud around it representing two standard deviations above and below the 50 day simple moving average. Thus when the spot price line goes above the cloud, gold is thought to be over bought. Likewise a move below the cloud often indicates that gold is oversold. Here's the chart from Bespoke's article which shows that gold may be a little ahead of itself.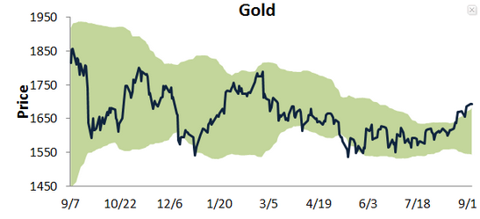 Click to enlargeGold fund investors should be cautious given current valuation levels.
Even with gold's recent rally however, a quick glance at the two year chart shows that gold price is well off its high and recent tops. Geopolitical events of the last year have mostly pushed gold downward as investors have flocked to the relative safety of the U.S. Dollar and Treasuries. So even though gold may seem a bit over bought at current levels, it could be that the market environment and attitude toward risk is beginning to change. Here's the annotated one year NASDAQ chart of GLD, the SPDR Gold Trust. Note the two recent tops between gold's current price and one year high.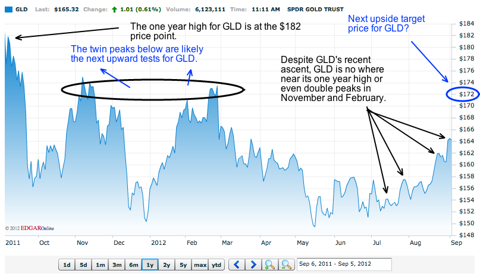 Click to enlarge
Taking a close look at timing, technicals and recent tops for gold paints a favorable picture. Therefore, we believe gold is likely to have a positive September and strong run through the end of the year which is quite a bit different than 2011's disappointing outcome.
Disclosure: I have no positions in any stocks mentioned, and no plans to initiate any positions within the next 72 hours. I wrote this article myself, and it expresses my own opinions. I am not receiving compensation for it. I have no business relationship with any company whose stock is mentioned in this article.
Additional disclosure: Christian Magoon publishes the gold focused website GoldETFs.biz.