Andrew McDonald, Ph.D., Ning Yang, Ph.D.
Questcor (QCOR) is a biopharmaceutical company whose main product, H.P.Acthar® Gel (repository corticotropin injection), has been approved by the FDA for 19 indications, including multiple sclerosis (MS) relapses, infantile spasms (IS), nephrotic syndrome (NS), and dermatomyositis and polymyositis (DM/PM). Questcor has seen sales for Acthar Gel grow dramatically since 2010, and its quarterly net sales reached $112.5M for 2Q2012 (see Figures 1 and 2). These sales have been the primary driver of the company's stock, as its stock has soared over 900% since January 1st, 2010. With a stock price of $49.90, a market cap of $3.05B, an enterprise value of $2.81B (September 5, 2012), and total cash of $114.68M (June 30, 2012), we are bullish on the growth prospects of Acthar, and think that the stock is poised to move higher in both the near term, 2013, and beyond.
Figure 1: Net Sales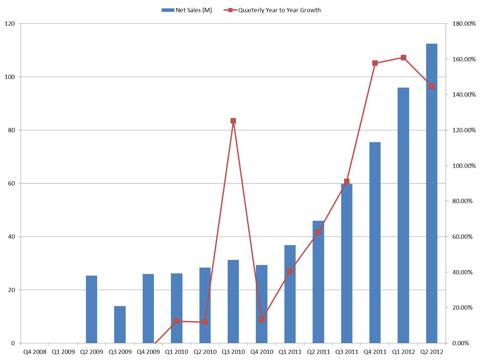 Source: LifeSci Advisors; Company 10-Q.
Figure 2: Net Income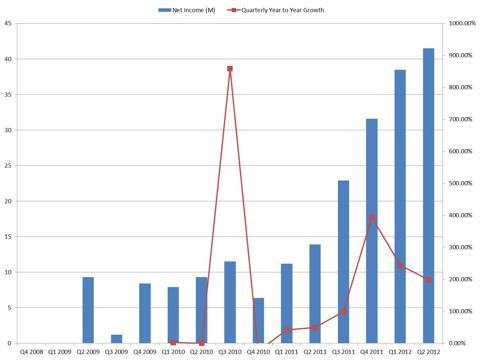 Source: LifeSci Advisors; Company 10-Q.
Vial Shipment and Paid Prescription
During June 2012, Questcor shipped a total of 1,800 vials of Acthar, and a total of 4,710 vials for the quarter ended June 30, 2012, equivalent to 94% quarterly year-to-year growth from 2011 (see Figure 3). Since Acthar prescriptions are filled at specialty pharmacies, Questcor does not receive complete information regarding either the number of prescriptions or the number of vials by therapeutic areas. However, the company was able to track areas of therapeutic use of new Acthar prescriptions based upon the data received from its reimbursement center, as shown in Figure 4. Note that the data in Figure 4 represents approximately over 90% of new Acthar prescriptions with very few refill prescriptions. Acthar prescriptions for the MS indication contributes to 73% of the total prescriptions, followed by 19% for NS, 7% of IS, and 0.2% for DM/PM, based on the data for 2012.
Figure 3: Shipped Vials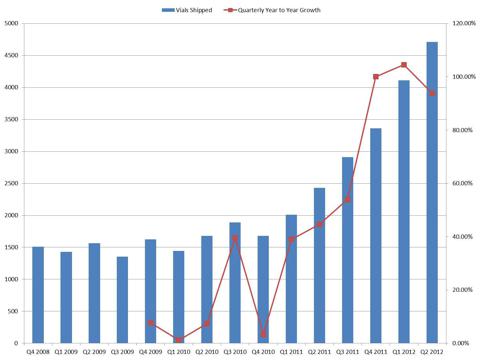 Source: LifeSci Advisors; Company 10-Q.
Figure 4: Quarterly Paid Prescriptions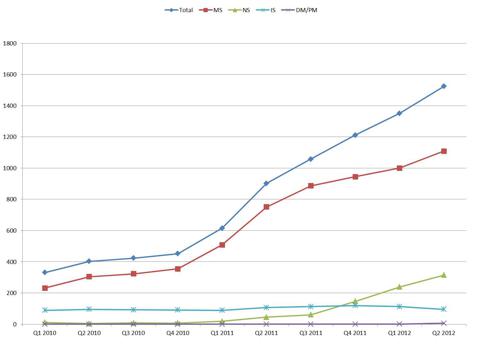 Source: LifeSci Advisors; Company 10-Q.
Growth Prospects
Multiple Sclerosis Relapses:
Under current trajectory, we estimated that there will be close to 5,000 paid prescriptions in the MS indication in 2012. With an average of $45,000 per prescription, we estimated that net sales in the MS indication alone will account for $225M in sales. Even though growth in paid prescriptions for the MS indication has slowed down during 1H2012, as shown in Figure 5, the fact that the company just expanded its neurology sales force from 77 to 107 representatives indicates strong growth in the MS indication is expected to continue. Questcor estimated that there are approximately 10,000-70,000 relapse cases annually, which equates to net sales of $690M-$4.83B. We think that net sales for the MS indication could eventually reach at least $1B, equivalent to 15,000 cases, which is still at the lower end of the estimate.
Nephrotic Syndrome:
Sales in the NS indication are experiencing hyper growth, as shown in Figure 5. Questcor took a similar incremental marketing approach as it did for the MS indication by growing the sales force gradually. The company recently doubled its Nephrology Sales Force from 28 to 58 representatives, which is expected to significantly drive Acthar's sales in the NS market. With an average of $200,000 per prescription (4- to 6-month treatment) and an estimated 500% quarterly year-to-year growth in paid prescription for 2H2012, we estimated that net sales in NS will reach over $300M in 2012. Questcor estimated that the revenue potential for NS could top $1B, which appears likely.
Infantile Spasms:
Questcor's revenue growth in IS has been steady, as shown in Figure 5. According to the company, over half of child neurologists have prescribed Acthar for their patients. Infantile spasms is a very rare disease, with 1,000 to 2,000 new cases annually in the U.S.[1] Assuming that paid prescriptions in IS grows 10% in 2H2012, we estimated that there will be approximately 460 paid prescription in IS during 2012. We expect that Acthar sales in IS will continue to grow, and ultimately reach ~$100M.
Dermatomyositis and Polymyositis:
Questcor announced in June 2012 the key elements of its initial commercialization plans for Acthar in the rheumatology-related indications. The plan includes the commencement of a pilot effort in mid-July 2012, where 12 rheumatology Acthar specialists and 12 Acthar specialists from its Neurology sales force will call on rheumatologists. The initial focus is primarily on the rare and closely related neuromuscular disorders DM/PM. Questcor estimated a target Acthar population of approximately 26,000 in DM/PM. We expect the company to take an incremental approach and gradually add sales force, as they have done with MS and NS. Assuming 5 vials per prescription [80 units (1 mL) given subcutaneously 2x/week for 12 weeks; 5 mL per vial] and approximately $23,000 per vial, we estimate that the net sales associated with each prescription is $115,000. With a very conservative estimate of 3,000 prescriptions per year, the net sales should easily top $400M.
Overall, we think that Acthar is a drug that could generate multiple-billion-dollars in revenue annually. We expect its annual net revenue to reach $1B no later than end-2014.
Figure 5: Quarterly Paid Prescriptions: Year to Year Growth Rate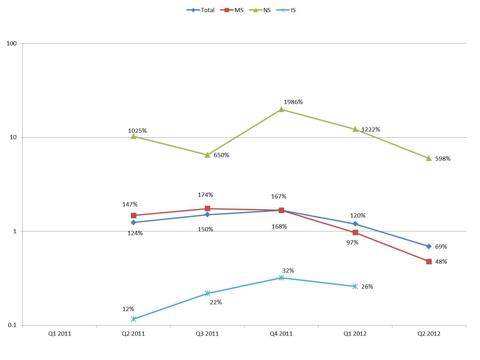 Source: LifeSci Advisors; Company 10-Q.
Stock Buyback
Since its launch of a stock repurchase program in 2008, Questcor has returned $263.6M in cash to shareholders through its common and preferred stock. As of June 30, 2012, the company had purchased a total of 19.9M shares of common and preferred stock, at an average price of $13.23 per share, with 4.7M (8% of total shares outstanding) shares remaining under its common stock repurchase program. The stock buyback signaled that the company's management is bullish on the company's long-term growth prospects and is expected to drive up the company's future EPS.
Stock Valuation
Questcor's stock is currently trading at a trailing P/E of 24.31, a forward P/E of 12.54, and a PEG ratio of 0.46 (September 5, 2012). With a beta of 1.66, we estimated that the required rate of return (discount rate) for the stock is 16.7% based upon the capital asset pricing model. The net sales in 2012 is on trajectory to grow 150% (see Figure 1) from 2011, and to be conservative, we assume that year-to-year growth rate will slow down to 50% in 2013, and then 30% in 2014. This will give annual net sales of over $1B by end-2014. With a net profit margin of approximately 39.1%, we estimate the net income will be $416M by end-2014, which equates to a diluted EPS of $6.48. Putting a trailing P/E multiple of 15x on the 2014 EPS of $6.48 and discounting back at 16.7% gives a current stock price should be $80.40, 61% higher than its current level. It should be noted that putting a trailing multiple of 15x is very conservative for high-growth companies. To prove this point, we looked at four high-growth biotech companies currently trading on the Nasdaq: Salix Pharma (NASDAQ:SLXP), Myriad Genetics Inc. (NASDAQ:MYGN), ViroPharma Inc. (VPHM), and Life Technologies Corporation (NASDAQ:LIFE). On September 5, 2012, their current trailing P/E ratios were 28.09, 20.29, 21.54, and 19.95, respectively, which are significantly higher than the 15x multiple used in our valuation.
Our calculation above did not include the impact of Questcor's recent announcement (September 4, 2012) on its eligibility for a significantly lower Medicaid reimbursement rate on Acthar, dropping from ~100% to ~23.1%. The reimbursement rate drop should lead to a significant increase in EPS of roughly 7-10%. Overall, we think Questcor's stock is significantly undervalued, and we expect it to move meaningfully higher on vial/sales data in the coming quarter and reach at least $80 per share.
Disclosure: I am long QCOR. I wrote this article myself, and it expresses my own opinions. I am not receiving compensation for it (other than from Seeking Alpha). I have no business relationship with any company whose stock is mentioned in this article.