AOL, Inc. (NYSE:AOL) has been striving for a turnaround since it broke away from Warner Brothers. The company is currently depending on its advertising business to generate the bulk of its revenues. In April, AOL made a major sale of patents to Microsoft (NASDAQ:MSFT) for over $1 billion in cash, which it has decided to distribute to shareholders in the form of buybacks and dividends. In two of the last four quarters, the company has beaten analyst estimates, and the stock has soared more than 100% during the last 52 weeks. We are optimistic on AOL's restructuring efforts and are bullish on the stock.
Overview
AOL's recent market performance indicates that the stock is finally showing signs of a recovery. In 2000, AOL and Time Warner (NYSE:TWX) merged to form AOL Time Warner. The results of the merger were disastrous, and in 2009 Tim Warner finally announced that AOL would be spun off into a separate company. Since then, AOL has made an effort to diversify its business and increase its advertising revenue by investing in other, smaller companies.
Click to enlarge images.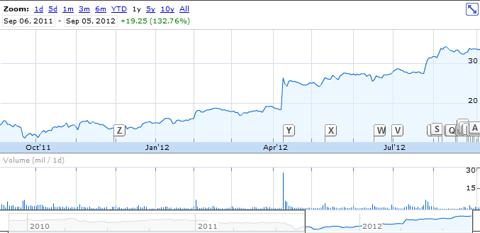 Click to enlarge
Source: Google Finance.
In the past year (TTM) the stock has more than doubled in value, going from $15 to $33.75. We can see a sharp increase in the value during the months of April and July. The increase in April came after the announcement of a patent sale to Microsoft. The increase in July can be associated with positive earnings results announced by the company. The company beat consensus revenue estimates of $519 million and reported revenues of $531 million. The adjusted EPS was $0.23, which was more than double mean estimates of $0.10. Advertising revenues were the biggest contributor to total revenues at $371 million, which was 63% of total revenues. The year-over-year increase of 6% in advertising revenues was the primary reason for an increase in total revenues. The increase in advertising revenue was due to a growth in revenues from Ad.com. This is a good sign for investors, as the company has been experiencing a significant decline in revenues from subscription and search revenues.
Microsoft Patent Purchase
Significant news for AOL investors and stakeholders was the sale of AOL patents to Microsoft in April. The company agreed to sell approximately 800 of its patents to the software giant for a reported sum of $1.056 billion. The highly litigious U.S. technology sector has forced technology sector companies to build up patent portfolios for prospective legal battles. Reportedly, Facebook (NASDAQ:FB) was also a major bidder in this patent sale, but lost out to Microsoft. Facebook later engaged in a $550 million purchase of 650 patents that Microsoft had acquired from AOL. The importance of these patents can be recognized from the fact that Google (NASDAQ:GOOG) paid approximately $12 billion to acquire Motorola Mobility, primarily due to its patent portfolio.
Other important actors in this feud are Apple, Nokia (NYSE:NOK), Yahoo (NASDAQ:YHOO), and Samsung. The effectiveness of these patents is not only limited to the United States, as hundreds of different litigations in courts all over the world are currently going on between technology sector companies. Apple (NASDAQ:AAPL) recently won a major victory over its competitor, Samsung Electronics. The Korean tech giant had to pay Apple $1.05 billion in damages and potentially faces a ban on many of its major products in the U.S. The results of this case show the value of a strong patent portfolio. Therefore, we believe the market of patents is currently highly liquid.
We have estimated a price for AOL's patent portfolio, based on the Microsoft sale, but we believe that the patent purchase was made at a significant discount. Therefore, we believe $356 million to be a conservative estimate of the patent value.
| | |
| --- | --- |
| Patents in Possession | 1,067 |
| Patents Sold | 800 |
| Remaining Value | 267 |
| Approximate Value per patent ($ millions) | 1.33125 |
| Value of remaining portfolio ($millions) | $356 |
Major Acquisitions
AOL purchased the Huffington Post for a price of $315 million in 2011. The Huffington Post covers events, entertainment, news, sports, and various other categories of news and blogs. Under AOL's management, the Huffington Post has won a Pulitzer Prize, making it the first commercially run U.S. media website to do so. Earlier this year, it was ranked No. 1 on the 15 most popular political websites by eBizMBA. AOL also acquired Techcrunch in 2010 for an amount of $25 million. The website primarily offers news and analysis related to the technology sector. The website has a technorati rank of 4. Technorati is a search engine that indexes blogs.
Analyst Expectations
Analyst opinion during the last three months has shown an increase in holds. However, during the current month none of the analysts are recommending a sell or underperform rating for the stock. Three analysts out of 13 are giving the stock a buy or strong buy rating.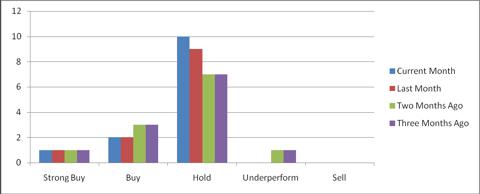 Click to enlarge
Source: Yahoo Finance.
Valuations
We have calculated different valuations for AOL with different metrics, using consensus estimates. An average P/E has been calculated for the last few years, since the company became publicly listed again (excluding any extraordinary figures). Different valuations for the next six years have been calculated using average figures, the Nasdaq P/E, and industry averages. The highest valuations for the stock come from P/S valuations. However, this valuation also shows a minimum price increase year over year. The company has also announced total share buybacks and a dividend distribution program for shareholders of $1 billion. Dividends of $500 million to approximately 94 million shareholders will result in a per share dividend of approximately $5. This will be a one-time dividend payout. The price estimated should also be adjusted with this figure. Using 2013 estimates and weighted average valuation multiple, as given in the table below, we calculate a target price of $47.
| | | | | | | |
| --- | --- | --- | --- | --- | --- | --- |
| | | 2012 | 2013 | 2014 | 2015 | 2016 |
| Sales Estimates ($millions) | | $ 2,146 | $ 2,142 | $ 2,137 | $ 2,197 | $ 2,259 |
| EPS Estimates ($) | | $ 1.2 | $ 1.6 | $ 1.8 | $ 3.6 | $ 5.0 |
| Average P/E and Target Px | 17.2x | $ 20 | $ 27 | $ 31 | $ 63 | $ 86 |
| Average P/S and Target Px | 0.9x | $ 20 | $ 20 | $ 20 | $ 21 | $ 21 |
| Nasdaq P/E and Target Px | 15.0x | $ 17 | $ 24 | $ 27 | $ 55 | $ 75 |
| Industry Average P/E and Target Px | 19.2x | $ 22 | $ 31 | $ 34 | $ 70 | $ 96 |
| Sector Average P/E and Target Px | 19.8x | $ 23 | $ 32 | $ 35 | $ 72 | $ 99 |
| Industry Average P/S and Target Px | 4.9x | $ 111 | $ 111 | $ 110 | $ 114 | $ 117 |
| Sector Average P/S and Target Px | 3.8x | $ 87 | $ 87 | $ 86 | $ 89 | $ 91 |
Conclusion
The stock has already moved up more than 100% this year, and we believe this positive movement in the stock price will continue. The company has beaten analyst estimates in two of the last four quarters, and shown a 6% year-over-year increase in its advertising revenue. This advertising business is expected to show more growth, as the company is striving to move toward video ads and high-priced cost per mille (CPM). We are setting a 2013 December price target of $47, an upside of 38%.
Disclosure: I have no positions in any stocks mentioned, and no plans to initiate any positions within the next 72 hours.
Business relationship disclosure: The article has been written by Qineqt's Technology Analyst. Qineqt is not receiving compensation for it (other than from Seeking Alpha). Qineqt has no business relationship with any company whose stock is mentioned in this article.