Market Recap
Wow! What a day. The market absolutely exploded today on the ECB Bond Buying Program. We were expecting some gains, but not the 200+ we got. It just goes to show you how much money has been waiting for something in Europe, and that it is truly the most important hindrance to our own economy in the eyes of Wall Street. The market also got a boost from the ADP numbers that came in over 200K, which set the stage for what should now be an expected positive NFP report. The real story is Draghi though. The ECB is about to embark on a secondary market bond buying program where they will buy up "unlimited" bonds. It was a huge boost to the market and sets the stage for a strong fall season.
Here are some stocks we like moving into the rest of the week and beyond:
Stocks To Trade
Today, we are looking at an earnings trade in Dollar General (NYSE:DG), longs in Chesapeake Energy (NYSE:CHK) and Compuware (NASDAQ:CPWR), shorts in Fastenal (NASDAQ:FAST) and UPS (NYSE:UPS).
For an earnings trade, we like the looks of Dollar General. DG reported what we thought were quite strong earnings. Good growth for the company and continuing to do well with a large population that is still cash strapped. Despite today's action, that type of economic situation is not going to change anytime soon. We believe that DG did not move much because a lot of this was baked into the numbers as can be seen by the company's 20+ PE going into the report. Yet, the report showed us something...this company is not going anywhere. For that reason, we believe risk is off, and that it should stay strong in weak and strong market conditions.
Trade: Oct20, 48/47 Bull Put Spread
Max Gain: 25%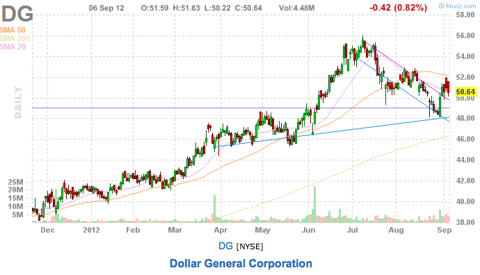 For longs, we like the looks of Chesapeake Energy and Compuware. CHK looks like it's about ready to explode to the upside as it is building right under resistance at 20. A break over 20 would see the stock make a pretty considerable move to the upside. The news today only helped that situation as it strengthens the Euro, helping materials/commodities. Tomorrow, if we get a strong jobs number, it helps the demand side of CHK's energy play, and we could see a break of 20. If it breaks 20, we could see a test of the 200-day MA, and then a break of that would really light up the stock. CPWR has been looking very strong as of late. The stock broke some tough resistance at 9.50 in August on the back of some nice earnings to end out July, and it has not looked back since. The stock still has great value even after a 10% move over the past month. The stock broke the key 10.10 resistance today, and we see no reason to expect a slowdown anytime soon. We like CPWR $10 calls as this one is looking primed to continue higher and those calls are very fairly priced.
Stock Trade: Long, CHK
Breakout Point: 20.10
Options Trade: CPWR, Sep22, $10 Calls
Max Gain: infinite
For shorts, we like Fastenal and UPS. Shorting on a day like this is crazy, but there were some stocks that did not participate and have not been for awhile. Those places are where we look for the absolute weakest of the weak. Two stocks that just are not looking strong right now are FAST and UPS. FAST looks better for a stock trade as it could break to the downside at any moment. UPS, on the other hand, may be limited in its actual downside from here with a strong market, but the stock looks very limited in upside due to weak earnings from them and now weakness out of FedEx (NYSE:FDX). FAST looks ready to break to the downside after it did not participate today and could not break its 20-day MA. The company looked very strong last month, but it has fallen apart since the last round of housing data. If the stock breaks 41.75, it will be a great short. UPS had pretty weak earnings at the end of July. Yesterday, FDX slashed estimates. Global bellwethers are seeing trouble out of Europe still, and these companies did not get a boost when Europe "was fixed" today, which spells trouble. We believe UPS has tremendous resistance at 76 and 78, so we like the 75/77.50 bear call spread.
Stock Trade: FAST, Short
Breakout point: 41.75
Options Trade: UPS, Oct20, 75/77.50 Bear Call Spread
Max Gain: 17%
Tomorrow's Outlook:
The market got quite a boost from the ECB, and it has definitely given the market some upside for some time. We should see follow through tomorrow, but the question is how much follow through. That may be decided mostly by the non-farm payroll numbers tomorrow. If that comes out strong, we could be in store for another 100+ point day, but at the same time, weakness there could see us with a more flat move tomorrow. It's hard to imagine the market reversing what it did today with so many benefiting, but it is an important number. Expectations are for the 140K area, and that number seems to be a bit strong but achievable given initial jobless claims data over the past month. We will have to see, but it should be another exciting day.
Our Moves/Holdings:
We had a very strong day, locking in gains on a multitude of positions while taking losses on only one short sale that we had. From our Short-Term Equity Portfolio we sold Microsoft (NASDAQ:MSFT) for a 1.5% gain, Packaging Corp (NYSE:PKG) for a 1.5% gain, and were stopped out on Yum (NYSE:YUM) for a 1.2% loss. We added Home Depot (NYSE:HD) and VF Corp (NYSE:VFC) longs to that portfolio while shorting Westport (NASDAQ:WPRT). We took 32.5% gain in calls in Costco (NASDAQ:COST), 14% gain in Apple (NASDAQ:AAPL) weekly bull put spread, and 14% gain in Google (NASDAQ:GOOG) bull put spread. From our Earnings Alpha portfolio, we sold Finish Line (NASDAQ:FINL) for a 3% gain. We took gains in our Lennar (NYSE:LEN) bull put spread for a 13% gain. We added a bull call spread in Polaris (NYSE:PII). Finally, we took a 2.25% gain in AutoZone (NYSE:AZO) from our Goldman Portfolio as well as 1.5% gain in Fiserv (NASDAQ:FISV). We added sold puts in Manitowoc (NYSE:MTW) to the mix there.
We have the following positions:
In our Short-Term Equity Portfolio we are long Packaging, Home Depot. We are short Westport
In our Options Portfolio, we are long Whole Foods Market (NASDAQ:WFM), Priceline.com (NASDAQ:PCLN), Google (GOOG), and Starbucks (NASDAQ:SBUX).
In our Earnings Alpha Portfolio, we are long Polaris , Crocs (NASDAQ:CROX), Discover Financial (NYSE:DFS), Lennar (LEN), Ulta (NASDAQ:ULTA), Francesca's (NASDAQ:FRAN). We are short RedHat (NYSE:RHT). We have a reverse iron condor in Abercrombie & Fitch (NYSE:ANF).
In our Goldman Sachs Up/Down Paper Portfolio, we are long Manitowoc and Fiserv.
Chart courtesy of finviz.com.
Disclosure: I have no positions in any stocks mentioned, and no plans to initiate any positions within the next 72 hours. I wrote this article myself, and it expresses my own opinions. I am not receiving compensation for it (other than from Seeking Alpha). I have no business relationship with any company whose stock is mentioned in this article.