Today Amazon (NASDAQ:AMZN) announced a series of new Kindle devices. On the e-reader front, Amazon has introduced the Kindle Paperwhite, which features a higher resolution and higher contrast screen than previous Kindles, as well as a lighting solution meant to directly compete with Barnes and Noble's (NYSE:BKS) Nook SimpleTouch with Glowlight.
Of course, the real excitement was over the new Kindle Fire tablets, which were expected to be announced. A new 7" Kindle Fire will sell for just $159, besting Google's (NASDAQ:GOOG) Nexus 7 in price by $40. In addition, the new Kindle Fire HD, featuring a high resolution screen, will be available in both 7" and 8.9" variants for $199 and $299, respectively. The biggest news, however, was the Kindle HD with 4G LTE, which is essentially the 8.9" Kindle HD with a 4G LTE antenna. The tablet cost $499, but it's not the hardware that stands out in this case. Amazon is offering a 4G data plan, which includes 250MB/month and 20GB of cloud storage for just $50/year. That works out to just over $4 per month, and is less than a third of the price of AT&T's (NYSE:T) comparable tablet data plan.
This all reinforces what we already know about Amazon: its goal is to sell content, and hardware is simply a means to do so. Unlike other tablet manufacturers like Apple (NASDAQ:AAPL), Amazon aims to make little or no profit from the hardware it sells. The profit comes from the content that buyers of the hardware purchase, so it behooves Amazon to make this process as convenient as possible.
The extremely cheap 4G data plan fits exactly with this strategy. This business model is very similar to that of video game console manufacturers such as Microsoft (NASDAQ:MSFT), which typically take a loss on hardware and profit on software. Amazon's goal is to get as many tablets capable of purchasing its content into the hands of consumers. Thus, its willingness to sell the hardware with small or non-existent margins will make it very difficult for competitors, which need to make a profit from their hardware, to succeed in the tablet space.
This is a great strategy for Amazon, which I believe will pay off in spades in the long run. The question is: should you buy Amazon stock now?
Amazon is a company that appears to trade perpetually at a seemingly astronomical P/E ratio:
(click image to enlarge)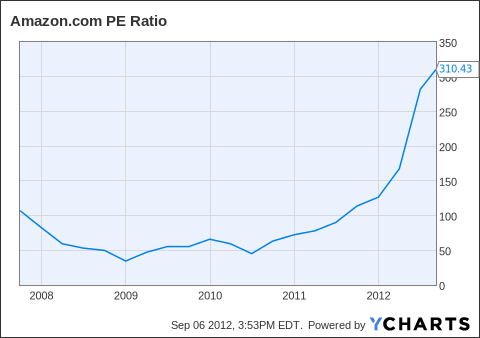 AMZN PE Ratio data by YCharts
Even during the financial crisis of 2008-2009 the P/E ratio was near 50. Does the expected future growth of Amazon justify this? Let's take a look at how the cash flow has grown in the last 10 years.
| | 2002 | 2003 | 2004 | 2005 | 2006 | 2007 | 2008 | 2009 | 2010 | 2011 |
| --- | --- | --- | --- | --- | --- | --- | --- | --- | --- | --- |
| Operating Cash Flow | $174 | $392 | $567 | $733 | $702 | $1,405 | $1,697 | $3,293 | $3,495 | $3,903 |
| Capex | $39 | $46 | $89 | $204 | $216 | $224 | $333 | $373 | $979 | $1,811 |
| Free Cash Flow | $135 | $346 | $477 | $529 | $486 | $1,181 | $1,364 | $2,920 | $2,516 | $2,092 |
Operating cash flow has increased at a rather fast rate, more than doubling from 2008 to 2011. The problem is that capital expenditures have increased as well, so much so that free cash flow has been declining for the last three years. And so far this year, capital expenditures are outpacing last year, with profits taking a massive hit. Amazon has been investing vast sums of money into infrastructure, such as distribution centers and their various web services, and is clearly focused on growing the business instead of profits.
The question, then, is when will Amazon begin to focus on profits? In 2011, the free cash flow was about $2 billion from revenue of $48 billion, a free cash flow yield of 4.16%. With a current market capitalization of about $115 billion, this puts the P/FCF ratio at 57.5. You pay $57.50 for every dollar of Amazon's free cash flow.
My feeling about Amazon is this: The company will continue to grow revenue at an astounding rate, but at the expense of margins. What matters in valuing a company is profits, not revenue. And shareholders will only take so much of stunted earnings quarter-after-quarter. At this point, I think Amazon is far too expensive to seriously consider as a long term holding. Even ignoring capital expenditures, the stock trades at a P/OCF ratio of nearly 30.
I think that the stock has gotten way ahead of the fundamentals. This is not to say that Amazon is not a good company. It dominates the online-retailing industry, is expanding its cloud computing services and -- with the release of the new Kindle tablets -- it's also growing its tablet market share. But the bottom line is, I just can't get behind Amazon stock at this time -- not until the company can prove that it make the profits to justify its valuation.
Disclosure: I have no positions in any stocks mentioned, and no plans to initiate any positions within the next 72 hours. I wrote this article myself, and it expresses my own opinions. I am not receiving compensation for it (other than from Seeking Alpha). I have no business relationship with any company whose stock is mentioned in this article.