Cardiome Pharma Corp. (NASDAQ:CRME) shares continue to gain on Tuesday after encouraging clinical test results for its drug curing cardiac arrhythmia.
After jumping 25% following the results Monday, shares were up another 5% to C$11.13 approaching market close yesterday.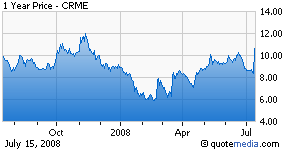 The Vancouver-based drug developer received final data from the Phase 2b trial of Vernakalant (oral), a drug aiming to atone Atrial Fibrillation, an abnormal rhythm in the upper chambers of the heart and leading cause of stroke.
UBS analyst Jeff Elliott reiterated his "buy" mention on the stock, and left his valuation unchanged at C$18, a 64.7% upside on its current trading.
In a note released Wednesday, Mr. Elliott wrote that "in the high dose cohort (500mg x2/day), median time to recurrence of atrial fibrillation (NYSE:AF) was greater than 90 days, [as opposed to] 27 days for placebo." Equally importantly, the data also indicated very limited adverse effects.
He wrote:
 

 The consistently strong safety data reaffirms our view that Vernakalant has the potential to be best-in-class for the treatment of AF.

 
The sharp appreciation of the stock may also be spurred in part by Cardiome USA, which had previously indicated that a strategic transaction would be finalized shortly after the final Phase 2b data was released.
Mr. Elliott wrote:
 

Cardiome USA is still awaiting FDA action on Kynapid however (almost six months overdue), and we are unsure if this could preclude a deal in the near-term.