Iron ore and coal markets have been suffering from oversupply, depressed demand, low prices, and high inventory levels, which have continuously resulted in downward slides. We reiterate our previous recommendation on iron ore of staying cautious in the near-term and being bullish in the long-term. VALE SA (NYSE:VALE) and Rio Tinto PLC (NYSE:RIO) are our favorites in the iron ore market. For a detailed overview on both these iron ore giants, please click on their respective stock tickers (VALE and RIO). You can also read about the dynamics of the coal industry by clicking here.
Cliffs Natural Resources (NYSE:CLF) is one of the major global iron ore producers, in addition to being a significant producer of high-end low-volatile metallurgical coal. As a result of weakness in both these markets, CLF has suffered enormously, with a YTD share price drop of more than 40%. We feel that its high dividend yield of 7.4% is unsustainable, and is prone to a reduction in the near-term. Consequently, we are NEUTRAL on the stock in the short-term. For long-term investors who want to play a rebound in iron ore and metallurgical coal simultaneously, there is no better stock than CLF, as it offers exposure to both these markets. Although the timing for those rebounds is uncertain, we expect such an eventuality after 3Q.
Iron Ore - Industry Dynamics
As we have been saying repeatedly, iron markets are on a downward spiral as a result of waning demand, especially from China, due to poor economic growth, oversupply issues, and the current trend of destocking. Iron ore prices have seen a huge drop of 36% since early July amidst concerns that economic activity in China won't pick up in the near term. Meanwhile, due to gloomy conditions in the steel market, another one of its raw materials (metallurgical coal) is also suffering like iron ore due to essentially the same factors.
According to a recent press briefing by the commodities analyst of Goldman Sachs for China, traders are becoming increasingly pessimistic about primary steel raw materials, metallurgical coal and iron ore, as the slowdown in China is likely to persist. According to him, "We see high production, high inventory and demand growth that is still below trend. So we should see further downside risk to commodities in the next quarter."
We remain cautious about iron ore's market dynamics in the near term, and expect a possible rebound after 3Q once the destocking trend discontinues. Yet, according to Goldman Sachs, this trend might take its toll, as the expectations of a monetary stimulus in China have probably resulted in higher steel production in contrast to the seemingly baseless claims of production cuts by Chinese producers. However, iron ore prices won't continue to hover around record lows for so long, as they are currently below the marginal costs of production and will rebound once Chinese iron ore producers will be forced to cut production. Nevertheless, it is a good entry point for long-term investors who want to target a huge upside, despite the possibility of a little loss in the near-term.
Cliffs Natural Resources
Recently, CLF was downgraded by Credit Suisse (NYSE:CS) from "Neutral" to "Underperform," and its target price reduced from $50 to $30, due to the company's massive exposure to the large drop in iron ore prices. Yesterday, UBS also downgraded it from "Buy" to "Neutral," and reduced its target price from $58 to $35.
After acquiring the largest known chromite deposits in North America, CLF is looking for the development of a new mine in Northern Ontario (which is currently undergoing planning stage). However, unless spot iron ore prices improve, we feel that CLF will have to suspend Chromite Capex.
Is High Dividend Yield Sustainable?
The company offers a whopping dividend yield of more than 7%, but we are concerned with its future sustainability, as the company's financial position will be weak this quarter following poor spot prices of commodities. Moreover, the company has some other financial obligations as well, like the required Capex for Chromite and the Bloom Lake Phase II project, and a 3.5x net debt/EBITDA covenant. UBS has done a scenario analysis in this regard, analyzing CLF's ability to meet its obligations amidst different iron ore prices. The following table is a summary of results.
Iron Ore Price

Dividend Cut

Chromite Capex

Waiver on Debt
Covenants Required?

$90/t, Current

Reduced to previous level,
Est. Yield = 3.2%

Delayed permanently

May be

$120/t,
Marginal Cost of Production

Unlikely

Available

No

$80/t, Stress-case Scenario

Entirely

Delayed,
Phase II capex delayed till 2014

Yes
Source: UBS
CLF more than doubled its quarterly dividend in March in an attempt to return more value to shareholders. However, we feel that it will find it increasingly difficult to maintain such a high dividend yield, and must be reduced to the previous levels of 3.2%. A good complementary measure will be a share buyback program, which will improve investor confidence amidst a volatile market scenario. In addition, the company must delay the Capex related to its Chromite program, and wait for market dynamics to improve.
In the upcoming quarter, however, we feel that the company will be able to pay its dividend, assuming that no capital expenditure is undertaken. This is because estimates for its next quarter earnings is in the range of $1.33-$1.4, while its recent (2Q) dividend per share was $0.625.
Financial Performance
CLF's latest quarter's EPS was $1.81, showing a 38% YoY drop from last year's $2.92, while revenues also saw a dip of 10%. The company attributed lower prices and higher costs for this poor operating performance. The following graph shows the historical performance of its margins.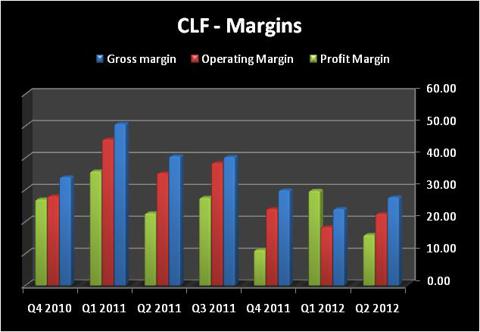 Click to enlarge
Valuation
The following table shows that CLF is the cheapest of all the big iron ore mining giants, as its forward P/E ratio of 4.5x is the lowest of the lot. In addition, the stock has suffered the most, as is evident from its YTD share price dip of more than 40%. The stock is bouncing back from its 52 week lows. Investors can use 52 week low price as the stop loss level.
Cliffs Natural Resources

Rio Tinto plc

VALE SA

BHP Billiton Limited
(NYSE:BHP)

Forward P/E (1 year)

4.49

5.08

5.14

8.23

Dividend Yield

7.40%

4.00%

7.00%

3.50%

Share price Performance (YTD)

-44.31%

-11.39%

-24.57%

-10.11%
Disclosure: I have no positions in any stocks mentioned, and no plans to initiate any positions within the next 72 hours.
Business relationship disclosure: The article has been written by Qineqt's Basic Materials Analyst. Qineqt is not receiving compensation for it (other than from Seeking Alpha). Qineqt has no business relationship with any company whose stock is mentioned in this article.