Retail stocks have been getting hammered and consumers remain under heavy pressure. That should delight doctrinaire contrarians. Buying when times are bad can definitely produce great results down the road, so this may, indeed, be a good time to look for retail bargains. But since we don't yet know how close or far we are from a significant bottom, such investing is best approached with careful and discipline. Presented here are 10 stocks, some well known with others flying under the radar, produced by a model that has shown an ability to cherry-pick within this presently-beleaguered group.
Under Pressure
To measure the degree of weakness in retail stocks, I created and backtested a simple screen that includes all non-OTC retail issues with market capitalizations above $100 million. Figure 1 shows how that collection of stocks (equally weighted with rebalancing every four weeks) fared against the Russell 2000 over the past year.
click to enlarge images
Figure 1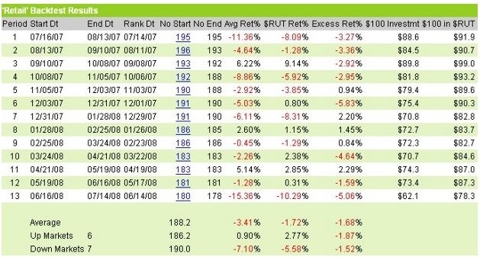 That's pretty bad: the group was nearly 16 percentage points worse than an already-weak market index.
Same-Store Sales, A Mediocre Mantra
Same-store sales is the metric that gets the most press, but as important as it may be, it's far from being the whole story. Merchants that "buy" same-store sales growth through excessive markdowns eventually find that withering margins crimp returns, earnings growth, and ultimately, share price performance. Conversely, too much in the way of margin can signify excessive pricing which turns off customers, cuts into same-store sales growth, and so on. Successful retailers need to find a level of balance that works for them, and same-store sales, viewed in isolation, don't help us see whether or not this is happening.
Figure 2 shows the results of a portfolio123.com backtest of a model that selects the 10 retailers that fared best under an estimate-revision model (the same one that previously tested well for energy stocks), which can arguably be viewed as a ballpark proxy for same-store sales sentiment since this monthly metric (actual results and near-term guidance) often looms large when analysts consider whether they should change or maintain their numbers.
Figure 2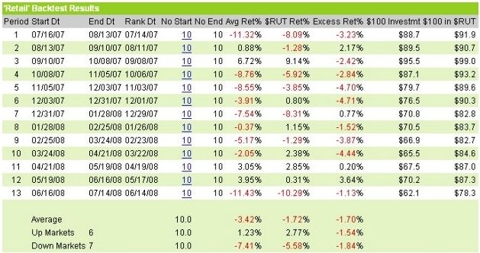 As we see, this is pretty much the same grim picture we saw for retail as a whole.
Modeling Retail Fundamentals
The model used here considers the following factors:
Inventory Turnover: Specifically I measure improvement in turnover experienced in the trailing 12 month period (relative to the prior 12 months). The raw numbers may not be great given today's bad business conditions. But I do, at least, want to favor merchants whose latest 12-month comparisons are better than those of other retailers. Hopefully, we can see genuine improvement, but if conditions are bad, we may have to settle for lesser degrees of deterioration.
Gross Margin: Again, I measure improvement (or lesser deterioration) experienced in the trailing 12 month period (relative to the prior 12 months). And again, we're emphasizing the comparison. Note, too, the element of balance. To bubble up in the model, the company's comparison would have to be near the top in terms of both margin and inventory turnover. I'm not necessarily looking for high numbers in both instances. All I want is relatively strong improvement (so a low-margin grocer could beat out a high margin upscale apparel vendor if the latter has experienced more improvement in whatever margin it has, as well as relatively better turnover).
Return on Investment [ROI]: This metric, net income divided by equity plus long-term liabilities, may be the penultimate measure of company quality since it combines margin and turnover. I don't use return on equity (the better-known ratio) because a company can look good in that regard simply by boosting leverage. To post good ROI figures, a company really needs strong business performance; it can't be helped by an aggressive CFO. The model considers trailing 12 month ROI, and the extent to which trailing 12 month ROI exceeds the five-year average return. And again, I'm looking for comparison among companies. But in this instance I'm also looking for absolute best-of-breed here-and-now numbers, thus eliminating weak firms that are merely becoming less bad.
Financial Strength: The model considers the most recent quick ratio (cash and equivalents divided by current assets), and the most recent debt-to-equity ratios (both long-term debt and total debt). This is important in general and especially today, when weak balance sheets may make it difficult for some retailers to hang on until things turn for the better.
Figure 3 shows the result of the portfolio123.com backtest of the performance of a portfolio comprising the 10 retailers that scored highest under this model (again, assuming equal weights and four-week rebalancing).
Figure 3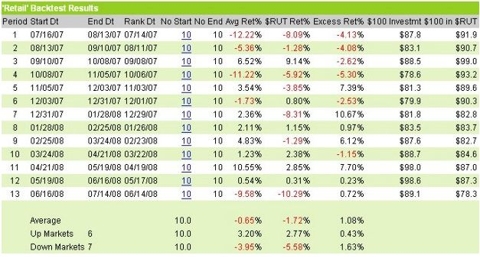 This version of the portfolio, while also down, outperformed the Russell 2000 by nearly 11 percentage points.
Also, compare the last lines in each of the reports, which is where we can see average performance during months when the market was down. Retail as a whole underperformed the Russell 2000 by and average of 1.52 percent (Figure 1). Retailers at the top of the estimate revision ranking model underperformed the Russell 2000 by an average of 1.84 percent during down months (Figure 2). But a portfolio based on retailers achieving top 10 ranks as per the fundamentals model presented here outperformed the index by an average of 1.63 percent during down months (Figure 3). That's noteworthy considering that things may still get worse before they turn better.
Speaking of better days, would this seemingly-defensive model falter once things improve? Anything is possible, but a longer backtest, dating back to 3/31/01, looks encouraging.
Figure 4 summarizes the performance of retail as a whole since 3/31/01.
Figure 4

Figure 5 does likewise for the 10 top-rated retailers as per this fundamental model.
Figure 5

No testing is perfect because we can never know what the future will bring. But a successful backtest, coupled with logical reasons why a model ought to work are probably as much as we can ever get. This approach seems to fill both needs.
This won't necessarily be the best approach under all conditions. In a bull market, stronger performance may be achieved if we focus more on momentum indicators, estimate revision, same-store sales, and so forth. But that doesn't seem as promising given the conditions we're looking at right now.
The Stocks
Here are the retailers that presently get the top 10 scores under this model. Many have been pounded recently because of disappointing June same-sore sales numbers. July might turn out ugly too. But as discussed above, that's not where I'm focusing. Instead, I'm working with the sort of relative fundamental strength indicators that are often sustainable over time and could justify owning the shares, even if we get in a bit early.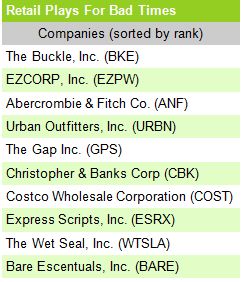 Costco (COST) probably stands tall as the main stalwart within this group, and its presence probably raises no eyebrows.
Abercrombie & Fitch (ANF), comparable in stature to Costco, might garner a different reaction since its merchandise would seem to be exactly the sort that can be bypassed when money is tight. And Abercrombie has generally not been afraid to price high, even if it means watching customers buy elsewhere. But over the years, I've seen few retailers that understand how to manage their brands as well as this one. This debt-free merchant often ranks near the bottom in terms of inventory turnover, near the top in terms of margin, and balancing it all, near the top in terms of return on investment. And it seems to have a nice track record of recognizing when it needs a jolt from new formats such as Hollister, RUEHL and Gilly Hicks, as well as a now-heating-up international push.
The Gap (GPS) is another surprise entry, since I'd never really seen it as a fundamental powerhouse. But it looks like it may be an improvement story, with a new CEO who seems committed to give more attention to the basics, and a starting point that, even if not top of the line, is good enough to prevent the overall rank from being dragged down.
A smaller (and until recently unprofitable) variation on the Gap theme may be found in The Wet Seal (WTSLA), another merchant that's working to improve its margin and inventory performance. In another sense, Wet Seal looks something of an anti-Abercrombie; this outfit tends to have relatively high turnover and lower margins. More recently, the balance has been such as to produce decent returns on investment, enough so to help it garner a high rank here.
The Buckle (BKE) may be one of the more intriguing names here, and it is the top ranked name. One of the hallmarks of retail is changing of the guard as shoppers (especially mall shoppers) get bored with the old favorites and seek out new ones. This outfit has a dual brand strategy (70 percent well know brands like Roxy, Hurley, Guess, K-Swiss and 30 percent house brands), a nice balance between margin and turnover combining into very strong relative returns on investment, and plenty of room to grow, and may well become a future mainstay.
Bare Escentuals (BARE) is an interesting situation. It came public in 2006 and has a debt-heavy balance sheet (which leads me to wonder when a rebalancing may knock it out of the top 10) but also strengthening fundamentals, tilted more toward margin than turnover. It sells mineral-based makeup. It has its own small chain of boutiques and it sells through QVC. But the bigger opportunity seems to be through pickups by the likes of Nordstrom and Sephora (where it has become the number one brand).
And, of course, the list features a bit of the offbeat: pawn-shops and payday loans represented by EZCORP (EZPW).
It's interesting to see the variety of firms that make this list. And it should be more interesting to see how it fares under the challenging business and market conditions we continue to face.
Disclaimer: The material herein, while not guaranteed, is based upon information believed to be reliable and accurate. Neither Prism Financial, Inc., owner of Portfolio123.com, nor Marc H. Gerstein, an independent contractor working with Prism (a) guarantee the accuracy, completeness or timeliness of, or otherwise endorse, the information, views, opinions, or recommendations expressed herein; (b) give investment advice; or (c) advocate the sale or purchase of any security or investment. The material herein is not to be deemed an offer or solicitation on our part with respect to the sale or purchase of any securities. Our writers, contributors, editors and employees may at times have positions in the securities mentioned and may make purchases or sales of these securities while this report is in circulation.