The build-up in gold prices since mid August, which was based on speculation that the Fed will initiate operation QE 3.0, was justified just until the ADP employment report was published this morning (Thursday). The report is a warning to those long the precious metal.
The report showed a healthy creation of private sector jobs that bodes well for Friday's Non-Farm Payroll report. This could mean that tomorrow's number can come in between 150K-175K, which is not particularly great, yet not a disaster, either. Therefore, the likelihood that additional Fed stimulus will be announced at the September 12-13 FOMC meeting is lower than it was prior to the ADP report.
And as illustrated, the gold market seems to agree with this notion, although some still seem to believe that QE 3.0 is still in the cards, but tomorrow's unemployment report will shake them into reality.
As the chart below illustrates, the price of gold dropped sharply at 8:15AM when the ADP report was released, and still did not recover, despite the market euphoria (in both credit and equity markets) ignited by the STERILIZED and UNLIMITED (how the two even reconcile) ECB bond buying program.
(click image to enlarge)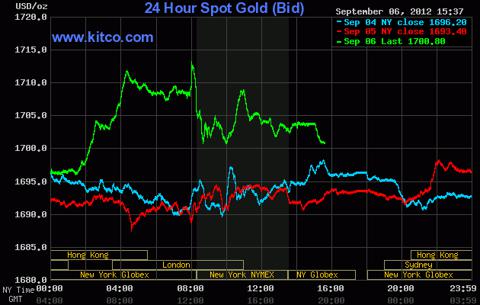 Click to enlarge
Source: Kitco
Thus, today's gold rally is completely not justified, and the ADP report is the first warning signal for those who are long the yellow metal. Tactical traders can protect their profits by taking some off the table, and those who are gutsy can capitalize by shorting the SPDR Gold Trust ETF (NYSEARCA:GLD) or specific miners (preferably large-cap to avoid the risk of takeovers).
Of course, this is a short-term pragmatic view that can extend into mid-to-late October. In the medium-to-long term, the investment thesis for gold is still intact, in my view.
The uncertainty and volatility to come from the fiscal cliff can undermine confidence, which will translate into weak economic growth and more speculation on the possibility of more easing coming from the Fed.
Disclosure: I have no positions in any stocks mentioned, and no plans to initiate any positions within the next 72 hours. I wrote this article myself, and it expresses my own opinions. I am not receiving compensation for it (other than from Seeking Alpha). I have no business relationship with any company whose stock is mentioned in this article.