Shares of Waste Management, Inc. (NYSE:WM) have steadily appreciated 12.15% over the past 12 months. At $34.44 per share, the stock is trading very close to its 52-week high of $36.35 achieved in April. The stock also has a very attractive dividend yield at 4.1%. As such, it is one of the most-watched dividend stocks. I recently had thought about acquiring some WM shares, but realized that the investment lacks some margin of safety as the stock is not priced attractively relative to the firm's fundamentals. In this article, I will illustrate some thoughts that helped in formulating my investment decision.
My value analysis includes a set of WM's comparable peers that are primarily engaged in providing environmental and facility services. The stock value is then analyzed based on the valuations calculated by five different peer-average trading multiples (see comparable analysis table below).
Click to enlarge

Click to enlarge
There are certainly some facts that support my slightly bearish view on the stock:
1. Analysts in average expect WM's revenue, EBITDA, and EPS to rise by 2-year CAGRs of 2.7%, 3.7%, and 7.9% over the current and next fiscal years. The growth rates are weak compared to the peer average of 6.8%, 7.2%, and 9.4%. Nonetheless, the stock trades at 2.5x PEG, a very expensive valuation on either an absolute or relative basis (peer average is at 1.7x) (see table above).
2. In addition to the weak growth potential, WM's profitability is also slightly worse than the peer group average (see table above). All of the company's profitability measures are marginally below the peer averages, but the ROE and ROIC are higher. WM also assumes an above-average debt level as reflected by its relatively high debt to capitalization ratio and debt to EBITDA multiple. Moreover, WM has a weak cash flow generating capability with a LTM FCF margin of only 5.7%, compared to the peer average of 11.7%. The lackluster profitability and high leverage have resulted in a lower interest coverage ratio. As both the current and quick ratios are below the par, it appears that WM's balance sheet is relatively less healthy.
As such, one would expect WM shares to trade at a solid valuation discount to its peers. Although the current stock price of $34.45 implies a 12% valuation discount to the five peer-average trading multiples (assuming each has an equal weight in determining the stock value), I still believe a larger valuation discount is needed to sufficiently account for all of WM's weakness (see table below).

Click to enlarge
3. Based on the tables shown below, WM's estimated financials have experienced multiple downward revisions over the past 12-18 months, reflecting a deteriorated market confidence in the company. Nevertheless, the stock price has appreciated 12.15% over the last 12 months, and the stock's NTM P/E has risen by 12% from 13.1x to 15.0x over the same period, implying that the stock has become more pricey.

Click to enlarge

Click to enlarge

Click to enlarge
On the other side, there are also some positives:
1. The firm has a sound dividend policy. According to the chart below, annual dividend per share has been raised by a steady 7-year CAGR of 8% from $0.75 in FY2004 to $1.36 in FY2011, reflecting management's strong commitment to the return capital to shareholders.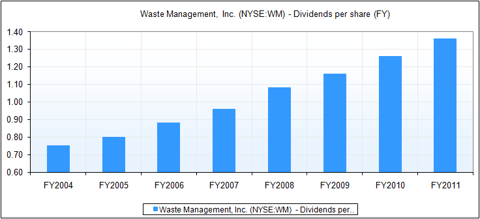 Click to enlarge
2. WM has ample financial resources to continuously raise the dividends. Over the last decade, annual dividend paid in average represents only a half of the annual FCF generated (see below), meaning that there is sufficient room to improve dividend payment down the road.
Click to enlarge
In conclusion, even trading at a discount to its peers, WM shares remain to be slightly pricey. But given the dividend yield of 4.1%, which are both high and likely sustainable, I recommend a hold rating for the stock. I would be more comfortable acquiring the shares at a price close to $30, which implies an approximately 20% discount to the current peer-average valuations and provides a better risk/reward profile.
Comparable analysis and relative valuation tables are created by author, all other charts are sourced from Capital IQ, and all financial data is sourced from Morningstar and Capital IQ.
Disclosure: I have no positions in any stocks mentioned, but may initiate a long position in WM over the next 72 hours. I wrote this article myself, and it expresses my own opinions. I am not receiving compensation for it (other than from Seeking Alpha). I have no business relationship with any company whose stock is mentioned in this article.