Being a low cost provider is centered on the concept of a company producing and delivering cost reduction initiatives that improve the bottom line of the company by improving its efficiency. Some companies use their efficient strategies to protect their markets from the competitors by responding to competitors' move of making in-roads in the market space by reducing prices.
One way to strategically position a company on the advantage of cost is to increase market share by transforming from lowest cost producer to lowest cost supplier of products. This way, the company translates its cost advantage into price advantage for its customers and thereby improves the market share.
The concept of increasing market share provides a great opportunity for a company to leverage the economies of scale coupled with the ruthless cost cutting measures it executes. More the competitive space it occupies - which also means that more competitors eliminated - more effective are economies of scale and as a result the costs are driven still lower.
When a company is able to transform the efforts of cost reduction into cost advantage for customers, the company can be said to be successfully pursuing low cost leadership strategy. Wal-Mart (NYSE:WMT) is one company that continuously strives to reduce costs, and in the marketplace, it has got the image of supplier of products at the lowest prices.
Realty Income: A Truly Low Cost Supplier
Last week, I wrote an article, The Conundrum Of Triple Net Lease Valuation, in which I explained the correlation between Realty Income's (NYSE:O) high multiple and its strategy of being the "low cost producer" in the triple net REIT sector. As I wrote,
In the triple-net investment sector, a higher multiple is what you strive for since the lower cost of capital is the mantra for success - the high multiple equates to being the "low cost" provider. So the highest valuation has the cheapest cost of capital, the best margins and the best strategically flexible operating platform.
Thursday, we learned that Realty Income is utilizing its "low cost" muscle by acquiring one of its smaller peers, American Realty Capital Trust (NASDAQ:ARCT). Surprisingly, this new deal was announced just six months after American Realty shares were listed publicly in March and four years after the REIT started raising capital (see article I wrote on ARCT when the company listed).
The deal, which is still subject to shareholder approval and is expected to close by the first quarter of next year, will create the world's largest net-lease real estate investment trust and the 18th-largest publicly traded REIT. The combined company will have a $7.6 billion market capitalization and an enterprise value of $11.4 billion, a size that makes it a candidate for inclusion in the S&P 500.
So What Will The New Triple-Net Giant Look Like?
The best analogy I can make of this marriage is the comparison of Wal-Mart and Target (NYSE:TGT). Realty Income, the low cost leader, has around 2,762 properties (Q2-12) and assets of around $4.58 billion. Currently, Realty Income's portfolio has around 19 percent investment grade tenants (based on revenue), and that number will jump to around 34 percent when the acquisition closes later this year.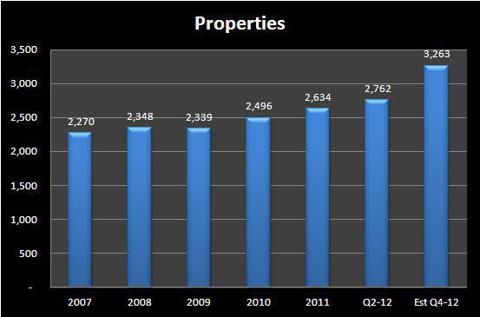 Conversely, American Realty Capital operates more of a Target model in that it is not as much of a lost cost leader as it is a high-quality operator. Around 75 percent of American Realty Capital Trust's rental revenue (of the 501 properties) is investment grade tenants that include FedEx (NYSE:FDX), Walgreen (WAG), CVS (NYSE:CVS), the GSA, Dollar General (NYSE:DG), Express Scripts (NASDAQ:ESRX), PNC Bank (NYSE:PNC). The largest tenant in the combined portfolio will be FedEx, representing 6 percent of annual rental income. Beyond that, the next 14 tenants each represent between 1.8 percent and 3.8 percent of total rental income.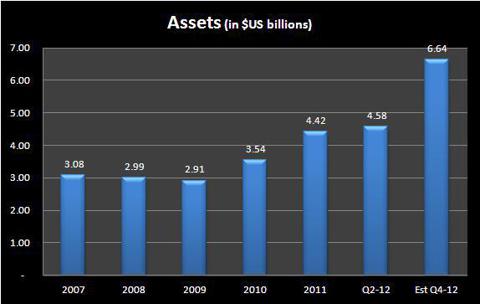 Clearly, this marriage will enhance Realty Income's growing investment grade tenant composition while also further diversifying the singularly focused net lease platform. As explained Thursday (in a press release) by Realty Income chief executive Tom Lewis:
This acquisition comprehensively advances Realty Income's strategic objectives of increasing its revenue generated by investment-grade tenants and further diversifying its portfolio outside of the retail industry.
So Who Benefits?
Realty Income announced that the company will acquire the smaller American Realty Capital Trust in a mostly stock deal for $12.21 per share, or $2.95 billion total asset value. Realty Income will assume $526 million of mortgage debt, repay $574 million of American Realty Capital Trust debt (a term loan and a line of credit) and transaction costs, and issue $1.9 billion of shares to American Realty Capital Trust holders. Post-deal, American Realty Capital Trust holders will own ~26 percent of Realty Income shares.
The increase in Realty Income's percentage of revenue flowing from the new investment grade tenants is significant and perhaps the most important reason that this transaction was announced. Using historical data from American Realty Capital Trust's income statement, I estimated the annualized (using a historical growth rate of 1.7 percent per quarter) pro forma net operating income (NOI) for the portfolio (501 properties):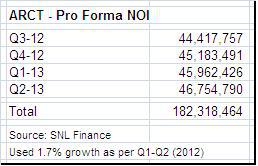 Utilizing the forecasted NOI data (above), the cap rate is around 6.18 percent. Note that the actual cap rate using current NOI figures is approximately 5.9 percent. Given that the 501 property portfolio has considerable investment grade composition (approximately 75 percent) and the properties were acquired very recently, I believe that the purchase price is in-line with the current single tenant net lease valuations - especially given the mere size of the portfolio and the fact that the transaction costs are significantly reduced given the economies of scale for facilitating over 500 transactions. Also, in reviewing the overall portfolio, many of American Realty Capital Trust's tenants have contractual rental increases that will add value along the way.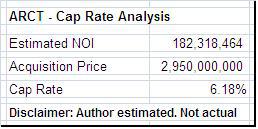 Now the next step of my analysis will be somewhat subjective in that I do not have all of the necessary data to provide a comprehensive analysis; however, I should be able to provide ample evidence that Realty Income investors will benefit from the proposed transaction.
As mentioned above, there is a debt obligation by American Realty Capital Trust that will be assumed by Realty Income (of around $526 million). This debt has average interest of around 5.5 percent and I assumed the payments to be interest only. Accordingly, my estimated pro forma return on equity calculation is 6.18 percent. Realty Income has a current dividend yield of 4.3 percent so this means that the 1.88 percent difference will be highly accretive to Realty Income's shareholders of record.
This translates into immediate accretion of $0.20 to $0.22 on an FFO basis, the immediate accretion of $0.14 to $0.16 per share on an AFFO basis, and an increase in dividends of almost 7.1 percent after the closing the transaction (b they raising the dividend about $0.13 a share to $1.94 per share).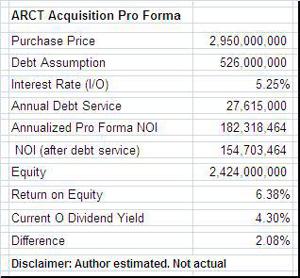 Now How Does it Benefit Existing ARCT Shareholders?
American Realty Capital Trust shareholders will be going from a 6 percent dividend yield (pre-announcement) to a 4.30 percent dividend yield (pre-announcement), giving up 170bps of yield. At the same time, they will be going from a 20 percent premium to NAV to a 46 percent premium to NAV. As the purchase is an all stock transaction, the value to American Realty Capital Trust holders will change with the value of Realty Income shares. Given the combination of yield loss and increased premium to NAV, shareholders should either sell their position and take their gains or use a stop loss to protect their potential downside.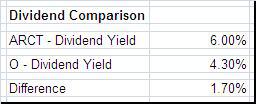 So Does The Low Cost Leader Benefit the Investor?
Absolutely YES. Realty Income has one of the most impressive dividend producing machines around. The company has significantly low cost capital around, and it is clear that Tom Lewis (CEO) and his talented team are executing a very well thought out and masterfully structured transaction.
The American Realty Capital Trust transaction is a milestone for Realty Income in that it will likely be included into the S&P 500 and the high-quality income will spark further growth and become a dominating player in the highly fragmented net lease sector.
Interesting to note that there is another sleeping giant, Cole Credit Trust II (a non-traded REIT) in Phoenix, AZ. The $3.35 billion (as of Q2-12) REIT has informed the SEC that the company is evaluating its options to possibly initiate a program full cycle event. Cole Credit Trust's Board engaged Morgan Stanley and UBS Investment Bank (in March 2012) that the company was considering options to create a successful exit transaction. Much like American Realty Capital Trust, Cole Credit Trust II started out raising its funds in the non-listed REIT sector and the Phoenix REIT is weighing its options to exit a full cycle liquidity event for its investors.
Thus far, the publicly-listed REITs have proven to have the best management teams in the industry and Realty Income has shown evidence of that with the announced acquisition Thursday. It is my view that non-traded REITs serve one primary purpose today and that is to raise blind pool capital so that companies can eventually go public. In other words, if Cole Credit Trust II does not convert to a REIT or acquire a REIT, Realty Income will not only be the dominating low cost leader but also the 1000 pound triple-net gorilla….that pumps its chest and growls nothing but monthly dividends.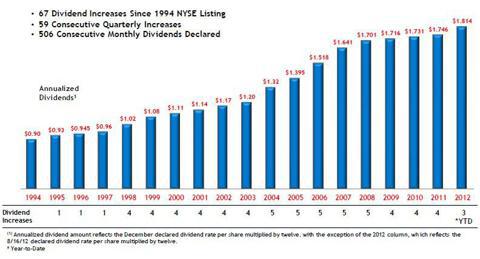 Disclosure: I have no positions in any stocks mentioned, and no plans to initiate any positions within the next 72 hours. I wrote this article myself, and it expresses my own opinions. I am not receiving compensation for it (other than from Seeking Alpha). I have no business relationship with any company whose stock is mentioned in this article.