Edited by Marianna Avilkina
Canadian Natural Resource Limited (NYSE:CNQ) is Canada's second-biggest energy company, with the largest undeveloped land base in the natural gas fields of northeast British Columbia and northwest Alberta. Furthermore, CNQ's operations in West Africa and the North Sea substantially add to the company's core business of crude oil and natural gas production. The company boasts a diverse portfolio of oil and gas products, ranging from natural gas liquids to in-situ oil sands. The facility at Horizon Oil Sands is able to produce between 232,000 and 250,000 barrels of light crude oil per day. The facility's expansion is ongoing; out of five planned phases, only one has been completed to date. This investment is expected to increase value to shareholders in the coming years.
Unlike many of its rivals, CNQ has not experienced any major operational accidents or hazards, and there have been no fires or explosions reported at their work sites. However, in January 2011 there was a fire at a Horizon Oil Sands plant that was in the process of being upgraded. Despite this incident, there was no significant damage, as production had already stopped. The performance of the company in Q2 of 2012 was quite respectable: CNQ posted figures of 470,523 barrels of oil per day and 1,255 million cubic feet of gas per day.
Financial Situation
The company's net earnings for 2012 Q2 were $753 million and $0.68 per share. The net earnings in Q1 of 2012 were $427 million and $0.39 per share. Cash flow from operations was $1,754 million in 2012 Q2, up from $1,280 million in Q1. This was due to increased sales of crude oil and synthetic crude oil in North America. Earnings per share in Q2 of 2012 were $0.68 compared to $0.85 in Q2 of 2011. Fluctuations were witnessed in global market demand and storage levels, which affected crude oil pricing and natural gas pricing.
CNQ's long-term debt has more or less remained stable over the past three quarters, at an average of $8,400 million. Retained earnings increased from $19,656 million to $20,193 million from 2012 Q1 to Q2. The company's property, plant, and equipment are valued at CAD $42,292 million. CNQ also declared quarterly dividends on shares of $0.105 per share.
Stock and Dividend Profile
CNQ's main competitors are Suncor Energy (NYSE:SU), Imperial Oil (NYSEMKT:IMO), the Anadarko Petroleum Corporation (NYSE:APC), and the Apache Corporation (NYSE:APA). The company's market capitalization stands at $30.40 billion.
Figure below shows that CNQ's stock price has performed better than the average of the major indices. For the most part, the stock price has remained above both the S&P 500 and the Dow Jones Industrial Average over the last four years. The recent downturn was a result of an unscheduled shutdown of the company's North Sea plants for maintenance. Maintenance of a 108-mile pipeline took 20 days; operations had to be shut down completely while repairs and upgrades were made.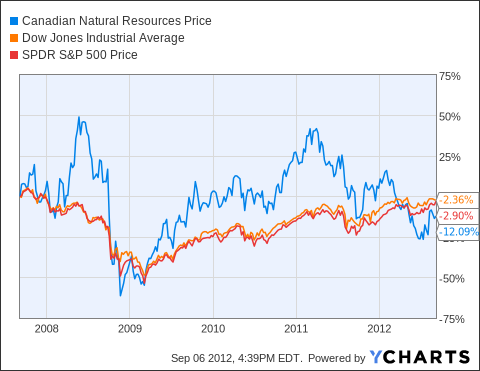 The figure below further shows that the Canadian energy industry is closely contested and highly competitive. In comparison with its competitors, CNQ is not doing well. Suncor, Anadarko and Apache consistently have performed better than CNQ over the past three years.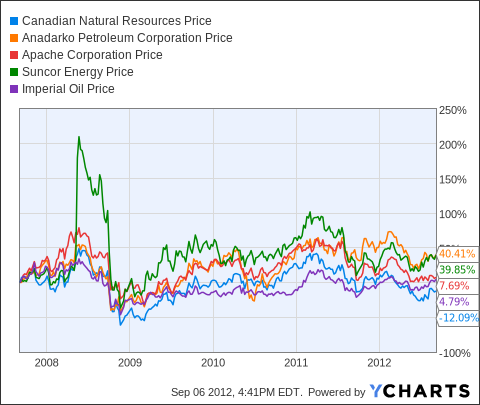 As of September 6, 2012, CNQ's price-to-earnings ratio is 11.6, while the industry average is 26.9. Its five-year average price-to-earnings ratio reached 18.1. The 52-week range is from $25.01 to $41.38, and return on invested capital is 8.57% for the first two quarters of 2012. In other words, there has been a 2.91% increase over last year's return on invested capital. The company's beta is 1.64, making it pretty vulnerable to volatile market conditions. Moreover, this fact is reflected in the relative drop in CNQ's performance compared to the S&P 500 and Dow Jones averages in 2009.
Present Economic Outlook
CNQ's infrastructure and scale both provide them with a major competitive advantage, allowing the company to react quickly and improvise according to the situation. The company's large drilling inventory provides them with multiple options as commodity prices fluctuate depending on demand from North America and the rest of the world. This advantage allows a reduction in the cost of drilling and extraction by 5-15%. This provides an exceptionally promising opportunity for the company to widen its profit margins. In addition, the company is investing in research and development as it evaluates new technologies such as polymer flooding and solvent injection.
The company's Horizon Oil Sands project has been producing high-quality crude oil since its inception in 2009. This project is still in progress, and only the first phase of its development has been completed. With access to vast resources, the Horizon Oil Sands project can truly provide uninterrupted returns for the next decade. Exponential gains are expected when expansion is completed, and CNQ expect the facility to produce 250,000 barrels of oil per day. Moreover, the creation of this facility could significantly add to shareholders' value in the future.
Other than oil production capabilities, Canadian Natural Resource also focuses on natural gas production, and is currently one of the largest natural gas producers in Canada. The company has four natural gas areas in western Canada.
Summary
CNQ differentiates itself from its competitors by minimizing risk and cost associated with production. This is achieved by company ownership of the infrastructure for all production processes. In order to maintain efficiency of production, the company maximizes utilization of facilities by having control over them at all times, and, unlike its competitors, does not need third-party refineries or transportation to complete its operations. The company also holds large project inventories and production diversification for its commodities. This provides effective allocation of capital and opportunities for greater return.
The Horizon Oil Sands project seems remarkably promising, a result of CNQ's huge investment of resources. The company expects to eventually break free from the booming industry competition and become a market leader once the project is completed. Investors are urged to buy CNQ stock as this analysis has been consistent over the last 15 months, and the stock promises to reap favorable rewards in the long term. Add to this that returns are expected to be above the industry average over the next 8-12 months as the company expands, and CNQ stock seems an increasingly likely target for investors.
Disclosure: I have no positions in any stocks mentioned, and no plans to initiate any positions within the next 72 hours. I wrote this article myself, and it expresses my own opinions. I am not receiving compensation for it (other than from Seeking Alpha). I have no business relationship with any company whose stock is mentioned in this article.