Wal-Mart (NYSE:WMT) is a powerhouse of efficiency, and this core attribute made it one of the most successful and largest businesses in the world. It's motto since Sam Walton's "Walton's Five and Dime" has been to attract and retain customers with lower prices, and this simple idea pushed the company to unprecedented heights in the retail industry. The secret behind these successes has been its focus on strategies that aim to increase efficiencies, grant Wal-Mart more leverage, and reduce costs in the process. Beginning with the introduction of the bar code system and the eventual development of technologies that helped manage inventory levels, and reduce drags on the supply chain, all innovations complemented the company's reduced price ideology and propelled it to the largest retailer of its kind.
Wal-Mart stresses on logistics, and has used information technology wisely. The company wanted to track the movement of goods, their warehousing, and wanted to ensure efficient delivery times. All these objectives promoted a culture of frugality, which extends right to the top of the management. At the moment, the stock only yields 2.16%; not a great amount, and with the stock trading near its 52-week high and given the rising competition, we believe investors should probably wait for the stock to provide a better yield.
Fiscal 2012 unit count aggregated total stores in the U.S. market to 4,479, with supercenters representing 67% of the total figure. With not much space left for Wal-Mart to grow in the U.S., with its large stores, growth for the company will undoubtedly come from filling those gaps within the U.S. with smaller (Express) stores, and expanding internationally. Wal-Mart International's net sales grew by 6.4% in the second quarter. For fiscal 2012, net sales for the international division were up by 15.2% and stood at $125.9b (including the impact of currency and acquisition), with the addition of 612 stores through organic growth. Wal-Mart Stores Inc. registered diluted EPS of $1.18, in line with the upper range of its guidance of $1.13-$1.18. It also raised and narrowed its full year guidance to $4.83-$4.93 from the previous range of $4.72-$4.92.
U.S. Growth
A superb overseas sale growth has contributed well to the overall results for the company, but WMT must also look for ways to grow within the U.S. Expanding with a supercenter within the U.S. is not an option anymore. Revenue for Wal-Mart U.S. grew at only 1.5 % for the fiscal year 2012. What the company seems keen on doing is uplifting its existing stores in the hope of making them more appealing for all types of customers. Furthermore, since Wal-Mart will not be looking for more stores in the U.S., the leftover cash will be used for share repurchases. In fact, in January 2012, an additional $11.3b (4.4% of current market cap) worth of shares were authorized for buyback, without any expiration of the repurchase program. But all of this does not address the issue of the rising power of the dollar-store chains, which offer rock bottom prices, and are bent on stealing the market share from big chains. The ubiquitous stores of Dollar Tree (NASDAQ:DLTR), Family Dollar (NYSE:FDO) and Dollar General (NYSE:DG) do not exactly compete against the big players on being the weekly destination of households for groceries and other household items, but rather on being those small around the corner convenience stores with the added advantage of great discounts. And they seem to be doing their job pretty well, by attracting both lower-income and higher-income individuals hit by the dampening economy.
Wal-Mart, and its competitor Target Corp (NYSE:TGT), have realized this danger and responded with their version of smaller discount stores in the shape of Wal-Mart Express and City Target. But Wal-Mart has had problems with the speed with which it picks up initiatives, and this time it's no different. These Express stores are nothing but supercenters scaled down. As an article on the Wall Street Journal put it, merchandise on sale has failed to adapt to the smaller version of stores, where quick easy access to every item seems to be missing. Wal-Mart's strategy to open up these small stores is vital if it intends to kick start its growth in the U.S., but at this stage, it just isn't clear as to how it intends to bring about the change.
Dividend Stock Analysis
Graph 1: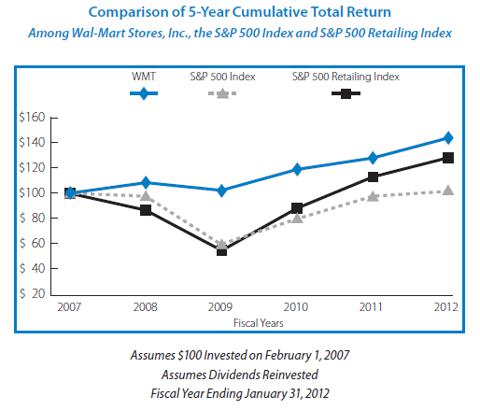 Graph 2: Wal-Mart Dividend Growth

Graph 3: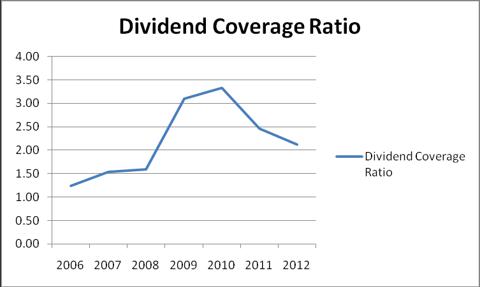 The company has steadily increased dividends since the last ten years, as shown above (Graph 2), and currently provides a dividend yield of 2.16 %. Dividend coverage (FCF/Dividends) has shown an upward trend, and with a current payout ratio of 47%, we see ample room for future dividend increases. Gross margins have also improved over the years.
Valuations:
| | | | |
| --- | --- | --- | --- |
| | WMT | Costco Wholesale Corp (NASDAQ:COST) | TGT |
| Forward P/E | 14x | 22x | 13x |
| EV/EBITDA | 8x | 11x | 8x |
| Dividend Yield | 2.16 % | 1.12 % | 2.26 % |
| LT Growth Rate | 8.79 % | 13.37 % | 12.60 % |
The stock is trading slightly lower than its historical highs of $75.24. Although the company had steadily increase dividends over the years, the current yield of 2.16 % does not warrant an entry into the stock. We forecast tough competition for the retail giant, and the below-average long term growth does not justify the high multiples it is trading at. Therefore, we recommend investors wait till the dividend yield rises.
Disclosure: I have no positions in any stocks mentioned, and no plans to initiate any positions within the next 72 hours.
Business relationship disclosure: The article has been written by Qineqt's Consumers Analyst. Qineqt is not receiving compensation for it (other than from Seeking Alpha). Qineqt has no business relationship with any company whose stock is mentioned in this article.