In addition, to my previous article capturing the highlights of three companies in the for profit education industry; American Publication Education, Apollo, Education Management: Highly Volatile, Yet Valuation Yields Second Chance; another company I recommend is DeVry Inc. (NYSE:DV). DV has had a long history of success, as both a private and publicly traded company. DV was originally founded in the early 1930s and was first publicly traded on the New York Stock Exchange in 1991. DV operates in an industry that receives little attention, but yet at the same time has significant area for growth. Since July, DV's share price has dropped roughly 35%, but as a result valuation metrics have only become more attractive and supportive for a high potential upside. For starters, here is a brief summary of their business:
"DV is a provider of educational services and the parent organization of Advanced Academics, Becker Professional Education, Carrington College and Carrington College California, Chamberlain College of Nursing, DeVry Brasil, DeVry University, and Ross University. These institutions offer a range of programs in business, healthcare and technology and serve students in middle school through postsecondary education, as well as accounting and finance professionals." Business Description from Google Finance
For more information DV's business model, fundamentals, and general services, please visit the company website: DeVry Inc.
Company & Valuation Highlights
DV provides a wide array of programs and degrees ranging from a general diploma to a PhD. With half of the total individuals enrolled pursuing a bachelors degree, and the remaining individuals seeking either an associates, masters, and/or PhD. In addition, they have a tendency to be more diversified than some of their competitors in terms of the program individuals are enrolled in. Of the individuals pursuing a degree, they have a fairly even split between the fields of technology, health, and business related studies that they provide. One of the current factors that had an effect on their share price over the past couple of months, was a slight decrease in levels of enrollment. It was announced early that they anticipated lower levels and it appears investors reacted negatively in response. In regards to long term growth, DV's business model seems to be altering away from the original "classic" style campus to many smaller universities scattered across different locations. This will continue to help them down the road in being more efficient as well as reaching a larger target market.
In recent news, on September 4th, DV announced a share buy back that has been approved by the board of directors. First, there will be an initial buy back and then following will be a share repurchase program that will allow DeVry to purchase up to $100 million in shares through the end of 2014. For more info regarding the share repurchase program DeVry Inc. Share Repurchase Program.
Dip's most recent performance has been hindered by the same issues that affected the entire industry; which are the regulatory issues. From 2008 to 2011, DV outperformed the S&P 500 (see "Risk Metrics" for support). The reason performance was hindered was because new regulatory issues that began to surface and later became reflected in share prices industry wide, which became evident in the latter portion of 2011. From a valuation standpoint the company's current market price per share is right between $20 and $21. Earnings per share last year 2011 YE were $4.60 and analysts estimates for 2012 YE are ranging from $3.10 to $3.45, a slight decrease, but reasonable for what has recently occurred. For YE 2013 a potential upside awaits, as we see the effects of the modification to DV's business model.
What is the Quantitative Risk of these Returns?
In evaluating historical performance and risk, I used a sample size of 48 from DV's monthly holding period returns over the past four years. To be consistent with the same analysis completed in my previous article and to reduce the probability of error, I used the same sources for collecting the data and identical methods for calculating the risk metrics (with the exception for not excluding the 2009 financial crisis in this analysis).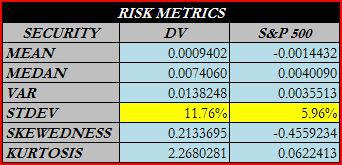 First taking a look at the highlighted calculations, you will see DV is of slightly higher risk with a standard deviation of 11.76% compared to the S&P 500 only at 5.96%. The average return based upon the mean calculation provides evidence that DV did outperform the S&P over the past four years. The kurtosis calculation for DV is not surprising, with a value of roughly 2.26. Not extremely high, but enough to conclude that DV's returns are have a higher probability of being peaked above a normal distribution, providing a greater probability of abnormal returns. If you refer to my other article you will notice the standard deviation of all other competitors is higher. This indicates that DV is historically less volatile and may be a safer investment, with a high potential upside.
Conclusion
Overall it is safe to conclude that DV and the three companies in my previous article are all exposed to a moderate level of risk that is industry wide, along with a much smaller level of firm specific risk unique to each company. DV appeared to be the lowest risk in numerical form. But overall each company is altering their business model and making changes necessary to continue growth. For some companies it was changes to tuition prices because of consumer sensitivity and for others it was geographic/infrastructure related and required building new locations. Regardless, the demand for online education has significantly grown in the past ten years and is continuing to grow; providing more room for a potential upside in share prices industry wide.
Sources: All information, valuation, and risk metrics were retrieved from Google Finance, and Yahoo Finance. DeVry's company website was referenced as a link in my article to provide readers with a direct source for further information.
Disclosure: I am long DV. I wrote this article myself, and it expresses my own opinions. I am not receiving compensation for it (other than from Seeking Alpha). I have no business relationship with any company whose stock is mentioned in this article.