I'd like to take a moment to explain why I am committed to my ProShares UltraShort Financials ETF (NYSEARCA:SKF) position and why I'm generally bearish on even owning any stocks or bonds for the near-term.
Four percent of SKF is short Bank of America (NYSE:BAC). SKF has a lot of short positions and swaps for megabanks, I-Banks, Fannie (FNM) and Freddie (FRE), and every type of lending institution that makes up the index. But the bet on BAC is the biggest.
Bank of America now owns between 20 and 25% of the residential mortgage loans in America. It offers credit card accounts in a period of increasing inflation, lower discretionary spending, higher commodity prices and low consumer confidence. It also offers auto loans under the same conditions as the credit card segment except that the default rate is worse, with greater liabilities. Additionally, BoA has a huge amount of revolving credit facilities set up with businesses back when rates were more favorable to the bank but with the Fed refusing to increase rates, these credit facilities eat up space on a balance sheet which could be loaned out at a more favorable rate. And even though the purchase of Countrywide (CFC) was discounted, it had to pay 11.8 billion dollars of Countrywide's debt as well as face possible liability in suits brought by plaintiff's firms and State Attorney General Office's for deceptive business practices. Countrywide's summary under its stock symbol describes a five segment company where at least four segments are obsolete in the falling housing market and tighter lending condition of today. BAC is still digesting its acquisitions of US Trust, MBNA and LaSalle Bank.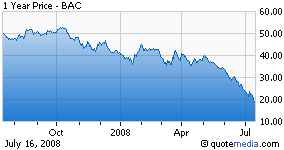 And in the middle of this, there is a general lack of faith in a system of securitizing loans, and moving back towards portfolio business, which would increase the cost of lending and be devastating to the public. There are new accounting rules ending SPVs. Not to mention the other three horsemen of the apocalypse - inflation, high commodity prices and still sliding housing market.
There is no talk about how BAC or any other bank can become profitable back to the levels of 2002 to 2007. The bank is not nimble. It can't cut a dividend. There is only a need to recapitalize and dilute shareholders. Thats all it can do for the next four quarters. I have asked BAC stockholders how they intend to rebuild earnings and they have no answer, they just point to a dividend yield. That is an unsatisfactory answer.
I haven't mentioned FNM, FRE, Citigroup (NYSE:C), Lehman (LEH), UBS (NYSE:UBS) or any of the other financial institutions which will continue to struggle for many quarters, to say the least. No one has a silver bullet. No one has another gimmick or bubble to catch on. UBS has substantial positions in SKF - calling the insurance broker for your house when you see Grandma fell asleep in the rocking chair with a lit cigarette and now the curtains are on fire.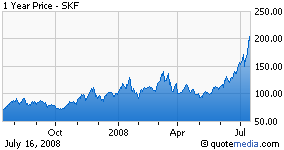 The most important factor to consider is that the banks are generating three negative feedback loops. The first one is by raising capital that they are diluting their own shares, slashing their own share price. The second negative feedback loop is that they are selling assets of companies which is dragging down the market as a whole. Finally, by selling off houses which are in foreclosure, they are further dragging down the real estate market, making their mortgage default rates increase.
I really don't know if there is going to be a market rally, or if oil prices are going to go down or home sales will pick up again. I have no idea at all. I do know that if any one of those things does not happen, banks will still have to dilute shares, merge, or fail for the next year. I also know that as I try to pick up shares of equities, these financial institutions are unloading them to lower leverage ratios and sell assets so the trends are bearish. But once the commodities come down, and the major indexes show sustained rallies will there be a true buying opportunity. Buying Dow Chemical at 25 a share in three months would be better than buying any mutual fund.
So I would go to Google Finance or Yahoo Finance and watch these 15 symbols. When the 14 funds show continual losses for a month and Dow Chemical [the lamb of God who takes away the financial sins of the world] shows a month-long gain, we are officially out of the woods. But I don't see that happening in the next 52 weeks. Here is my Apocalypse 15. If all of these funds show continual gains for a month, the Angel of Death is knocking on the door.
ProShares UltraShort Financials (SKF)
ProShares UltraShort Consumer Services (NYSEARCA:SCC)
SPDR Gold Trust (NYSEARCA:GLD)
ProShares UltraShort Consumer Goods (NYSEARCA:SZK)
ProShares UltraShort S&P 500 (NYSEARCA:SDS)
iPath DJ-AIG Grains Total Return (NYSEARCA:JJG)
PowerShares DB Oil (NYSEARCA:DBO)
DB Commodity Double Long (NYSEARCA:DYY)
GAMCO Gold AAA [GOLDX]
CMCI Food Index (NYSEARCA:FUD)
DB Agriculture Double Long (NYSEARCA:DAG)
Prudent Bear [BEARX]
U.S. Oil Fund (NYSEARCA:USO)
Rydex Inverse 2x S&P Select Sector Financial (RFN)
Dow Chemical Co. (NYSE:DOW)
Disclosure: Long SKF, SDS, DBO, GLD, GOLDX, SZK and DAG.