The Boeing Company (NYSE:BA) has not been in the headlines much, since it beat earnings and revenue estimates in late July. The stock has also not moved much either. However, recently there have been some important announcements by Boeing and its peers that have sparked new interest in the relatively inactive industry.
The market outlook (CMO 2012) published by Boeing on July 3 gave a visibility of earnings for the next 20 years, when the company announced that demand for the next two decades would be around 34,000 commercial jets worth $4.5 trillion. The same was reiterated by its arch-rival, Airbus, in its global outlook till 2030. In its outlook, Airbus expects a demand of 28,200 passenger aircrafts; this figure is close to Boeing's 2012 CMO.
Both companies believe that the majority of demand will come from emerging economies, which are expected to grow at enormous rates in the next 20 years. The following graph taken from Airbus' market outlook reflects this fact:
Click to enlarge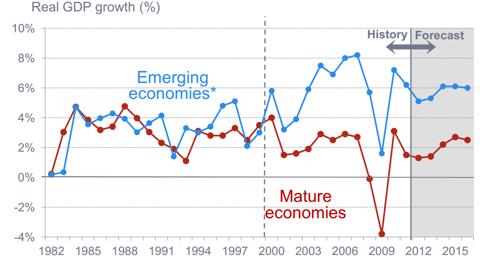 Airbus believes that passenger traffic will increase by 4.7% in the next 20 years, which will lead to the replacement of some 10,350 aircrafts with newer efficient models. The world's largest traffic is supposed to come from China, India, the U.S., and Western Europe, which will account for one-third of the world's traffic. Also, Chinese domestic traffic will overtake U.S. domestic traffic after 20 years. Another interesting disclosure was that 35% of the 28,240 aircrafts will go to Asia Pacific, with more than the 21% going to Europe and the U.S. each.
On Monday, Boeing also raised its Indian sales forecast till 2030 from last year's forecast of 1,320 passenger planes to 1,450. Indian airlines have been looking into different methods to cut costs, as fuel prices in India are 50% more than the worldwide average. Tough competition has strangled their margins due to unfavorable pricing. To make matters worse, the Indian Rupee has depreciated by over 30% since January 2008. Meanwhile, demand is rising day-by-day, as air traffic continues to rise.
The best solution that Indian airlines have reached is to get fuel-efficient jets. Air traffic, which accounts for 1% of the total global traffic, is expected to rise to nearly 4.3% by 2031. This is in line with market estimates that South Asian sales will increase by 8.4% per annum for the next 20 years. The new demand of 1,450 aircrafts is worth $175 billion, which is $25 billion more than the worth for 1,320 planes.
In this regard, it is important to see how much of the Indian sales will go to Boeing. Boeing does not have a good repute in Asia. A recent demonstration of this notion came when Boeing lost a $7 billion deal with Philippines Airlines to Airbus. Also, Boeing was not able to deliver Dreamliners to Air India on time, which led to a four-year-long case to decide how much compensation Boeing should pay. Similarly in China, Airbus is the leader with its last year share of 64%. Recently, Hong Kong Airlines has also begun replacing Boeing jets with Airbus'.
Yesterday, Boeing also revised its prediction for demand in Chinese aviation market, as Boeing predicts that China will require 5,260 new airplanes in the next 20 years worth $670 billion.
Production Levels
As is always reiterated by Qineqt, Boeing has not moved much, despite increased earnings visibility for the company, due to the fact that investors are wary that BA may not be able to meet demand, given its huge backlogs and its history of delaying jet deliveries. That is probably why Boeing's stock moves with its book/bill ratio.
The good news for investors is that on August 27, Boeing expanded its production by activating the third assembly line for its 'problem child', the 787 Dreamliner. The company is currently producing 3.5 Dream liners a month. It has a backlog of 845 jets. At this rate, it will take more than 20 years to clear the backlog, which will be disastrous for Boeing. However, the company has already planned to accelerate production to 10 jets a month by the end of 2013. This development shows that Boeing is well on its way to achieve its target.
Yesterday, UBS also said that Boeing is well on its way to raise the production level of Dreamliners according to its targets. Not only this, Boeing might reach the level of producing five Dreamliners a month earlier than expected.
Valuations
The company has no debt issues. The stock is paying a dividend yield of 2.5%. It is trading at a forward multiple of 13x and is expected to grow by 20% per annum for the next five years. The demand is there, but the company has to display its ability to expand production accordingly. Undoubtedly, with adequate cash reserves and positive operating cash flows, the company has the financial muscle to do that. Cramer thinks that Boeing will fly to $90 in case of an important catalyst.
Important catalysts include the reduction of backlogs and Boeing being able to meet the production targets that it has set.
Disclosure: I have no positions in any stocks mentioned, and no plans to initiate any positions within the next 72 hours.
Business relationship disclosure: The article has been written by Qineqt's Industrials Analyst. Qineqt is not receiving compensation for it (other than from Seeking Alpha). Qineqt has no business relationship with any company whose stock is mentioned in this article.