We are bullish on BCE Inc, (NYSE:BCE) as the company has successfully increased its customer count, average revenues per user, and earnings.
Earnings have grown by over 35% over the last three years, with a quarterly earnings growth of 30%. Moreover, despite high promotional discounts, the company has brought about EBITDA margin growth in the quarter recently ended. Even though the stock is trading close to its 52-week high of $45.6, we believe BCE has further upside potential. It remains attractive from a dividend perspective as well, currently yielding 5.1%, which is well supported by its operating cash flow yield of 14%.
BCE Inc. , a Canadian telecom company, provides a range of communication services to its residential and business customers. Its services cover internet, satellite Television, bell mobility, virgin mobile, and landline phone services. Bell Media, which is the company's newest addition, includes CTV, which is a leading television network. It is a $34 billion-worth enterprise, with its shares listed in both Canada and the U.S.
BCE mainly operates through four segments; Bell Wireline, Bell Wireless, Bell Media and Bell Aliant. Through its wireline business, the company provides local and long distance phone and data services to its customers, largely in Quebec. The wireline business is also responsible for providing television services under the Bell TV and Fibe TV brands. The wireless segment provides voice and data services to its customers through Bell Mobility and Virgin Mobile Canada. The Bell Media segment, which was created recently after the acquisition of CTV Inc., provides entertainment material through its various television stations. The company's major exposure is to its wireline business, which, as of quarter ended June 2012, contributed a little over 50% to its revenue stream. BCE's other major revenue contributor is its wireless business, generating almost 30% of its total revenues.
Perhaps the company is most famous for its convergence strategy, when Jean Monty, the company's CEO, attempted to integrate content creation and distribution within BCE in order to take advantage of the booming internet market. Utilizing the success of Sympatico, the company partnered with another company to make an internet portal for its customers. After BCE purchased the CTV network in 2000, it acquired control of the globe and mail, combining it with CTV and the Sympatico portal. However, the company wasn't able to realize the synergies it expected, and eventually ended up selling the portal. In the same year, the company acquired control of Teleglobe. However, the move turned out to be a disaster for the company, as it used up a huge sum of money to finance Teleglobe. The second round of convergence came much later, but proved to be more fruitful for the company, when it reacquired control of CTV network along with properties owned by CTV globemedia. The reason why the second round of convergence proved more fruitful for the company was that it gave BCE an opportunity to enhance its content base to be delivered across its mobile and TV platforms. This has apparently brought in good results for the company, as its CEO, according to a news report, said that the company generates more revenue from TV as compared to its home phone business.
The second quarter has been quite a busy one for the company, as it renewed its contract with a financial group operating in Canada. Under the revised terms, BCE will be paid $800 million over a period of eight years, for providing broadband fiber services as well as voice and data infrastructure. Bell has also been involved with the recently concluded London Olympics, providing more than 5,000 hours of TV and mobile coverage. Prior to the start of the second quarter, the company also announced its plans to acquire Astral Media Inc., along with its TV channels, which has not been taken well by its rival Quebecor Inc. on the grounds that the acquisition will further monopolize BCE's position in the television business. BCE, however, is hopeful the deal will finalize later this year.
The company announced its second quarter results on August 8, according to which it generated revenues of $4.9 billion, at a slight decline (0.6%) from the same quarter of the previous year. The company posted earnings of $773 million, up almost 30% from the earnings of 2Q2011. EPS of $1.02 comprehensively beat analyst expectations of $0.81.
Bell Wireline
Total wireline revenues declined by almost 4% in the quarter, largely due to declines in traditional landline revenues, coupled with higher discounts given by the company. This also had an impact on EBITDA, which declined by almost 6% to $1 billion, however, EBITDA margins remained pretty much at the same level as last year. The high speed internet base contracted in the quarter, with the company losing some customers as compared to net activations in the second quarter of the previous year. The bright light for the wireline business turned out to be its Fibe TV, through which the company was able to add almost 17,000 customers to its services, considerably higher from the previous year's 6,000 customers.
Bell Wireless
The company's wireless business has continued to bring in positive results, as it generated a 7% growth in revenues in the quarter. There were improvements in almost all areas of the business, which contributed to the revenue increase. Moreover, a higher number of smartphones sold in the quarter also led to an increase in product revenues, which jumped by 8%. An increase in data usage and the number of smartphone users on its network caused an increase in its average revenue per user as well, which jumped to $55.37 from 2Q2011 ARPU of $52.99. The table below illustrates the strong wireless performance in the quarter.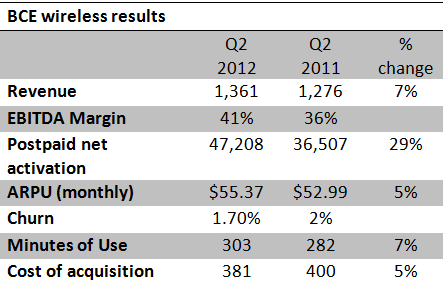 Source: 10 Q
In the earnings announcement, the company raised its guidance for the full year, as follows:

Source: 10 Q
Financial Position
The company has been able to improve its revenues over the years, with its operating margins remaining stable around 17%. Moreover, it has grown its earnings by 35% over the last three years, with a quarterly earnings growth of 30%. The company increased its debt by almost 20% in the year 2011, which was due to the CTV acquisition. BCE has almost $800 million of cash on its balance sheet and operating cash flows of almost $5 billion as at the financial year ended 2011.
Dividend Raise
BCE recently raised its common dividend per share from $2.17 to $2.27. The company has an impressive dividend growth history. Over the last five years, dividends per share have grown by almost 8%. In the year 2011, the company paid total dividends of $1.6 billion, while generating operating cash flows of almost $5 billion, which indicates its ability to afford the dividend growth. The stock currently offers a dividend yield of 5.1%.
The stock is currently trading at 13 times its forward earnings, which is at a discount to the forward multiples of its peers. Compared to its rivals, Rogers Communications Inc. (NYSE:RCI) and Telus Corp (NYSE:TU), BCE's stock currently looks cheaper; BCE is up 8% on a YTD basis. The stock is also trading at a discount to its U.S counterparts Verizon (NYSE:VZ) and AT&T (NYSE:T).

Disclosure: I have no positions in any stocks mentioned, and no plans to initiate any positions within the next 72 hours.
Business relationship disclosure: The article has been written by Qineqt's Telecom Analyst. Qineqt is not receiving compensation for it (other than from Seeking Alpha). Qineqt has no business relationship with any company whose stock is mentioned in this article.