We have been impressed with the performance of Gale Klappa and his Southern Company (NYSE:SO) colleagues' (Fred Kuester and Allen Leverett) since they took over the executive leadership of Wisconsin Energy (NYSE:WEC) from Richard Abdoo and his team. We are so impressed we even published our research report comparing Southern and Wisconsin Energy back in June. Our thesis was that as good as the Southern Company was; Wisconsin Energy was better. This is important to investors who desire dividends because for years Southern Company was held up as the utility company every investment must own for dividend yield and dividend growth. We had first purchased shares of Wisconsin Energy in 1997 not long after its disaster-piece attempt to merge with Northern States Power. We first purchased it directly from the old Bank of Boston before it merged with Fleet Financial Group and sold off its direct stock purchase and dividend reinvestment plan transfer agency business to First Chicago.
Wisconsin Energy was a mediocre performer during our first six years of ownership but began its rapid ascent in 2003 with the hire of Gale Klappa, Fred Kuester and Allen Leverett from Southern Company. In our opinion the hire of Klappa was an absolutely serendipitous selection because not only did he come from the most respected utility in the world; he was a Milwaukee guy (UW-Milwaukee Class of 1972). What made Klappa's hire a grand slam is that he brought Kuester and Leverett with him! J. Kevin Fletcher was the fourth Southern alumnus to join Wisconsin Energy. Fletcher joined WEC in October 2011 and serves as a Senior Vice President of Wisconsin Electric and Wisconsin Gas. Fletcher previously was a Vice President for Georgia Power, which is Southern's largest operating subsidiary.
We previously discussed the company's strong, positive transformation under the leadership of Klappa and the executives he recruited to WEC from Southern. We think it bears repeating about how the new management team brought a renewed emphasis on customer satisfaction to Wisconsin Energy. The catalyst for this was the utility deregulation that took place in the US during the 1990s and 2000s. Wisconsin has not seen utility deregulation, but the neighboring states of Illinois and Michigan have and we believe that Klappa wanted to ensure that WEC's customers stayed with WEC if and when deregulation came to Wisconsin. Klappa and his team led the company through its Power the Future Initiative, which came to a successful conclusion last year. Under Klappa's leadership, Wisconsin Energy has seen its EPS increase every year and the firm restored the dividend to its pre-cut levels in 2010. Although the other two Wisconsin-domiciled utility companies (Alliant and MGE Energy) performed well during this period, WEC's performance outshined both of its in-state peers.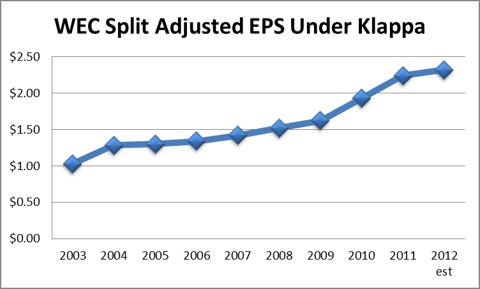 Source: Wisconsin Energy 2003-2011 Annual Reports and Saibus Research estimates
So far in 2012 we can see Wisconsin Energy continuing its strong absolute and relative performance. WEC generated 2.8% growth in year-over-year EPS growth in Q1 2012 versus Q1 2011, despite facing the warmest winter in over 122 years. In Q2 2012, WEC followed that up by growing its EPS by nearly 11% on a reported basis and 25% on a continuing operating basis. Revenue declines for the quarters and the first half were offset by lower operating costs, interest expense and a 1.5% reduction in average outstanding shares. Operating costs were sharply lower due to reduced fuel and gas costs, as well as operations and maintenance expense savings. WEC also smashed through the $.44 consensus earnings estimate by the analyst community
Wisconsin's Unemployment rate was 7% in June and this was well below the national average. Wisconsin Energy's strongest source of revenue growth for the period was its residential customer base. Residential revenues grew by 6.6% and offset flat growth from business customers. Energy Sales to WEC's largest commercial and industrial users excluding the volatile iron mining sector grew by 0.6% versus the prior year period. Sectors showing strength in the quarter included chemicals, metal fabrication and heavy equipment manufacturing.
With regards to construction projects, WEC is building a 50 MW biomass plant in Northern Wisconsin and the air quality control upgrade at the original Oak Creek units. Construction of the biomass plant is 39% complete as of July and is on its way to be completed on time and on budget by the end of next year. The biomass plant will enable WEC to meet the 10% renewable energy requirements as of 2015. We also like to point out that Wisconsin's 10% requirements is easier to reach than the 25% requirement that Exelon (NYSE:EXC) has to face in Illinois.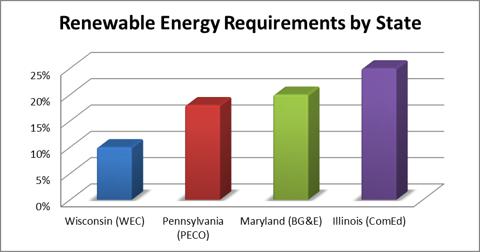 Source: DSIRE.org
Natural gas prices have bounced off the historical lows achieved in April 2012. Spot prices closed at $3.15 per MMBTU in July, up from April's low of $1.89. The extended low price environment for natural gas has hurt WEC competitor to the south Exelon, which generates the majority of its revenues and operating income from the wholesale power market. WEC's Power the Future Program called for the company to reduce its 70%+ reliance on coal to an expected 50% in 2012. The new capacity that WEC added was almost equally balanced between natural gas and coal. WEC will reduce its coal burn by about 16% in 2012 and increase its natural gas burn by 108%. WEC's Port Washington natural gas units increased its capacity factor utilization from 20% last year to 59% this year.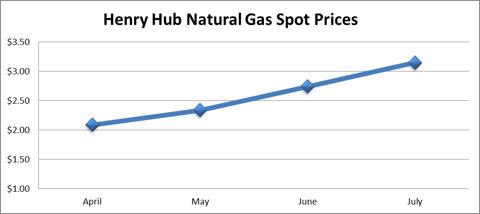 Source: Bloomberg LP
Wisconsin Energy's board has authorized a $300M share repurchase program last year. $100M was repurchased last year and but nothing this year as the share price goes up in value. Wisconsin Energy's share price has seen strong performance this year partly because of its strong operating performance and because of the demand for dividend paying securities as income-bearing alternatives to the poor interest rates on fixed income securities. As we previously noted, Wisconsin Energy adopted a dividend policy that seeks to reach a 60% payout ratio in the year 2014. This will enable double-digit dividend growth over the next few years and enable its dividend yield to catch up with its regulated utility distribution peers. Wisconsin Energy's capital investment budget for 2012-2016 is expected to remain at $3.5B, which is less than the $4.8B spent during the previous five years. This reduction is due to the fact that capital investment needs have declined due to the conclusion of the Power the Future Program. We reiterate that WEC is in a good position to take former Exelon ComEd customers and make them into We Energies customers. WEC reported that new services installed for electric customers were up 15% as compared to the first six months of last year. And connections of new natural gas customers rose by nearly 19% compared with the same period a year ago.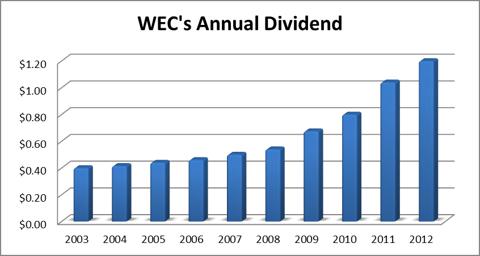 Source: Wisconsin Energy IR Dividend History Section
In conclusion we are pleased with the performance of Wisconsin Energy. We expect continued growth from the company. We believe utilities are fairly valued but Wisconsin Energy is our utility of choice. We can see why its performance has significantly exceeded the SPDR S&P 500 Utilities Index ETF (NYSEARCA:XLU) since the XLU's inception in 1998. Though WEC is 1% of our portfolio, we have also pondered pairing our long position in Wisconsin Energy with a short position in the XLU so as to eliminate the utility sector exposure while keeping exposure to Wisconsin Energy. We pondered this because we believe that the utility sector is fairly valued, including reliable blue chip utilities like Wisconsin Energy. We remembered when Exelon was trading at 23X trailing EPS back in July of 2008 ($92 share price for $4 of TTM EPS) and we noticed that WEC is trading at 16.65X TTM EPS as of August 28th. While we expect WEC to outperform the utility sector overall due to the favorable macroeconomic environment created by Scott Walker, we believe that investors should not expect WEC to repeat its 240% outperformance against the XLU that it achieved from December 1998 to August 2012. Still, Wisconsin Energy is our top choice in the utility sector because it has been widely recognized for reliability amongst Midwestern utilities and we believe that the Midwest will see an improved economic environment. We also believe that Pat Keyes will be a capable successor as EVP and CFO to the retiring Rick Kuester.
Disclosure: I am long WEC. I wrote this article myself, and it expresses my own opinions. I am not receiving compensation for it (other than from Seeking Alpha). I have no business relationship with any company whose stock is mentioned in this article.
Additional disclosure: This article was written by an analyst at Saibus Research. Saibus Research has not received compensation directly or indirectly for expressing the recommendation in this article. We have no business relationship with any company whose stock is mentioned in this article. Under no circumstances must this report be considered an offer to buy, sell, subscribe for or trade securities or other instruments.