With the S&P 500 closing at a new 52-week high today, below is an updated look at the percentage of stocks above their 50-day moving averages. As shown, 79% of S&P 500 stocks are currently above their 50-days. This is still below the highs from August as well as late 2011, meaning that less stocks have participated in this most recent run-up.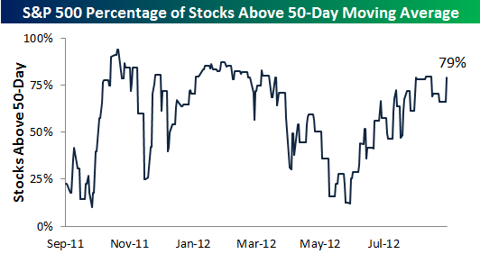 The Utilities sector has been the weakest link, as just 26% of the sector's stocks are above their 50-days. The cyclical sectors have much stronger breadth readings, many in the 80s, but they're still below their 52-week highs as well.
Weak breadth can be looked at in two ways. Bulls can argue that it shows that the rally has more room to run, while bears can argue that the rally is weak due to less stocks participating. In our view, if this rally is going to last, we'll need to see breadth at new highs for confirmation.