Yawn. Verizon (NYSE:VZ) nudged its dividend an itty bitty 3%.
Just enough for them to call it a dividend boost. I get the feeling Verizon isn't all that excited about increasing the checks it sends. Last year, the company tickled the dividend 2.6%; the year before, 2.6%; the year before that, 3.2%. Baby step-dividends.
Still, a raise is a raise. And Verizon is offering an extremely attractive 4.7% dividend with this bump. Just don't expect bigger increases anytime soon.
Verizon's problem: It's got superb free cash flow, more than enough to cover this or even a far higher dividend. However, net income is well below the dividend as Verizon has mega depreciation costs.
Verizon has a dividend pay-out of almost 200%. When you've got a 200% payout, how much room is there really to raise the dividend?
Really all telco's like this.
They have extraordinary payout ratios. In fact, Verizon's the most conservative of a wild bunch. Consider the following: The other telcos sport even greater payout ratios - AT&T (NYSE:T) (235%), Windstream (NASDAQ:WIN) (333%), Frontier (NYSE:FTR) (520%). Why the sky-high payouts? Telco looks for the dividend to be covered by cash flow.
However, you can only go so far away from your net income. Equipment does depreciate. Verizon used to pay a dividend below its EPS (from 2004 to 2008). Its free cash has soared since 2008 allowing increased dividends exceeding EPS. In contrast, EPS has been downtrending over the last 9 years. The graph below details the change. I get the impression Verizon would like EPS to catch up a bit before increasing the dividend. It doesn't want to disappoint its shareholders who desire yearly dividend increases. Thus the token dividend hike.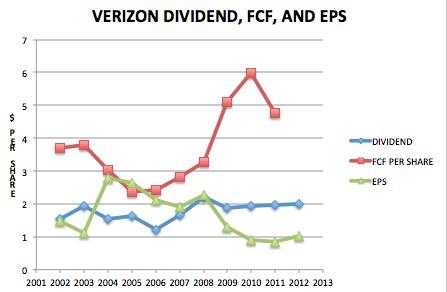 Don't expect big dividend boosts from Verizon and the rest of telco. Free cash flow does have its limits. While the 4.7% dividend rate sure beats treasuries, if you're looking for big dividend appreciation, look elsewhere.
Disclosure: I have no positions in any stocks mentioned, and no plans to initiate any positions within the next 72 hours. I wrote this article myself, and it expresses my own opinions. I am not receiving compensation for it (other than from Seeking Alpha). I have no business relationship with any company whose stock is mentioned in this article.
Additional disclosure: Additional disclosure: The opinions in this document are for informational and educational purposes only and should not be construed as a recommendation to buy or sell the stocks mentioned. Past performance of the companies discussed may not continue and the companies may not achieve the earnings growth as predicted. The information in this document is believed to be accurate, but under no circumstances should a person act upon the information contained within. We do not recommend that anyone act upon any investment information without first consulting an investment advisor as to the suitability of such investments for his specific situation.