Below is an updated look at the performance of key ETFs across all asset classes since the month, quarter and year began. Looking first at month-to-date numbers, equities are now up pretty much across the board with the exception of China (NYSEARCA:FXI) and Japan (NYSEARCA:EWI). Spain (NYSEARCA:EWP) and Italy (EWI) are up the most of the country ETFs so far in September, while smallcaps (IWM, IJS, IJT), Telecom (NYSEARCA:IYZ) and Financials (NYSEARCA:XLF) are up the most MTD here in the US. Long-term Treasuries (NYSEARCA:TLT) and commodities (with the exception of the precious metals) have done poorly since the month began.
Since the third quarter began, the S&P 500 tracking SPY ETF is now up 5.63%. The Nasdaq 100 (NASDAQ:QQQ) is up 8.37%, while the Dow (NYSEARCA:DIA) is up just 3.40%. Energy (NYSEARCA:XLE), Technology (NYSEARCA:XLK) and Telecom (IYZ) have been the best performing sectors quarter to date, while Utilities (NYSEARCA:XLU) is the only sector that is in the red. Germany (NYSEARCA:EWG) and Spain (EWP) have been the best country ETFs this quarter, and surprisingly, Japan (NYSEARCA:EWJ) has been the worst performing ETF on the entire list with a decline of 4.89%.
Finally, the Nasdaq 100 (QQQ) is up the most of any ETF listed so far in 2012 with a big gain of 24.50%.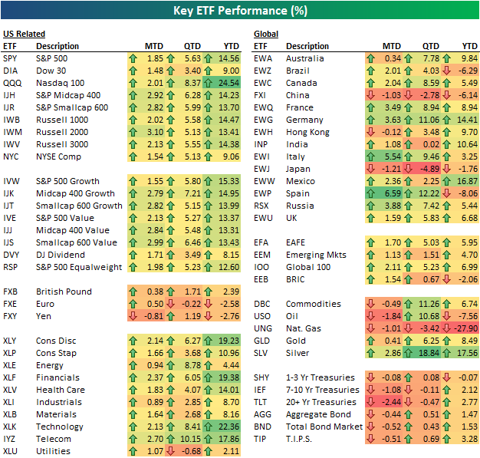 Click to enlarge