By Rom Badilla
The service industry strengthened in August suggesting continued growth for the U.S. economy. The Institute for Supply Management released its Non-Manufacturing Index which expanded by 1.1 from the previous month to 53.7 in August. This uptick in the index, which surveys more than 375 companies from various service sectors, surprised market participants since the median forecast by economists was at 52.5. In addition, today's higher print puts the index above the six-month average of 52.6.
Weaker economic growth usually translates into lower stock prices and falling bond yields and vice-versa. Like its manufacturing counterpart, a reading below 50 represents contraction in the service sector while above this threshold suggests growth. A significant downturn in non-manufacturing activity usually rolls up into the broader economy since an index reading in the low 40's spells a looming recession. Conversely, a number in the high 50's suggests a robust expansion for the U.S. economy. Obviously, the health of the economy can have a huge impact on both stocks and bonds.
The growth in the headline was mostly driven by improvement in the employment component of the index according to Deutsche Bank Chief Economist, Joseph LaVorgna. The Employment component increased to 53.8 from 49.3 in July. In their latest U.S. Data Flash, LaVorgna provided the following color:
"This is important because private service sector jobs represent a little over 80% of employment hence, in the past this indicator has been highly correlated with private sector payroll growth."
Below is a chart of the Employment component of the ISM Non-Manufacturing Index and the Change in Non-Farm Payroll. The former is adjusted by subtracting the aforementioned threshold number of 50 from the actual value to represent expansion and contraction in service sector employment.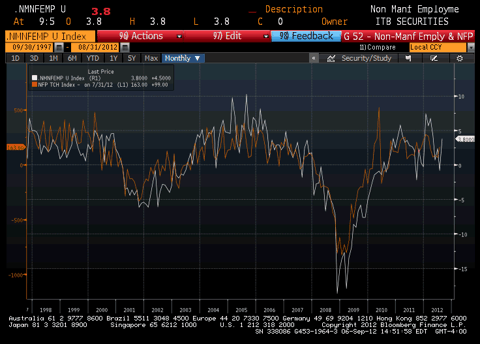 Click to enlarge
(Click to enlarge)
ISM Non-Manufacturing Employment less Threshold & Non-Farm Payrolls
Having said this, employment growth could be moderate going forward. If that is indeed the case with an emphasis toward watching Non-Farm Payrolls and the Unemployment Rate, the Federal Reserve may not need to embark on Quantitative Easing to stimulate the economy at their next FOMC meeting in mid-September. This could lead to a reversal in the recent decline in bond yields as concerns of a slowdown ease and demand for safe-haven assets like U.S. Treasuries subside.
Disclaimer: The above content is provided for educational and informational purposes only, does not constitute a recommendation to enter in any securities transactions or to engage in any of the investment strategies presented in such content, and does not represent the opinions of Bondsquawk or its employees.