Groupon, Inc. (NASDAQ:GRPN) went public in November last year. Since the IPO, the stock price has fallen by nearly 80%. Following the 2Q2012 earnings release, the stock price took a dip of nearly 30% on the news of a lower guidance for Consolidated Segment Operating Income (CSOI) margins of 8%-11%, lower than the estimated 13%. The dip also came on the news that the company missed market expectations of an increase in active customers by 0.8mn, and news of a lower revenue forecast for the coming years due to conservative international growth estimates. The current depressed level of the stock price can be an ideal entry point for investors, as the growing numbers of active customers, and the large addressable domestic and international markets, present a bright future outlook for the company - which is why we recommend investors buy the stock.
Groupon is a 'deal of the day' company that offers discount coupons and connects merchants to consumers by offering goods and services in North America, as well as internationally. In the second quarter of 2012, Groupon experienced an increase of 65% YoY in active customers; now it has 38mn active customers, and a market capitalization of over $2.74 billion. The growing markets and increasing number of registered users will help the company increase its market share. Groupon has a strong and long-lasting business model that keeps customers and merchants connected to the company, as merchants get an opportunity to sell their excess inventory and market their products, while customers benefit from the significant discount offerings (30%-50%).
Second quarter revenues missed estimates by 0.8%. Revenues in the second quarter of 2012 were $568.3 million, reflecting an increase of 45% YoY. Groupon has became more efficient at marketing by adding more customers, while spending less. Marketing expenses decreased by 58% in 2Q2012, as compared with 2Q2011. Lower marketing expenses helped in improving profit margins, which are experiencing an upward move; the trend is expected to continue. The take rate, along with a growing customer base, led to growth in revenues. The company has a take rate of over 40%; the threat of competition from Amazon.com (NASDAQ:AMZN) and Google (NASDAQ:GOOG) can, however, cause the take rate to decline, as some merchants ask for bigger cuts.
The company has been focusing on the development of new technologies to address the growth opportunities available. The newer technology helped Groupon in growing its North American revenue by 66% YoY in the second quarter. Proximity in local deals is key to purchase behavior, as the conversion rate of nearby deals is higher than the conversion rate for deals at a long distance.
'Groupon Now' is a company product that allows customers in North America to make purchases from smartphones, and it contributed nearly 30% of North American transactions in April. To boost the North American revenues, Groupon has signed a partnership with Nokia (NYSE:NOK). 'Groupon Now', which is an offer on Nokia maps, gives directions to locations to redeem offers using the Nokia navigation system, and where U.S. users can buy from their phones. This will help the company increase its revenues, as average North American mobile customers spend 50% more than customers who have never purchased from smartphones. This will help boost profit margins, as North American sales contribute significantly to the operating margin. Consolidated Segment Operating Income margins reached a positive mark of 12% in the second quarter of 2012, as compared to -16% in the second quarter of 2011, and the trend is expected to continue.
Click to enlarge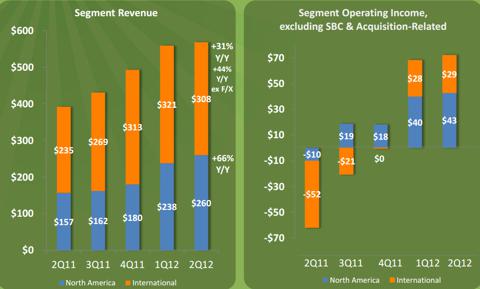 Click to enlarge
Source: Groupon.com
The company has evolved by reaching out to the international markets, which now represent the largest chunk of its revenues. International revenues contributed nearly 54% to total revenues in 2Q2012. International markets provide a potential for the company to grow and tap revenue opportunities, as these markets are less penetrated. Groupon is planning to introduce newer technology and newer deals with increased relevance.
Despite these international growth opportunities, factors such as investment needs, quick implementation and integration of new technology, and an appreciation of the dollar could adversely affect the company's revenue growth. To meet investment needs for expansion, the company could opt for debt financing, as currently Groupon does not have any debt on its balance sheet.
| | | | | |
| --- | --- | --- | --- | --- |
| | GRPN | AMZN | FB | GOOG |
| P/S (TTM) | 1.4x | 2x | 9.5x | 5.2x |
| P/E | NA | 300x | 66x | 20.2x |
| EV/S | 0.75x | 1.95x | 7.3x | 4.4x |
| PEG (5-yrs Exp) | 0.8 | 9.5 | 1.4 | 1 |
Source: Yahoofinance.com
The 30% per year growth rate estimate for Groupon for the next five years is higher than the industry estimate of 19.5%. Going forward, given the growth expectations, there is a potential for price appreciation. The company's P/S ratio of 1.4x is below Google's 5.2x, Facebook's (NASDAQ:FB) 9.5x and competitors' average of 5.5x, indicating that Groupon is relatively undervalued. According to the EV/S and PEG, the stock is an attractive one, and is trading at a discount as compared to its competitors, Facebook and Google.
We recommend buying Groupon based on its revenue growth, the introduction of newer technology, and international market opportunities. However, we maintain that a few risks could be potential hurdles for the company's future performance. Investors should keep an eye on future profit margins, how the company executes its expansion plans, and how it capitalizes on its growth opportunities. These might signal a decline in the stock price.
Disclosure: I have no positions in any stocks mentioned, and no plans to initiate any positions within the next 72 hours.
Business relationship disclosure: The article has been written by Qineqt's Technology Analyst. Qineqt is not receiving compensation for it (other than from Seeking Alpha). Qineqt has no business relationship with any company whose stock is mentioned in this article.