Gold (SPDR Gold Trust ETF: GLD) is trading about $1700/oz again, and although it looks like inflation has taken center-stage again in reaction to the Fed's increasingly dovish press releases, we are seeing other commodities - especially silver (iShares Silver Trust ETF: SLV) - being repressed by other forces.
Silver is a very interesting commodity to watch, if not just for its volatility and sporadic shifts into new trading ranges. Fundamentally speaking, it is a strange hybrid of a precious and industrial metal that has broad applications. It's most useful property is it's excellent conductivity, which makes the metal essential for the manufacturing of electronics.
After silver ore is refined and turned into bullion, about 38% of it is used for the production of products like jewelry, photography, silverware, and other common goods, according to a 2011 report prepared by GFMS. About a quarter is converted into powder form, especially for use in electronic equipment (which explains why China, South Korea, and Taiwan are the largest consumers of it), and the remainder is mostly used in the creation of industrial chemicals and coins.
Many traders have been looking at silver as an alternative hedge to inflation ever since the Federal Reserve began to weaken the greenback through quantitative easing programs, but it seems that gold is still the precious metal of choice for inflation protection. Traders have also looked past the historic 1:16 gold to silver price ratio, which would put silver somewhere near $100/oz these days. Futures activity on CBOE also suggests that traders are still placing their confidence in gold - and skepticism in silver.
Click to enlarge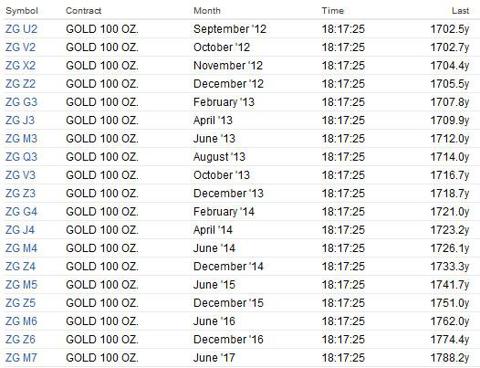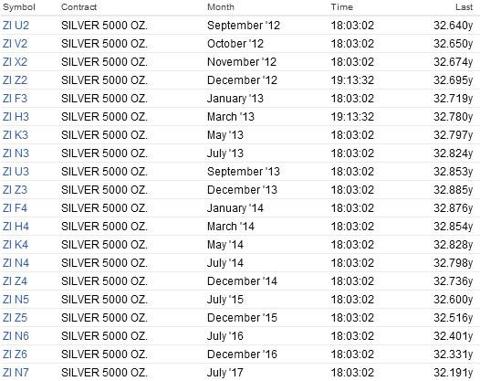 As you can see, there are clear expectations in the gold futures market that the dollar is going to give up more ground in the near future - while silver traders are playing a very different game. Due to its exposure to industrial market forces, the demand for silver has been anemic. This bearishness has overwhelmed the notion that silver is a volatile commodity, and should trade inverse to the dollar. Prices are also weighted by a lack of worry on the supply side, as production puts more silver into a market that has already had its fill of the metal.
The takeaway from this is that no matter how tempting silver may look on the chart, based on its weak performance this year and recent, there are not really any fundamental factors that are working in its favor right now - especially after it's 20% rally in the last month. The high-inflation argument is still a valid driver for silver in the very long run, but it is a bit premature due to the condition of the world's demand for raw materials.
Greenbacks still look quite attractive due to the situation over in Europe, and until I see QE3 hit the headlines, I don't expect inflation pressure.
In uncertain scenarios like this, commodities often trade up and down in price ranges. The best way to take advantage of this is through short-term trading, or through options strategies. Any long-term investor in a fund like SLV will be stuck with zero dividends and a good chance of near-zero gains for what may be years. If you are looking to expose yourself to commodities for the long haul, you will probably have better luck with oil companies and gold until the environment begins to change.
The companies that benefit the most directly from high oil prices are those that are exposed most heavily to "upstream operations". This means drillers like Halliburton (NYSE:HAL) or Schlumberger (NYSE:SLB). I am also fond of Occidental Petroleum (NYSE:OXY), which has arguably the best relative position to tap the booming US oil & gas production.
Gold is a whole different animal, and the simplest option is the SPDR fund. Be careful on the long side, however, because the greenback may stage a relief rally - especially if jobs data disappoints later today.
Disclosure: I have no positions in any stocks mentioned, but may initiate a long position in OXY, SLB over the next 72 hours. I wrote this article myself, and it expresses my own opinions. I am not receiving compensation for it (other than from Seeking Alpha). I have no business relationship with any company whose stock is mentioned in this article.