Gold ETF and ETN investors were smiling after Thursday's trading session, as a new bond buying program in Europe pushed gold prices upward by a third of a percent. This rally also took gold stocks exponentially higher. Here are the details and analysis of the gold product peer groups.
PHYSICAL GOLD ETFs
The SPDR Gold Trust (NYSEARCA:GLD), the largest of all gold ETFs, gained over a third of a percent on the day. Leading the physical gold ETF space was the Asian Gold Trust (NYSEARCA:AGOL) from ETF Securities with a gain of half a percent. Here's the daily performance chart of the entire physical gold ETF product set from GoldETFs.biz.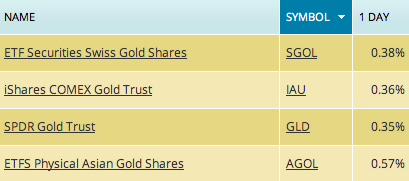 GOLD STOCK ETFs
ETFs focused on gold stocks rode the news even higher with the best performing gold stock ETF, the Market Vectors Junior Gold Miners ETF (NYSEARCA:GDXJ) gaining 3.4%. The largest gold stock ETF, the Market Vectors Gold Miners ETF (GDX, finished the day gaining 2.5%. Here's a snapshot of the daily performance grid from GoldETFs.biz.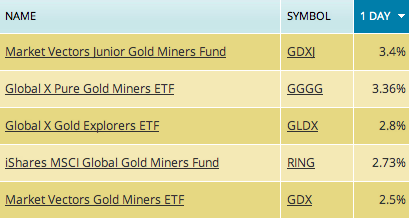 LEVERAGED & INVERSE GOLD PRODUCTS
As expected on days with big moves upward or downward, leveraged and inverse gold ETFs produced eye popping returns. Leading the advance was the only leveraged gold stock ETF, the Direxion Daily Gold Miners Bull 3X Shares ETF (NYSEARCA:NUGT). Its use of 300% daily leverage propelled the large-cap mining ETF to a gain of 7.24% for the day.
Of course the inverse of that product, the Direxion Daily Gold Miners Bear 3X Shares ETF (NYSEARCA:DUST) lost 7.45% for the day as it seeks to benefit on days gold goes negative. The VelocityShares 3X Long Gold ETN (NASDAQ:UGLD) was the second best performing leveraged gold ETF/ETN overall and the best performing physical gold focused product. Here's the performance grid snapshot from GoldETFs.biz.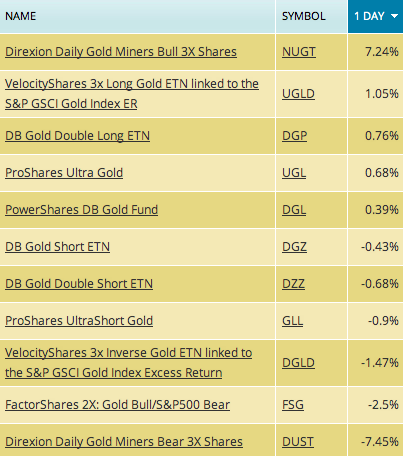 Investors in traditional (not leveraged or inverse) gold ETFs and ETNs have seen gains of 2.5% - 8.32% in the last week. This has been primarily driven by expectations of new liquidity actions from the U.S. Federal Reserve and the European Central Bank (ECB). Thursday's generous liquidity program announcement from the ECB fulfilled and exceeded some of the expectations surrounding a European liquidity move. Now investors will focus on the Federal Reserve's next move as the EU has clearly put the stimulus ball back into Chairman Bernanke's court.
Disclosure: I have no positions in any stocks mentioned, and no plans to initiate any positions within the next 72 hours. I wrote this article myself, and it expresses my own opinions. I am not receiving compensation for it. I have no business relationship with any company whose stock is mentioned in this article.
Additional disclosure: Christian Magoon is the Publisher of the gold ETF site, GoldETFs.biz.