Sentiment on gold and silver miners has certainly turned since May. I highlighted the technical opportunity and potential for a significant low with a favorable risk/reward in this article. Additionally, I made the fundamental case pertaining to valuations and the incredible upside offered within the sector in this article.
Subsequently, miners went on a tear, with the Market Vectors Gold Miners ETF (NYSEARCA:GDX) gaining around 23% in a month, from its bottom. Despite this impressive rise, I felt some unease - which I detail in this article. My hesitation stemmed from the divergences with currencies, underlying metals, and risk measures that did not follow typical sustained rallies.
The purpose of this article is to examine these risk measures in this current move as the miners (GDX) have matched June highs.
GDX : GLD
Click to enlarge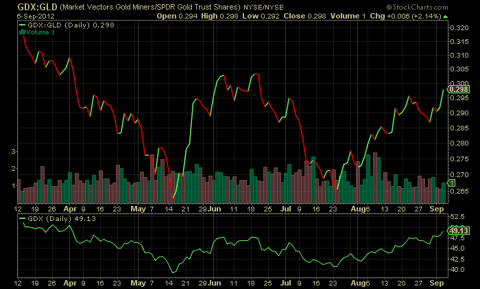 Click to enlarge
As this chart shows, the ratio of gold miners to gold is confirming this move up. It reveals that participants in the sector are becoming more optimistic and willing to take more risk. In September 2011, GDX hit an all time high around 65; however, the ratio of gold miners to gold was hitting lower highs and lower lows since April 2011. The ratio seemed to reflect some clairvoyance, with the GDX falling 33% in the next 12 months. On the other hand, resilience in the miners to gold ratio during periods of weakness is a positive sign.
Currently, I would say this chart is quite neutral in terms of determining whether this is another move up that will significantly retrace - or a resumption of the bull market. Unlike the ratios below, it is not revealing any intrinsic strength or weakness, since the ratio is at the same levels as early June.
SLV : GLD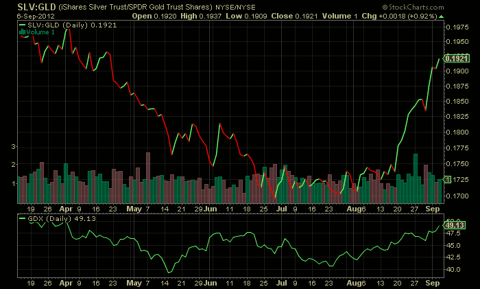 Click to enlarge
This chart illustrates precisely why I am more optimistic about this current move in the sector, as opposed to the previous one. The stunning outperformance of silver to gold is a strong signal that traders are feeling confident and willing to bet on the more volatile metal. This is a piece of evidence that reflects that the necessary "animal spirits" are now present - which is requisite for the new leg-up to materialize.
For gold, I use the SPDR Gold Trust ETF (NYSEARCA:GLD) and for silver, the iShares Silver Trust ETF (NYSEARCA:SLV).
GDXJ : GDX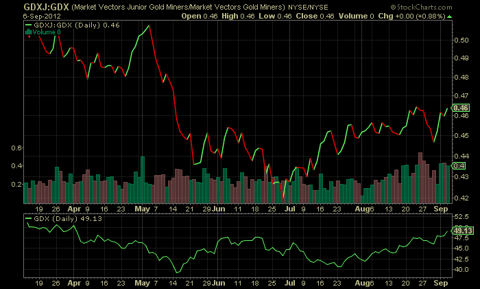 Click to enlarge
The junior miners to gold miners ratio is another useful tool to gain insight into whether the market is in a mode where traders are willing to take risks on speculative names that are more leveraged to the price of the underlying metal. Again, this type of shift in attitudes is a necessary ingredient for a sustainable uptrend. Junior miners range from companies with smaller amounts of production to projects that are years from fruition.
This chart shows that liquidity is increasing and traders are willing to take on more risk. Even more encouraging for me is that the ratio is exhibiting steadiness during draw-downs, which is a footprint of strong hands willing to support prices during sell-offs.
For junior miners, I use the Market Vectors Junior Miners ETF.
SIL : GDX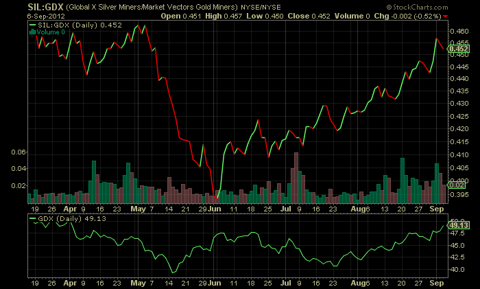 Click to enlarge
This is the most impressive chart in my opinion, as silver miners (Global X Silver Miners ETF: SIL) are strongly outperforming gold miners. The same conclusions reached via the junior miners (Market Vectors Junior Gold Miners ETF: GDXJ) ratio and silver (SLV) ratio charts are confirmed here. For silver miners, I use the Global X Silver Miners ETF.
Conclusion
Based on the above assessments of risk within the sector, I believe that there is significant liquidity entering this sector, as evidenced in the risk measures. Further, this move up is exhibiting much more breadth than the first impulsive move up to these levels. This liquidity and breadth is the key to a sustainable move up consisting of higher lows and higher highs, allowing swing traders to "buy and hold" for weeks, if not months.
Given the uncertainty and volatility surrounding news events like the ECB meeting, NFP report, and Fed meeting, I think there will be a buyable dip coming. Particularly, I will be focusing on the period following the Fed meeting. I am not fond of buying into overbought conditions and would rather remain patient and wait for some consolidation or weakness; however, there is clearly the risk that the miners do not give such an opportunity.
That said, longer term, I believe the trend has turned and this sector is the midst of a new leg-up in its impressive bull market. Despite the already strong move, the still historically depressed levels of junior miners to major producers, silver to gold, and miners to gold indicate that the sector could travel much higher before reaching exhaustion.
Disclosure: I have no positions in any stocks mentioned, and no plans to initiate any positions within the next 72 hours. I wrote this article myself, and it expresses my own opinions. I am not receiving compensation for it (other than from Seeking Alpha). I have no business relationship with any company whose stock is mentioned in this article.